Best Exchanges for Day Trading Crypto
So, you're past the initial confusion of crypto. You've bought in, and you're looking at all the greens and reds in the charts and see the glorious potential to capitalize. Or perhaps you're a little bit further down the line, and you've already started making a few trades each week, but now you're feeling gung ho and want to up the ante. Are we close?
If you're somewhere between "But I haven't even got a satoshi" and "Which wrapped token should I put in the liquidity pool for the greatest yield," then this article is for you. We're hoping to guide you towards a cryptocurrency exchange that will make day trading a little bit easier and a bit cheaper.
Many beginners don't know that the best on-ramps, like Coinbase (2%) and Gemini (0.5%-1.49%), are also the most expensive, with exorbitant fees! You can avoid using them entirely, or if you've already bought your crypto from them, you can do the logical thing and move to another user-friendly exchange that won't take such a greedy commission from each trade.
Ranking methodology – How we decided which exchanges to consider
Our Winners
In 2017, Changpeng Zhao of China launched his 'rocket,' a cryptocurrency exchange that would find the perfect balance between user-friendliness for novices and skeptics and advanced trading instruments for day traders and institutions. Despite battling China's censorship and regulation, CZ (as he is commonly known) decided to move the exchange to Malta, whose pro-crypto government brought jet fuel to his rocket.
Deals with Taiwan, Bermuda, Malta, and Jersey allowed Binance to create a more favorable financial set-up (obviously lower taxes, but that helps them offer lower fees). Within eight months from their 2017 launch, they had leapfrogged all competitors to become the best crypto exchange with the most significant trading volume of around $10bn worth of Bitcoin each day.
Quick Look
0.1% maker fee
0.1% taker fee
Trading discounts for high-volume traders
Over $20bn traded daily
1,100+ trading pairs
350+ cryptocurrencies
World's biggest, best, and most popular exchange
Excellent designs and intuitive user experience
From day one of Binance, it appeared that the perfect platform for the vast majority of cryptocurrency traders had arrived. Indeed, the figure of eight months and $10 billion daily trading volume are significant. Where had their rivals, with a six-year head-start in the market, gone wrong? And why, in the three years since becoming the top dog, has no other exchange even threatened to try and take their crown? It is, perhaps, because even their rivals know that this is the best exchange for day trading crypto. For you, the trader, this means that rival exchanges have had to branch out to create new USPs and niche products, like coin staking, DEXs, lotteries, and more.
So, what are the key details for day traders?
As you can see in the chart below, beginners start with a 0.1% maker-taker fee system for their crypto trading activities, or 0.075% for both if they choose to pay their fees with Binance Coin (BNB). BNB is the utility token of Binance and Binance Smart Chain, so if you're using Binance a lot, it works in your favor to keep some of this in your wallet. Additionally, traders can unlock further 20% trading fee discounts by referring friends to the platform. High volume traders can, in theory, drop their fees down to 0.012% for makers and 0.024% for takers.
In terms of selection, you have all of the major cryptocurrencies, like Bitcoin, Ethereum, Polkadot, Litecoin, and around 350 more, all combined into more than 1,150 trading pairs.
What about the trading experience?
You could say there are three pretty key areas to look at: the trading interface, the wallets, and the portfolio analysis. The trading interface has set a standard for industry quality, revealing the best information in a logical layout, nice colors and fonts, and an order form that uses a slider to allocate funds. Finding the trading pair you want to use is easy; you can either start from your wallet by searching for the coin or searching for the coin and choosing which pair to trade within the trading platform itself. For example, you may want to trade your BNB, so you click "trade" and are shown 15 different market pairings.
The truth is, most traders come to Binance, and they stay, or they leave to trial other crypto exchanges and end up coming back. Their market dominance knows no bounds (or does it?).
It's always a little harder for us to pick a US winner, largely because financial regulations make this industry such a different entity here in America. The selection of exchanges that our friends in Europe, the UK, Australia, and even China can access is vast (and they don't even need VPNs in most cases). Despite these facts, we are pleased to inform you that Gate.io meets all of our criteria for the best cryptocurrency exchanges for day trading Bitcoin, Ethereum, and 650+ other coins (and 1270+ market pairs) in the USA.
Quick Look
0.2% maker fee
0.2% taker fee
$7bn+ traded daily
934 trading pairs
314 cryptocurrencies
Trading amounts per account holder is much higher than rival exchanges
One of the best-designed trading platforms ever seen in the industry
Gate.io introduced partnerships with liquidity providers such as Banxa and Mercuryo to sell cryptocurrencies directly to users via debit or credit card transactions
So, as our best day trading exchange for Americans, what makes Gate.io so good?
Let's start with the fees…
Gate.io employs a VIP tiered fee schedule, which in simplified terms, means that there are different fees for different traders, depending on how much they trade and how they want to pay their fees. Let's say, for example; you're a beginner Bitcoin trading very low monthly volumes; in this case, you'll pay the maximum trading fee, which is just 0.2% for makers and takers. In the second month, you realize the fees are cutting into your profits, so you look at ways to reduce them. You will find that:
Paying fees with Gate points unlocks a 70% discount, bringing the maker and taker fees down to just 0.06%.
Gate.io offers a native cryptocurrency called GT (Gate Token) which can be used to pay the trading fees, making them around 25% cheaper.
Makers trading over 40,000 BTC worth of crypto per month can reach negative fees, which are, in effect, rebates!
Withdrawal fees are pretty low, varying from one crypto to another. The Bitcoin exchange withdrawal fee is set at 0% + 0.001 BTC.
What about the trading experience?
So, it's economical, but is it good to use? We'd say yes. This cryptocurrency exchange has been designed almost specifically for altcoin hunters, many of whom are trading every day and looking for small coins that can blow up and generate massive profits. Many exchanges face a typical problem with listing these small coins because they have low liquidity, making it slow to execute trades. The Gate.io platform reportedly has above-average liquidity for many of these coins, making trading cryptocurrency here much faster and smoother.
As we've mentioned, this is our best Bitcoin exchange for American traders (in 48 states, excluding NY and WA), but when we look at things with a global lens, it struggles to compete with the might of Binance, Huobi, and FTX. Over time, we fully expect to see Gate.io make a strong impact in the industry, overtaking many of its competitors and becoming one of the top 10 global exchanges by daily activity.
Sign up and trade with Gate.io.
Third, on our list of the best crypto exchanges for day trading, we have Huobi, a Seychelles-based exchange with its origins in China. Like Binance, their story is defined by China's Bitcoin exchange ban of 2017. After leaving China and setting up offices in Seychelles, Hong Kong, South Korea, Japan, and the US, Huobi has gone from strength to strength, with one exception. In 2019, they were forced to leave the US market and kicked all Americans off the platform. It's a shame, of course, to see this happen, especially as Huobi is one of the best cryptocurrency trading platforms for day trading Bitcoin.
Quick Look
0.2% maker fee
0.2% taker fee
$7bn+ traded daily
934 trading pairs
314 cryptocurrencies
Trading amounts per account holder is much higher than rival exchanges
One of the best-designed trading platforms ever seen in the industry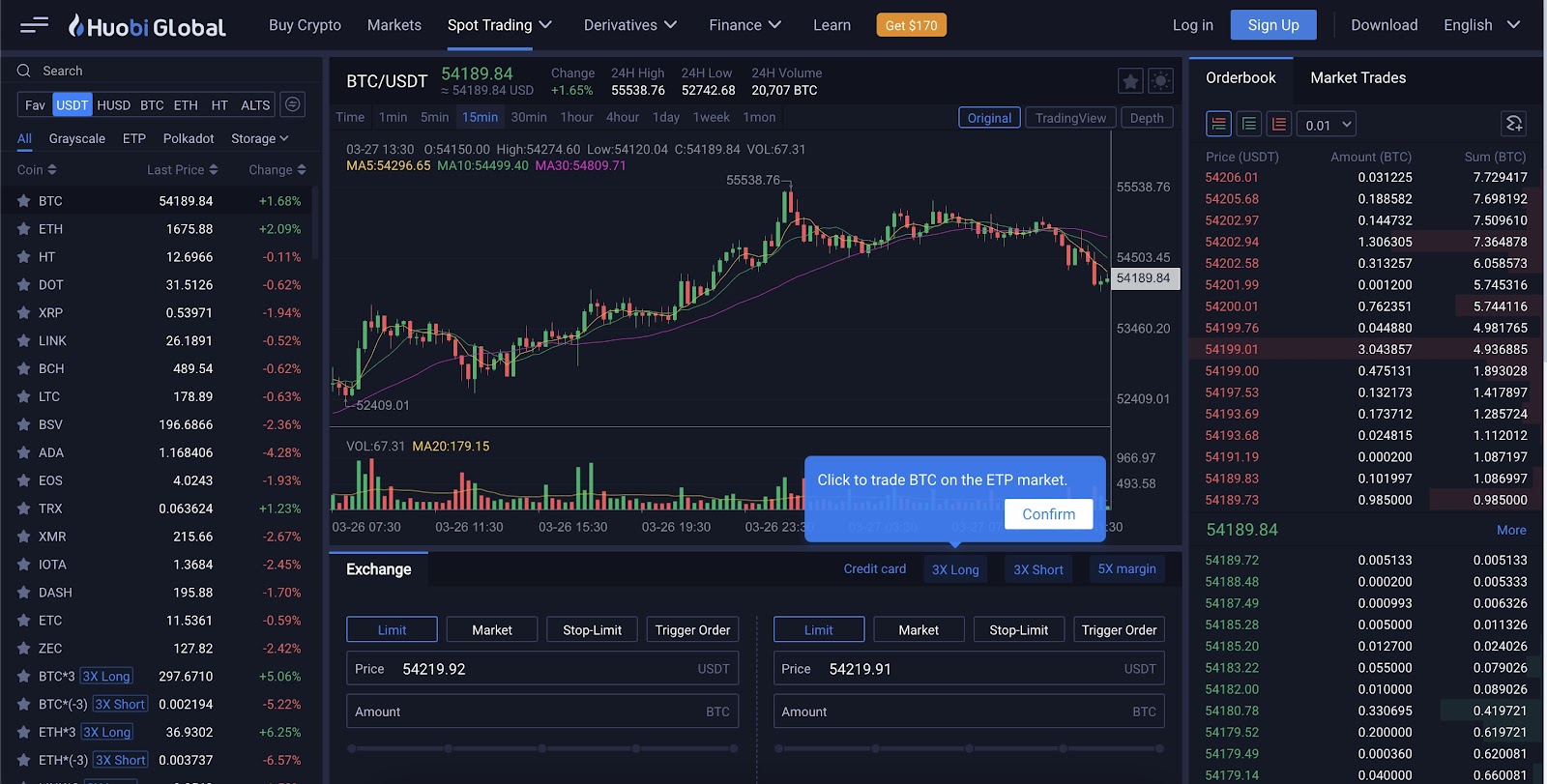 What makes Huobi so good? Well, with $7 billon traded daily, it's the second-biggest global crypto exchange behind Binance, meaning substantial trading volumes, huge levels of liquidity, and a trading interface that makes executing deals an absolute joy. The order book, the order form, the charts, and graphs, they're so aesthetically pleasing that we find it hard to see how other crypto exchanges can go so wrong when designing platforms.
What about the fees, products, and selection?
The maker-taker fee system starts at 0.2% for both, applied to all 934 cryptocurrency market pairs (314 cryptocurrencies). Huobi offers derivative trading and margin trading, with the margin trading leverage limit based on 30-day trading volumes. This system is fairer than rival exchanges, which sometimes present dangerous levels of risk.
Day Traders, this final piece of information might be the last piece in the jigsaw for you to consider using Huobi as your cryptocurrency trading platform from here on out. The trading volume per account holder is higher than their rivals. They receive around 5% of the traffic that Binance receives, have less than a quarter of the account holders, and still trade over $6 billion per day.
Begin trading with Huobi Global.
What have we learned?
Subjectively, we can tell you that:
We believe that Binance is the top crypto exchange for day trading
Gate.io offers the best day trading options to American users
Huobi is best for design junkies
FTX holds the most promise, and at the current rate of growth, in two years they may be the best, or at least among the best
Cryptocurrency exchanges have to create trading platforms that make the actual exchange of cryptocurrency a smooth and worry-free activity
Is Binance's market dominance and popularity for day trading a bad thing?
Bitcoin exchanges have come and gone ever since the early days of crypto in 2009. Binance, on the other hand, is capturing the hearts and minds of those looking to buy, sell, and trade Bitcoin.