Bitfinex vs Binance Comparison
In this comparison piece, we will weigh up two juggernauts of the cryptocurrency exchange market, with crypto-stalwart Bitfinex ranked sixth and high-flying Binance ranked first in our list of the best Bitcoin and crypto exchanges.
Will either of these platforms tempt you to sign up and create an account? Let's have a good look.
Fees
Bitfinex's Fees
For beginners considering trading on Bitfinex, the critical trading fees you need to know are the maker fees and the taker fees. Unless you're trading over $500,000 per month, you don't need to worry too much about the fee schedule, but we've included it below so you can see the discount potential.
The fees are pretty low at 0.1% for makers, who create liquidity on an exchange by placing sell orders above the market price, and 0.2% for takers, who take liquidity from an exchange by purchasing at the current market price. Users who hold a certain amount of LEO, Bitfinex's native utility token, can get a 25% discount on those fees. You can find details about all of Bitfinex's fees for their different trading service here.
Binance's Fees
Since Binance is the world's biggest exchange, one can only expect an equally large and complicated fee system. Beginners shouldn't worry about their 10 different VIP trading levels based on their 30-day trading volume of Bitcoin. Still, we must mention that the more significant your trades each month, the cheaper the transaction fees become (see the chart below).
Much like Bitfinex, Binance has a native utility token, this time called BNB. By earning or purchasing BNB, traders can get a 25% discount on their trading fees and another 20% if they get involved in their user referral scheme (totaling a 40% discount).
Withdrawal fees are different for each cryptocurrency. The information is available to read here.
Winner: Notice that Binance has lower taker fees at 0.1% and more opportunity for discounted trades.
Sign up and KYC experience
Bitfinex's Onboarding Process
Let's get you signed up:
Head on over to Bitfinex.com; you'll find a call-to-action button that says 'Open Account.' Click it.
Give a username, email address, and a secure password for your account
Next, verify your email address by going to your email provider and clicking the link in the email from Bitfinex.
A new window will open. Try to log in with your username and password.
Once logged in, you will need to verify your ID to add some money to your account. A prompt will ask you to get verified and take you through a process that asks for your:

Name
Age
Contact detail
Address
Two forms of Government ID (submitted via mobile or webcam)
A selfie holding your ID
A bank statement
Proof of your residential address (like a rental contract)

Confirmation can take up to three days.
While you wait, you can find security options to protect your account; we recommend setting up 2-Factor Authentication so that a hacker can't access your account. You might also want to consider blocking withdrawals from a new IP address (although wait until you're set up on all your devices), a withdrawal confirmation phrase, and PGP mail encryption.
After verification, add some funds. You'll see how to do that in the 'deposit methods' section of this article.
Binance's Sign-up Journey
Here's what you need to do to get your account set up and verified on Binance: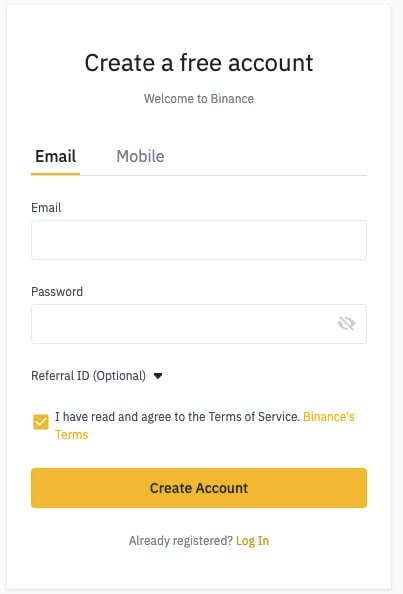 Head over to the Binance website, for international users, this is Binance.com, and for users in the US, it is Binance.US.
Provide your email address and password that you will use for the Binance account.
Accept the terms and head to your email client, where you will find an email from Binance containing a 6-digit verification code.
Enter this code on the sign-up page, and your account is now complete
From almost anywhere on the Binance website, you will find a small icon depicting a person in the top right-hand corner. Hover on this, and a menu will drop down, presenting the option 'Identification.' Click that.
The next page says 'Identity verification,' click the big yellow button that says 'Verify.'
You will then have 15 minutes to give your:

Nationality
Name
Residential Address
Date of birth
A photo of your ID card (front and back)
A selfie holding your ID card to confirm your identity
Facial verification through your webcam

You now need to wait for confirmation, but it should come through on the same day.
Don't worry; if you make a mistake somewhere in this process, the platform is forgiving and allows you to make 10 attempts in a 24-hour window.
Winner: Binance. Binance doesn't require users to give as much personal information as Bitfinex, such as the evidence of your residential address. Quicker verification also means users get trading faster on Binance.
Ease of Use & Feel of Website/App
Bitfinex, Professional But Not Overly Complicated
In 2012, Bitfinex's Italian and American founders launched a cryptocurrency exchange to make it a high-liquidity marketplace suitable for all, whether a beginner, advanced or institutional trader. In some ways, they've achieved that. Still, it certainly leans more towards the professional trader, based on the services provided to institutions, the style of delivery, the user interface, and despite being the victim of several high-profile hacks, their recently improved security.
One feature that beginners should know about is the 'Paper Trading Account,' a demo crypto account that allows you to make a sub-account with imaginary funds and test the service and your strategies. Very few cryptocurrency exchanges offer anything close to a demo account, so this is a big bonus.
Note: US customers are not permitted to trade on Bitfinex.
Binance, The Perfect Balance?
At the start of this article, we called both platforms juggernauts, which is true, but it's even more impressive for Binance, as they only launched in July 2017, giving Bitfinex a five-year head-start (they launched in 2012). In the time since launching, Binance has become the most extensive and world's most powerful cryptocurrency exchange, thanks to a wonderfully designed website and app that take most of the guesswork and confusion out of trading.
When China clamped down on crypto, Binance's team moved to Malta, giving them more breathing room to be creative and accelerate their service. As a result, they have a platform that offers 17 languages and a live chat that offers eight. They have over 600 market pairings. They even have a commission-free P2P exchange where users can trade directly with each other, showing that they care for their global community.
Winner: Binance. It's hard to find a flaw in Binance's website, app, or operations. They run a tight ship.
Deposit Methods
Bitfinex Deposit Options
Bitfinex doesn't want beginners to deposit their fiat money to purchase cryptocurrency. Instead, they'd prefer you to buy crypto directly with your credit card (as the profits are better for them) or deposit crypto from an external wallet (if you have one) and use that as your starting balance.
They offer methods of making bank transfers into the platform, but the deposits are incredibly high to attract professional day traders and institutions. The minimum deposit amounts for fully-verified accounts are outlined below:
10,000 USD, EUR, or GBP
1,000,000 JPY
Wire transfers are also permitted at 0.1% of the total transaction, plus €0.60 per transaction.
It is free for users to deposit cryptocurrencies and stablecoins using the provided wallet addresses in their account.
Getting Fiat Money Into Binance
Depositing fiat money into Binance is much easier than Bitfinex, with no charges and low deposit limits. Users can even transfer $150 (lifetime limit) before completing identity verification (which will lift that limit). Deposit methods include:
Domestic Wire (USD)
Wire transfers through Paxos, which give the user PAX, a stablecoin pegged to the US dollar – explained here.
Traditional bank transfers through the Simplex service, which incur a 3.5% fee on the total amount
Cryptocurrency, stablecoin, and digital asset deposits, which incur a mining charge at the sender's end
Winner: For beginners, Binance has a much lower and easier point of entry.
Instant Buy Options (Buying with credit or debit card)
Making Instant Purchases On Bitfinex
If the last section and the $10,000 minimum deposit left you a little disheartened, don't worry, the minimum purchase by credit card is just $25, though you will need to have your account verified first.
Direct purchases* can be made for these cryptocurrencies:
*Fees are variable and are decided on a case-by-case basis by Bitfinex's algorithm.
Buying Immediately On Binance
Users on Binance will be glad to know that debit and credit cards can both be used for instant crypto-purchases through the website or app. The following cryptocurrencies are available for immediate purchase:
Winner: Let's call it a tie, otherwise we are just splitting hairs.
Trading Experience
Bitfinex, Trade Like A Pro
Despite the feeling that the platform is tuned more to professionals and institutions, the trading experience is actually very friendly for beginners, keeping things simple and logical. You find the trading pair before entering the trading view and click 'trade' so that when you enter the trading view, it is all set up for you; all you need to input is the order type, size, and price. If you want to make a purchase immediately, you select 'Market Order,' and you will buy at the current market price (this will charge you taker fees, as explained in the Fees section).
If you like the web trading platform, you'll enjoy the mobile app, a simplified, seamless, and reliable replica.
Binance, Making You Feel Smart
By being the top-ranked cryptocurrency exchange in the world, you can safely assume that the trading experience on Binance is superb, and it is. They have set the bar pretty high thanks to excellent design, user-friendly wallet functions, and unique products that encourage and introduce beginners into P2P and DeFi trading. Not only have they built probably the best trading platform, but they've also replicated it with fewer cryptocurrencies for the US market, which has a more challenging time in the crypto world because of regulations and compliance. 
Binance's beginner's guide can be found here, with an explanation of how to make your first trade.
Winner: Binance, but Bitfinex isn't far behind.
Reputation & Security
Bitfinex's Mega-Hack & Recovery
Will enough time ever come to pass for people to forget and forgive Bitfinex after the second-largest exchange hack in history? 120,000 BTC were stolen, worth over $3.5 billion as of January 2021. Bitfinex has done all it can, recovering some of the funds, offering rewards for information, and massively bolstering their defenses. They might have come back stronger as a result, but their reputation may have suffered indefinitely. However, you must consider that most exchanges could not survive a hack of such magnitude, so it is a credit to their willpower and operational systems to pick up and continue.
Their security now is far more advanced. Users can opt-in for:
2-Factor Authentication
Whitelist withdrawal address option
Whitelist IP addresses
Lock withdrawals for new IP addresses
Withdrawal confirmation phrase
Disable the 'keep session alive' option
Login history
API permissions
Email encryption
The platform itself boasts:
99.5% of reserves in cold storage
A new data structure
DDoS protection
Routine penetration testing
Binance Rapid Surge To The Top
Binance's might be the best exchange, but that also makes them the biggest target, and in one case back in 2019, hackers escaped with 7,000 BTC, worth over $240m at today's rate. The exchange has an adequate security reserve, so all users were quickly refunded, and everyone just moved on. Another negative to warn readers about is Binance's customer service, which has pretty poor reviews and reputation.
Binance academy has put together an excellent document about their advanced security measures security here.
Winner: Tie. Both have been hacked and both have recovered stronger.
Bitfinex vs Binance: Who Wins?
Both exchanges deserve a lot of merits, but Binance is our overall winner. What they have achieved since they launched in the summer of 2017 is nothing short of remarkable, balancing rapid growth with excellent products and assured stability.
Bitfinex remains a great platform, but it's better for those with some time and experience in the industry rather than absolute beginners.