In August 2021, Bitstamp will celebrate 10 years as a cryptocurrency exchange after first launching as a Bitcoin trading platform in 2011. Back then, the dominant cryptocurrency exchange was Mt. Gox, and Bitstamp launched as a counter European alternative.
Fast-forward 10 years, and Bitstamp has a legitimate Luxembourg trading license, and Mt.Gox is long gone after being hacked for 840,000 BTC (yup, that's around $30 billion in today's money). Now, dominating the cryptocurrency exchange market is Binance, formed in China in 2017 but moved to Malta to avoid China's crypto regulations. With two very different histories and stories, what else separates these two well-established exchanges? Let's find out.
Compare Bitstamp vs Binance
Bitstamp

Binance

USA Accepted?
Yes
No
Trading Pairs
134
613
7 Day Volume
$603,202,075,561
Fees
Bitstamp's Trading Fees
As you can see in the table below, Bitstamp's basic trading fee, regardless of being a maker or taker, is 0.5%. This is very high in an industry where 0.1%-0.2% is the norm, but, as is standard for exchanges, this trading fee percentage drops once you trade enough crypto. In Bitstamp's case, the discount is 50% when trading over $10,000 worth of crypto per month.
You'd have to be trading $50,000,000 worth of crypto every month to discount your fees to the same percentage that Binance offers as standard — this doesn't reflect well on Bitstamp at all.
Withdrawal fees differ depending on the crypto or payment method; everything is neatly documented here.
Binance – Cheap & Cheerful
Binance's fees start cheap and continue to get even more affordable, which is perhaps why they are the biggest cryptocurrency exchange in the world right now. The main fees you need to consider as a beginner trader on Binance are the 0.1% maker and taker fees, which means whether you make an order at the current market price or above the market price, you will pay 0.1% of that transaction to Binance (it's taken off automatically, don't worry).
If those low fees weren't enough, Binance also offers a 25% discount on trading fees for users who purchase their BNB token and hold it in large enough quantities (instead of having massive trading volumes). On top of that, you can achieve a 20% trading discount by successfully referring new users to the platform.
Withdrawing crypto from the platform has a small charge that differs from one crypto to another — see here.
Winner: Binance.
Sign up and KYC experience
Getting Started On Bitstamp
Let's guide you through the account-making process:
Head to Bitstamp's website and click 'Register' in the upper-right corner
Select 'Personal Account.'
Provide your first name, last name, and email address, tick the terms and conditions box to accept, then click 'Continue.'
Complete your registration by filling in the CAPTCHA form and clicking 'Register.'
Now, head over to your email client to find a 'Welcome to Bitstamp' email with a Client ID and password for you to sign in with. Keep your email open, and head back to Bitstamp to try and log in.
Once logged in, change your password to something solid and secure
You will be asked to sign in again with your new password, after which a pop-up prompt will suggest that you verify your account. Click it.
On the verification page, choose personal verification (as opposed to corporate).
Provide all of the personal information asked, such as name, address, nationality, and birth date.
Have your ID document and proof of residence ready, as you will need to submit these. US users will need to raise additional FATCA declarations and information at this stage.
ID verification is first, so upload a high-quality photo or scan of your passport, ID card, or driver's license.
Next is your proof of residence, which will require a photo or scan of a bank statement, utility bill, or government-issued document.
In the next stage, you will be asked for even more information (occupation, income, net worth, source of funds, intended activities) as part of Bitstamp's KYC check, which helps them remain compliant Anti-Money Laundering procedures.
Once submitted, wait a few days for verification. Bitstamp will contact you.
Binance's New Account Registration Process
How to open and verify an account in under an hour on Binance:
US users can head to Binance.US, whereas users of all other permitted nations should go to Binance.com.
Click register and provide an email address and a secure password.
Accept the terms and head over to your email client.
An email from Binance will provide a 6-digit verification code for you to copy and then paste in the sign-up page where indicated.
Congrats, you now have a Binance account, but your actions are heavily restricted until you get verified, so let's walk you through that too.
Find the small avatar symbol in the top right corner; as you hover over that with your mouse, a list will drop down presenting the option 'Identification', go ahead and click that.
The next page has a big yellow 'Verify' button, which, once clicked, will start a 15-minute timer to get your documents verified.
Provide your name, nationality, residential address, date of birth, a photo of your passport or a state-issued ID, a selfie holding your ID card, and a facial verification photo using your webcam. Submit everything.
Now, wait for verification, which can take anywhere from a few minutes to an hour.
If you made any mistakes in your application and it is rejected, don't worry; Binance gives you 10 attempts to get verified in a 24-hour window before making you wait another 24 hours to try again.
Winner: Binance.
Ease of Use & Feel of Website/App
What Do Users Say About Bitstamp?
In general, the feedback about Bitstamp's website and app are positive; users typically stay on the platform long-term and argue it is easy to use. User-friendliness falls short compared to other platforms, as some features seem to be tucked away and site navigation lacks intuition. The trading view is excellent, offering a simplified area for beginners similar to Coinbase and a 'Pro Trader' version for experienced users, which is your industry-standard trading platform with lots of data, APIs, and charts.
Whilst many exchanges build an app that is simpler than their trading platform, Bitstamp offers all of the same features and functionalities, making it more difficult to use yet more complete as a tool.
How Easy To Use Is Binance?
We'll just put it out there that Binance is a joy to use. It's the most comprehensive platform in the industry, with low fees, an intuitive web and mobile platform, the best liquidity of any exchange, and a level of user-friendliness that other platforms lack. It's a platform for all, where beginners, experienced traders, and institutions enjoy the excellent balance between style and functionality.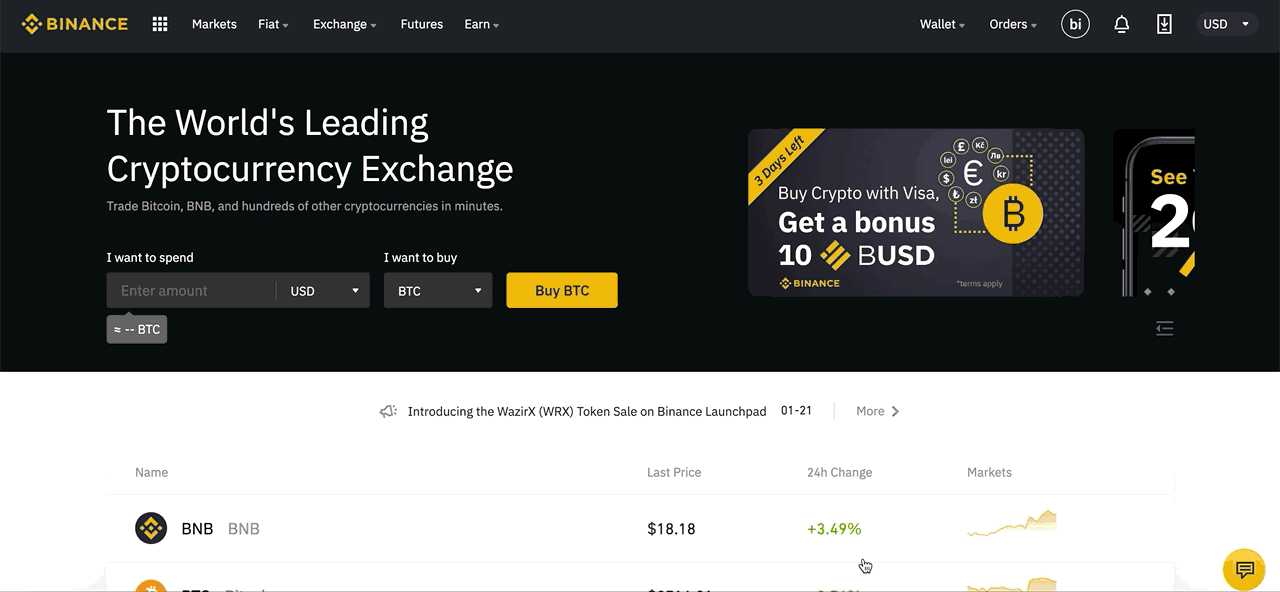 IMPORTANT: Users in the US, who can use Binance.US, will have a slightly different experience as there are fewer cryptocurrencies permitted on the platform. Aside from this, functionality is the same, but it is classed as a completely different exchange.
Winner: Binance.
Deposit Methods
Sending Money To Bitstamp
Users around the world will find great options for depositing fiat currencies into their Bitstamp account:
Some international deposits will require a currency conversion performed at regularly changing rates (below is a historical example, please go here for the current rates).
Crypto deposits are also permitted for free in the following cryptocurrencies:
Making Deposits On Binance
The Binance deposit system allows for three different methods of getting funds into your account, but only one of them is genuinely a fiat deposit.
Users, once verified, can perform a bank transfer thanks to Binance's payment partner, Simplex, which has a 3.5% charge on all transactions.
Crypto deposits are free, aside from the mining cost, which you pay at the other end.
The third method, which falls somewhere between fiat and crypto, is a Paxos wire transfer. With this method, users perform a typical domestic wire process, though, rather than receiving a fiat currency in your trading wallet, you will receive a stable coin called PAX, which is always worth $1. With that PAX, you can easily trade it for cryptocurrency, so it has the same intended effect.
Winner: Bitstamp.
Instant Buy Options (Buying with credit or debit card)
Making Instant Purchases Bitstamp
On top of ample deposit methods, Bitstamp allows users to make instant purchases with both their credit and debit cards (as long as the card is 3DS enabled) — great news for many readers who don't want the hassle of wire transfers or bank transfer delays. The downside is that Bitstamp has a 5% charge, and that doesn't include whatever your card provider might charge on top. Remember, in the crypto world, convenience is costly.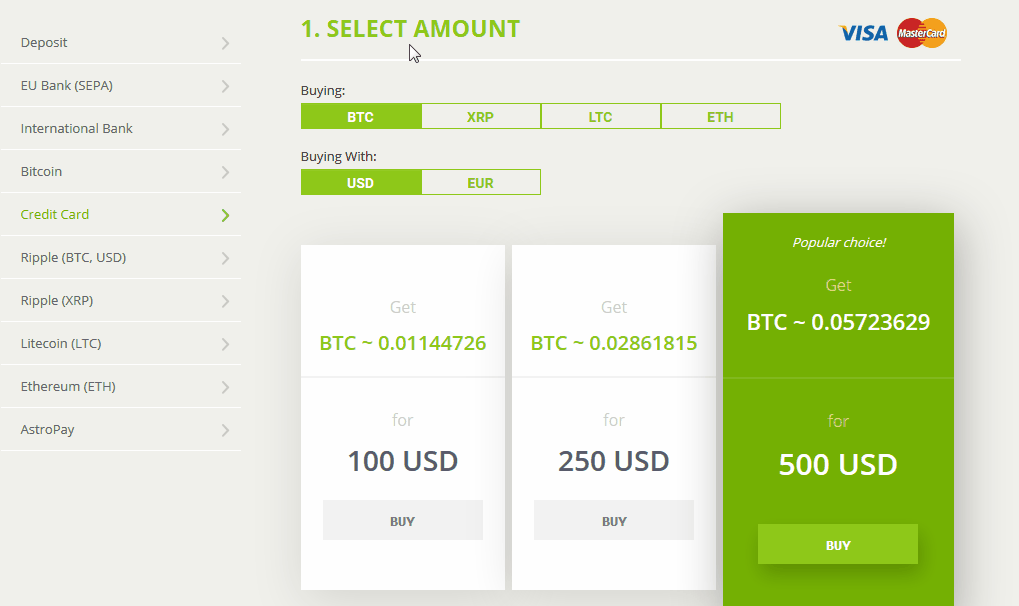 Instant purchases of the following cryptocurrencies are permitted:
Can You Use A Credit Card On Binance?
Credit and debit card fees are permitted on Binance, too, with the fee being 3.5% or $10, whichever is greater. The translation is that you need to purchase at least $285 worth of cryptocurrency to get over that $10 minimum flat fee.
As long as your account is verified, you will be able to purchase:
Winner: Binance.
Trading Experience
Trading On Bitstamp
Trading on Bitstamp is smoother than ever, with the service refined for a whole decade, something almost no other exchange can boast. When making a trade, it's important to remember that for any trade involving a fiat currency, let's say EUR/BTC, which means you're selling Euros and buying Bitcoin, the order must be worth more than €25. This minimum order value of 25 is the same for USD/EUR/GBP/PAX/USDC.
We think you'll like Bitstamp; it's clean and efficient. It could be a little more user-friendly and intuitive, but it won't take long for you to figure out the basics of what you need to do to make trades.
Trading On Binance
Trading on Binance could almost be described as a pleasure, and that's not being over-complimentary. After all, how could an exchange that launched in just July 2017 come to dominate the cryptocurrency exchange marketplace? Binance is handling roughly three times more trades by trading volume than their closest rival, Huobi, five times more than Coinbase Pro, and ten times more than Kraken! Compared to Bitstamp, Binance grew to about 15 times the size, in about one-third of the time. You do the math.
Trading experience has been key to that rapid growth. They introduced terrific products on top of excellent liquidity and a simple-to-use order form, like a debit card and a P2P trading exchange (with zero fees!). With the fastest servers and highest liquidity of any exchange, your trading experience couldn't be bettered!
US users can also thank Binance for launching Binance.US not to be excluded from their great services.
Winner: Binance.
Reputation & Security
Bitstamp's Big Hack
Onto the final consideration now, and Bitstamp has a checkered past regarding reputation and security. In 2015, a whole different era of crypto, to be fair, the exchange was hacked for 19,000 BTC, which was worth around $5m at the time but is now valued at a little over $700m. The hack that took place was a typical hot wallet hack, meaning that it was user funds that were compromised. As a result, they halted deposits and even closed the platform while they resolved it, losing a lot of users in the process. Fortunately for users, aside from not being able to use the platform for a while, they didn't notice anything else, as Bitstamp used their own Bitcoin reserves to make sure balances weren't affected.
Bitstamp learned a tough lesson that day, and now they pass on the learning to their users, with great security guides, such as this one.
Binance's Costly Slip
Like Bitstamp, Binance has been the victim of one big hack; however, their 7,000 BTC doesn't look quite as bad as the 19,000 missing BTC at Bitstamp. The downside in this comparison for Binance is that their hack occurred in 2019 when much security technology and expertise were available. That slip-up cost them dearly; however, it didn't stop them from growing their reputation and becoming the world's best cryptocurrency exchange.
Even exchanges that have never been hacked or compromised can't compete with what Binance has to offer.
Winner: Binance.
Bitstamp vs Binance: Who wins?
Bitstamp should not be underestimated, but our winner is Binance. Truthfully, no exchange can compete with Binance at the moment, but does Bitstamp have what it takes to swipe some of Binance's market dominance? Probably not, but stranger things have happened. Since the only category Bitstamp won in this comparison article was deposit methods, perhaps this is an area Binance needs to look at.