Bitstamp vs Bitfinex: Find Out the Best Exchange for Beginners
Welcome! We're comparing two of the oldest and well-established platforms in the cryptocurrency exchange business. How do they measure up regarding fees, trading experience, security, deposit methods, and more? Let's find out.
Fees
Bitstamp's Fees For Trading BTC & Other Coins
With a daily trading volume currently hovering around $1bn, Bitstamp is a pretty significant exchange; however, their exchange trading fees are also on the large side, at 0.5%. This is relatively high compared to Bitfinex; however, Bitstamp users only need to trade $10,000 worth of crypto each month on their exchange to half those initial fees.
There are also fees for withdrawing cryptocurrencies from Bitstamp to an external wallet, as you can see here.
Trading Fees On Bitfinex
Bitfinex offers highly competitive exchange trading fees, with a 0.1% maker fee and a 0.2% taker fee. Users can also take advantage of their LEO coins, giving them a 25% discount on trading fees if purchased in high enough quantities. See the full fee schedule in the table below or go here:
Sign Up and KYC Experience
How To Join Bitstamp
Bitstamp started as a Bitcoin exchange but has now become one of the most comprehensive digital asset exchanges, with 42 great market pairs to choose from. Here's how to get started: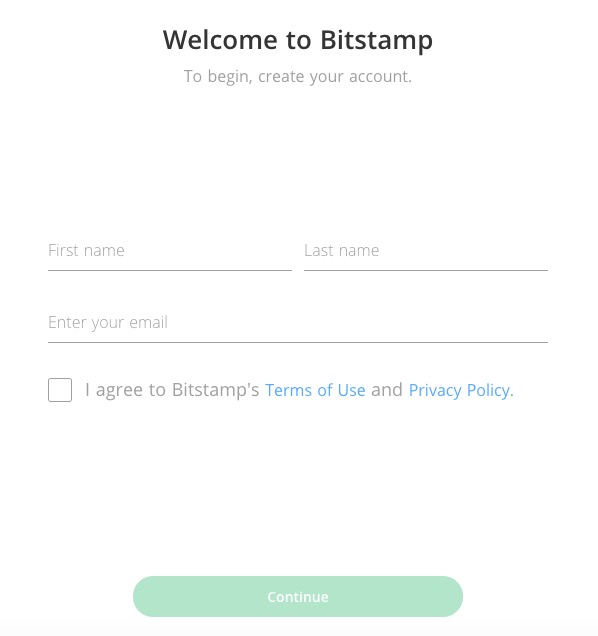 Go to Bitstamp.com and hit the Register link at the top.
Choose a Personal account rather than a Corporate one.
Type in your name and email address, accept the terms and conditions, and click continue.
Fill in the CAPTCHA form and click Register where requested.
Go to your email inbox, find an email from Bitstamp and copy the Client ID and password from this email. Go back to Bitstamp, paste the details in the boxes, and log in.
Change your password to something solid and secure.
Sign in again and then click the 'Verify Your Account' button in the pop-up.
Choose Personal Verification instead of Corporate.
Give Bitstamp your name, address, nationality, and date of birth.
Provide the documents requested. ID is first, so take a photo or scan of your passport, ID, or driver's license.
For proof of residence, take a picture or scan of a bank statement, utility bill, or government-issued document.
Next, you'll be asked a series of KYC questions about your income, occupation, funds, and what you want to do on Bitstamp. Some exchanges skip these questions, but Bitstamp continues to ask them.
Now, wait for verification, but be aware that it might take a few days.
Join Bitfinex Now
Bitfinex is one of our favorite exchanges for buying coins like Bitcoin, Ethereum Classic, and much more, with 305 trading pairs and 142 coins available. Here's how to begin:
Go to Bitfinex.com and click 'Open Account.'
Provide a username, an email address, and a secure password on the new page.
Go to your email inbox and click the verification link you receive from Bitfinex.
Now, log in to Bitfinex using your username and password.
You'll be asked to verify your account, which means providing your:

Name
Age
Contact details
Address
Two forms of Government ID (submitted via mobile or webcam)
A selfie holding your ID
A bank statement
Proof of your residential address (like a rental contract)

Now, wait for up to 3 days for confirmation.
Ease of Use and Feel of Website/App
Using Bitstamp: Good Or Not?
User reviews and comments are mostly positive for Bitstamp. Most people stay on the platform for many years and enjoy its wide range of features, including a mobile app with instant card purchases. User-friendliness is good but could be better, with some features difficult to find.
A particular aspect of Bitstamp that we rate very highly is the option of using either a simplified trading interface (which is very similar to Coinbase) or a Pro Trader version with all the bells and whistles. This makes the Bitstamp platform just as attractive to beginners who want it simple as it does to experienced or large-volume traders, who often want to soak up the data, peruse the charts, and interact with the APIs.
What's So Good About Bitfinex?
Some exchanges have made digital assets so streamlined that basically anyone can do it, and it's fair to say Bitfinex has achieved that too. Their founding intention was to create a high-liquidity marketplace with significant trading volumes so that beginners, pros, and institutions could all find the Bitfinex exchange comfortable to use. Mission accomplished.
Want to test out a new trading strategy? There are few exchanges (Kucoin, Binance, and Kraken are others) that offer a Paper Trading Account amongst their services package. A Paper Trading Account is essentially a demo sub-account that lets you practice trading with imaginary BTC, Ethereum, and other funds, so your losses won't affect you.
Note: US customers are no longer permitted to trade on Bitfinex.
Deposit Methods
Bitstamp's Deposit Options
European Bitstamp traders can make bank transfers on the SEPA network for free, typically taking less than 24 hours.
American Bitstamp users can make a bank transfer on the ACH network for free and under 24 hours.
UK Bitstamp users can avoid deposit fees by using Faster Payments.
All international Bitstamp users can make a bank wire transfer to the Bitstamp exchange for a flat fee of $7.5, €7.5, or £5 or 0.05%, whichever is greater.
Sending a bank wire to Bitstamp is a great option for users who come from countries with fiat currencies other than USD, EUR, and GBP, as you can see in the table below. Note that the image below does not contain real-time currency conversion rates, which can be found here.
Free digital asset transfers to Bitstamp can be made in the following cryptocurrencies:
Making A Deposit On Bitfinex
As a crypto company, Bitfinex does not offer the average member a way to make small bank transfers into their account; instead, they'd prefer you to either make a large deposit or buy crypto directly through their brokerage service. Either way, they win, as either volume or commissions enter the exchange.
The minimum deposit limits on Bitfinex are:
10,000 USD, EUR, or GBP
1,000,000 JPY
Making these large deposits is quite cheap, with just 0.1% deposit fees for a bank wire, plus a €0.60 flat fee. Bitfinex members can also make transfers of cryptocurrency and stablecoin for free, typical of cryptocurrency exchanges.
Instant Buy Options (Buying with a credit card or debit card)
Payment Methods on Bitstamp
Bitstamp's traders can convert their money into crypto by credit card and debit card, as long as they are 3DS-enabled. The bad part of this convenience is that it always comes at a price; in the case of Bitstamp, it's a 5% charge, not including any potential charge from the card provider.
The following coins can be bought instantly on Bitstamp:
Bitfinex's Purchase Methods
If the $10,000 minimum deposit fee left you dizzy, fret not friends, you could make purchases by credit card with a minimum value of just $25 as long as your account is verified.
These cryptocurrencies are available on Bitfinex:
There's no fixed fee for purchases; instead, an algorithm decides on the charge.
Trading Experience
Smooth Trading On Bitstamp
After a whole decade as a cryptocurrency exchange (initially as a Bitcoin exchange), Bitstamp has made a fantastic trading experience for users, explaining why their daily trading volume is regularly over $1bn. We think the whole offering is clean and efficient, though not quite as much as Bitfinex, which is a bit more intuitive. However, Bitstamp is missing margin trading, which many exchanges offer, as explained here.
Bitfinex: Margin Trading Enabled
When we talk about Bitfinex, we tend to mention how highly-suitable it is as an exchange for professional traders and institutions, who can make large transfers of their fiat currencies very cheaply and execute their trades with the low maker and taker fees. However, when we look at all crypto exchanges as a whole, we have to say that Bitfinex is one of the more user-friendly and intuitive platforms for beginners, maybe not as much as Coinbase, Kucoin, Kraken, or Gemini, but not far off.
Bitfinex offers a 5x margin trading, a cool feature, especially for regularly trading Bitcoin on an exchange. We also love how you can move from the dashboard or wallet straight into the trading view with the trading pairs set up and with a 'Market Order' button so that traders can enact their trades at the exact market price.
The mobile app is excellent, too, allowing users to make their credit card purchases, trade BTC, ETH, and access a trading platform that is an excellent replica of the web page.
Reputation & Security
Bitstamp's 2015 Theft
In 2015, a team of skilled hackers managed to find an exploit in the Bitstamp exchange and steal 19,000 BTC, worth around $5m back then and over half a billion now. Bitstamp refunded all users on the exchange who had been hacked and set about improving their security and defenses. Since then, they not only haven't been hacked, they also educate their traders with excellent guides, like this one.

Bitfinex's Megahack
In 2016, which wasn't all that long ago, Bitfinex became the victim of a major cybercrime when 120,000 BTC were stolen from their exchange, now worth several billion dollars. Some of the hacked funds were recovered, but much of it was laundered and put through protocols. Bitfinex suffered huge reputational damage due, but they managed to bounce back stronger when most exchanges cut their losses.
From within the user dashboard, you can make use of these security settings:
2-Factor Authentication
Whitelist withdrawal address option
Whitelist IP addresses
Lock withdrawals for new IP addresses
Withdrawal confirmation phrase
Disable 'keep session alive' option
Login history
API permissions
Email encryption
The following security measures are also in effect:
99.5% of reserves in cold storage
A new data structure
DDoS protection
Routine penetration testing
Bitstamp vs Bitfinex: Who Wins?
It's a very close call. Let's consider that Bitstamp offers lower deposits, making them more accessible as an exchange to beginners, and Bitfinex offers margin trading and cheap bank wires, making them more accessible to professionals and institutions. With comparable volume, excellent services, and liquidity for BTC, Ethereum Classic, and more, as well as several options for turning your currency into crypto, we have to say that calling one website or exchange better than the other was hard to do.
Ultimately, we are here to provide clarity to beginners, and for that reason, Bitstamp edges this comparison.