Bittrex vs Binance: A Riveting Comparison
Sitting at 12th on our list of the world's best Cryptocurrency Exchanges, we have Bittrex, fully operational since 2014, and an excellent platform for finding interesting altcoins. Bittrex is up against Binance, the powerhouse, the cream of the crop, the first-placed exchange on our list. Will it be a case of David against Goliath, or will Bittrex surprise us?
Let's begin.
Fees
Bittrex, Simple Trading & Withdrawal Fees
The fees on Bittrex can be described as mid-range, at 0.2% for both makers and takers, which positions them as a little bit more expensive than rivals Bitfinex, and a bit cheaper than Kraken. 0.2% for both also means that beginners don't need to worry about the Bittrex fee system.
We like the simplicity of their fees; there are only five different discount levels (see below) and no utility token to force some hard math on us. The maker and taker fees go to the crypto miners.
Bittrex, Bittrex International, or Bittrex Global, whichever way you want to call it, also has a small withdrawal charge for each cryptocurrency, which you can see here.
Binance's Cost-Effective Trading Fees
Now, contrast the elegant simplicity of Bittrex with the confusing labyrinth of fees that Binance has assembled. Beginners, do not fret; there are only a couple of pieces of information here that affect you. Firstly, the maker and taker fees are just 0.1%, making Binance half the price of Bittrex to trade on (that's a good thing).
The other important aspect to know about is that you can get a 25% discount on those trading fees by purchasing a certain amount of BNB, Binance's native utility token. There's also a further 20% discount available for being involved in Binance's customer referral scheme. These discounts show that Binance has more options and opportunities for their larger traders and the overall community.
Like Bittrex, withdrawing cryptocurrency from the platform to an external wallet incurs a different fee for each crypto, which you can see here.
Winner: Binance.
Sign up and KYC experience
Getting Set Up On Bittrex
Let's help you to open an account: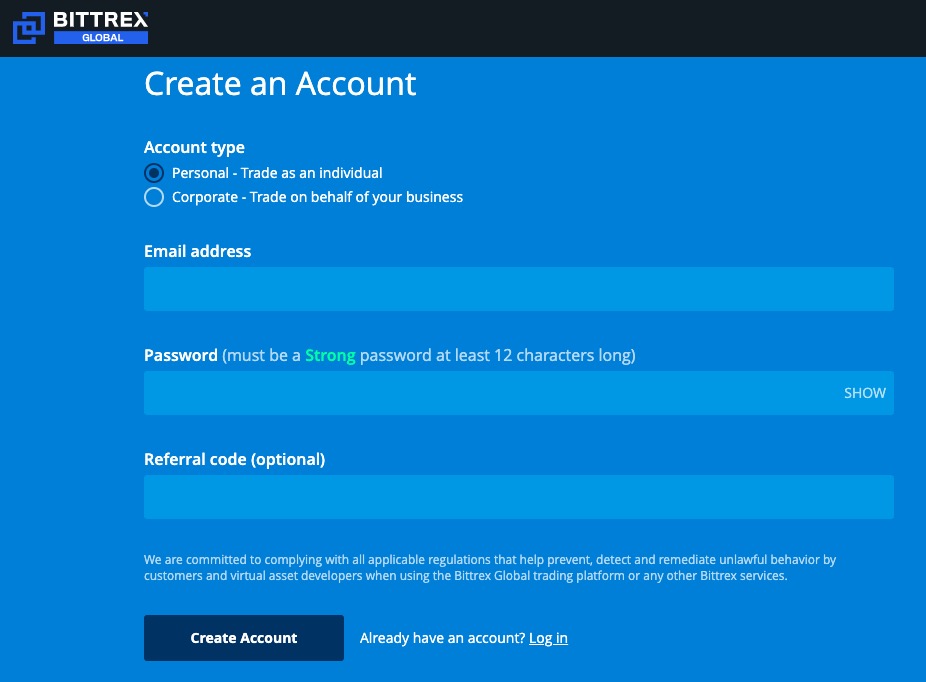 Head on over to Bittrex.com and click 'Sign Up' on the homepage
Opt for a Personal Account, then type in your email address, password. Your email address will be used for signing-in purposes in the future.
Hit 'Create Account' and take a trip over to your email client. You'll find a verification email with a call-to-action saying 'Verify Email,' which will send you back to Bittrex.
Accept the terms and conditions and move on to the KYC (Know Your Customer) verification process.
You'll need to provide your country of residence, address, and date of birth.
Next up, your ID. This process is mandatory for all users and can be done with a webcam or mobile phone. For the fastest verification times, Bittrex advises using your passport. However, citizens of certain nations are prohibited from signing up. If your ID image is not clear enough, it can slow down your verification times, and you may be asked to submit it again.
Wait for your verification to go through before trying to add funds or make any trades.
Scroll down to 'Deposit Methods' or 'Instant Buy Options' to see how to get your hands on some cryptocurrency.
Making An Account On Binance
Get started on Binance in under an hour: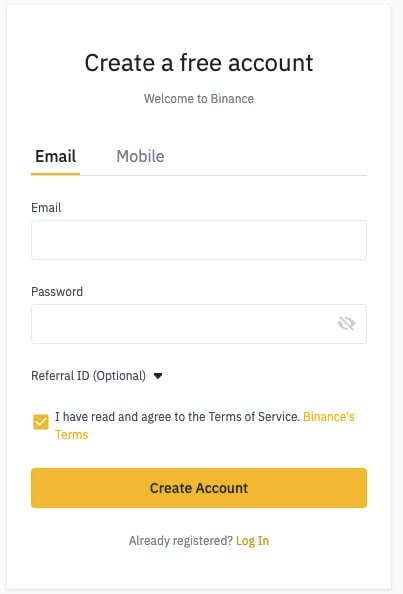 US citizens can head to Binance.US, whereas users in all other permitted countries should go to Binance.com.
Enter your email address and a secure password for your account.
Click accept on the terms and conditions and then go to your email client in a new tab. An email from Binance will contain a 6-digit verification code, copy this and paste it on the sign-up page. You've now created your account.
To get some fiat currency into the account, which is our goal to get you started with trading, you'll need to verify your account. The top-right hand corner will have an icon of a person in a circle; hover here and choose 'Identification' from the list.
On the next page, a big yellow button will say 'Verify.' Clicking this will start a 15-minute timer to provide your:

Name
Nationality
Residential Address
Date of Birth
A photo of your ID card (passport or state-issued ID)
A selfie holding your ID card
A facial verification photo using your webcam or mobile camera if signing up on mobile

Same-day verification is typical and is usually processed within the hour.
If something went wrong or you didn't complete the process in the allotted 15 minutes, Binance will give you 10 tries to get it right in a 24-hour window. If you get it wrong on all 10 attempts, you will have to wait 24 hours to try again, so it's good to have your documents and information ready.
Winner: Tie.
Ease of Use & Feel of Website/App
Bittrex Is The Most Helpful
One of the things we most love about Bittrex is their Zendesk customer support. It's natural when joining a platform for the first time to ask loads of questions and look for all sorts of answers. Bittrex and Zendesk took all of these user questions and turned them into one of the most comprehensive FAQ sections we've ever seen in the crypto sphere. If you're asking the question, it's likely someone else asked it before and that Bittrex has answered it.
The platform itself is easy to use and works similarly to Binance, where you find your trading pair in your user portal, click trade, and send you to the trading view with everything set up. All you then need to do is set your price, amount, and order type. The app works in the same way.
Speed is not on their side, however. We tested their trading platform, and the first two times we tried to load it, it crashed. It took more than 30 seconds for all of the boxes and graphs to load for ETC/BTC on the third attempt. We then ran the same test on Binance, and it loaded up in four seconds on the first attempt.
Fortunately, Bittrex has a highly-rated app that is easier for beginners to work with.
Binance's Friendliness Is Key
Some of the lowest fees in the industry, the best liquidity, more market pairings than almost anybody else, and a great deal of logic throughout their website, app, and platform, make Binance a hugely attractive service to use. The website feels both technical and friendly; it appeals to experienced traders and beginners alike, finding a comfortable balance in their few years of operation that older exchanges still haven't managed to discover.
When regulations made things tricky for them to operate in China, they jumped ship and set up in crypto-lovin' Malta to offer an improved service to their users. This is an excellent part of their story and makes them even more likable.
Winner: Binance.
Deposit Methods
Accessing Fiat Funds On Bittrex
Depositing on Bittrex depends on your verification level, of which there are three categories, New/Unverified, Basic, and Enhanced.
A New/Unverified account doesn't actually allow you to use the platform, so it's basically obsolete until you upgrade to a Basic or Enhanced account. A Basic account will allow you to deposit crypto in the hot wallet, trade, and deposit up to four BTC per day. All you need to provide is your name, date of birth, address, and residency country.
To get an Enhanced account, you'll need to go one step further, providing your ID, a selfie holding the ID, and for US users, your banking information and a document proving your residential address. With an Enhanced account, users outside the US can make fiat deposits of a minimum of €20 via:
SEPA Credit Transfer
International Wire Transfer
Credit/debit card (3% fee)
Users in permitted US states can access a limited version of Bittrex which won't offer the same range of cryptocurrencies but will allow fiat deposits via:
Debit card (3% fee)
Wire transfer (minimum $50)
US users will be required to fill in a fiat application and wait to be whitelisted:
Binance's Fiat Deposit Methods
The deposit and account level status on Binance is quite similar, yet slightly better. An unverified account can deposit and trade up to two BTC per day but cannot deposit fiat currency. Once verified, as explained in the sign-up process, users can make deposits using one of the following methods:
Bank transfer (3.5% Simplex charge)
Paxos wire transfer*
Cryptocurrency/digital asset transfer (always incurs a mining cost)
*A Paxos wire transfer is slightly different from a standard domestic wire. Rather than sending cash via wire and receiving fiat currency in your account, you receive PAX, a stablecoin pegged to the US dollar. This makes it more similar to buying crypto than depositing cash, but since PAX can be traded just as easily as USD, it's almost identical.
Winner: Tie.
Instant Buy Options (Buying with credit or debit card)
Bittrex
What makes Bittrex a bit of an anomaly in the crypto-world is that it's not a broker, and it has no interest in selling you cryptocurrency directly via debit or credit card. Instead, they'd like you to deposit fiat currency using one of the previous section methods and then use it to buy crypto in a market pairing, like USD/BTC or EUR/BTC.
Binance
Binance is much more accessible for those who want to make a purchase with debit or credit card, with users being able to purchase the following cryptocurrencies upon verification:
Winner: Binance.
Trading Experience
Bittrex, Stuttering or Stupendous?
Bittrex's trading platform is aesthetically-pleasing, user-friendly, and simple to understand. However, as we mentioned before, it took us over 30 seconds to launch, and even then, there were some issues with the charts and graphs. On the positive side, you can jump directly from the market dashboard into the trading view, leaving you to fill in your order details. The trading experience on Bittrex takes away some of the complications or room for error that a lesser exchange might overlook.
More than 600 pairings of over 250 cryptocurrencies make this a versatile platform for beginners and more experienced traders.
Binance – Speed, Efficiency, Services
Trading on Binance is smooth, maybe even too smooth. It's enjoyable, user-friendly, and like Bittrex, takes away some of the confusing parts of trading, like trying to set up a trade manually. Their process's logic has brought them the highest liquidity, most web traffic, biggest volume, and most market pairings in the world. On top of their fantastic service for basic trading are some advanced trading options for derivatives, margin trading, and futures trading, as well as much more, like P2P and DeFi trading. It's also worth mentioning how fast the Binance servers are, making the user experience much more pleasant.
For our US readers, the existence of Binance.US, a near-identical platform, should be considered a blessing.
Winner: Tie.
Reputation & Security
Bittrex Is A Fortress
Bittrex is solid. They've had one high-profile SIM swap hack, losing $1m in BTC, in an ordeal that was entirely out of their control. This scandal made waves because the user who lost his crypto kicked up a storm and went on a PR search trying to drag Bittrex down with him. He failed. Bittrex lives to tell the tale, and its stunning reputation as one of the most secure and reliable exchanges in the market continues to grow. This reputation expands because of their focus on security, likely due to their founding team, a group of cybersecurity engineers from Microsoft, Amazon, and Blackberry.
Bittrex is an exchange you can trust.
Binance One Big Blunder
Binance is also an exchange you can trust, as long as you can overlook the 7,000 BTC stolen from them in 2019. Worth over $250m at today's rate, this was a significant loss for the exchange and left a lasting impression on many users, who then switched over to other platforms with a zero-hack past. Of course, Binance had an insurance fund and paid back the Bitcoin very quickly, bolstered their defenses, and improved their service and products.

Winner: Bittrex. Few large exchanges are remaining that haven't been hacked or compromised. Bittrex is one of them.
Bittrex vs Binance: An Overall Winner?
We will edge this one in favor of Binance, but it couldn't be any closer. These two offer the reliability and stability that this industry needs to grow. Crypto-traders need exchanges they can trust to look after their funds, fulfill their trades, and keep compliant. Binance wins this duel because it's easier for beginners to use and get set up on, and we believe it offers the best long-term user experience.