Bittrex vs Bitstamp Comparison
Welcome! Join us as we compare Bittrex, ninth in our cryptocurrency exchange rankings, and Bitstamp, ranked 15th.
Which offers more affordable trading? Which has a better track record when it comes to security? And where are you going to have the best trading experience? Let's find out.
Fees
Bittrex's Trading Fees
With 0.2% maker and taker fees, which go to the blockchain miners, and a 0.25% exchange commission for each trade, Bittrex's costs are above average. With just five tiers of trading discounts, their fee schedule is far more simple to comprehend than most competitors.
Crypto withdrawals fees are explained here.
Trading Fees On Bitstamp
Bitstamp's 0.5% maker-taker fees make them slightly more expensive to trade on than Bittrex. However, those fees are halved when trading over $10,000 worth of coins per month and continue to drop as trading volume increases, as demonstrated in the spot trading fee schedule below:
Other fees may come into play for deposits, crypto and fiat withdrawals, and exchanging fiat currencies, as is shown here.
Winner: It's a tie.
Sign Up & KYC Experience
Getting Started On Bittrex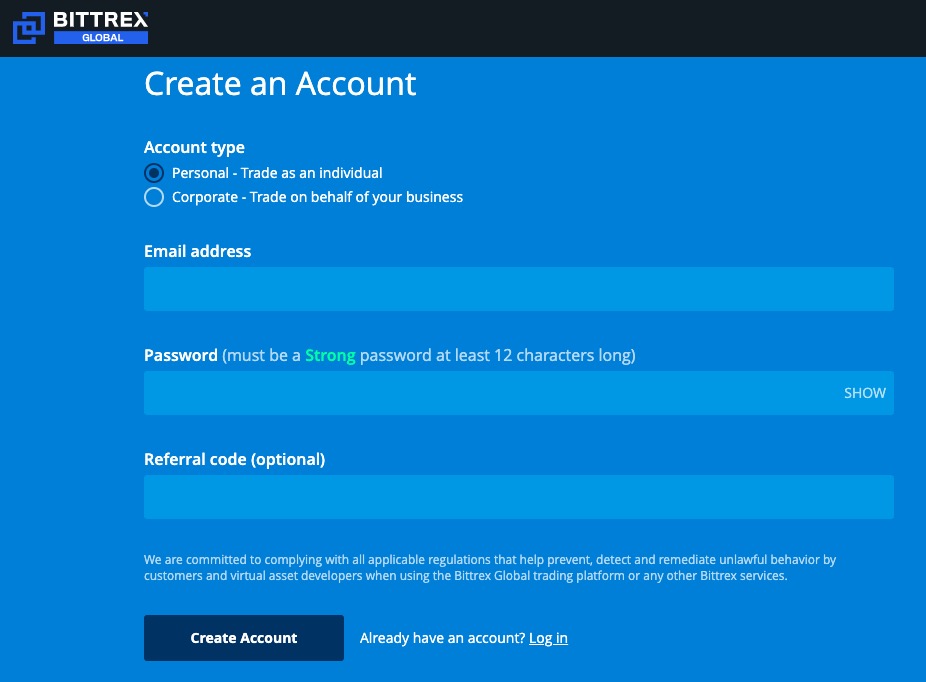 Head to Bittrex.com and click 'Sign Up.'
Choose 'Personal account.'
Provide your e-mail address and click 'Create Account.'
Go to your e-mails and click the Bittrex verification e-mail link.
Accept the terms and continue.
Add your country of residence, address, and date of birth.
Provide an ID document (passport preferred).
Wait around 15 minutes for verification.
You may deposit funds and start trading.
Opening An Account On Bitstamp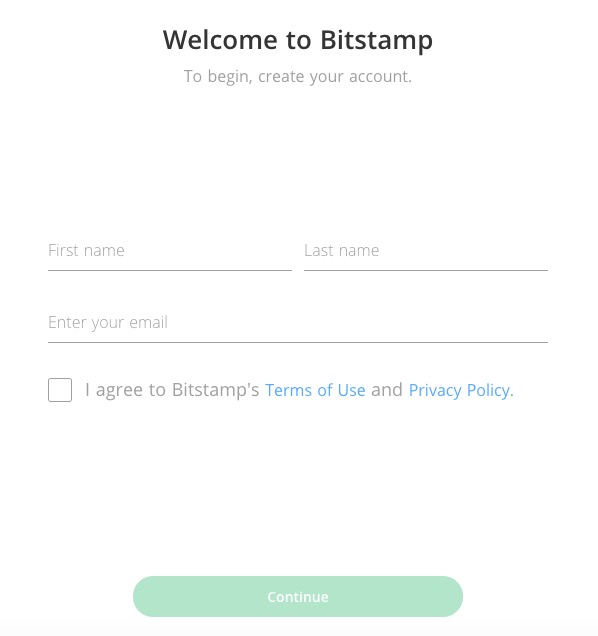 Head over to Bitstamp.com and click Register.
Choose 'Personal Account' then give your name and e-mail address.
Complete the CAPTCHA form and hit Register again.
In your e-mail client, find an e-mail with a new Client ID and password that you need to copy and paste into Bitstamp.
Log in and set a strong password.
Choose 'Verify Your Account' and select 'Personal.'
Give your name, address, nationality, and date of birth.
Upload a photo or scan of a government-issued ID.
When asked for proof of residence, upload a bank statement, utility bill, or a government-issued document.
Answer Bitstamp's KYC questions.
Wait a few days for verification before trying to add funds or trade.
Winner: Bittrex is quicker and easier.
Ease Of Use & Feel Of Website/App
Using Bittrex
A major plus on the Bittrex cryptocurrency exchange is their Zendesk customer support platform which boasts more questions and answers (in English) about their service than you can imagine.
One feature that massively improves ease of use is the ability to seamlessly move straight from your wallet to the exchange interface with the trading pair open and order form ready to use.
The trading interface itself could use some work. We find it buggy, slow, and some charts do not load properly. Despite the tech issues, we think it is visually appealing.
Bitstamp's Service
Bitstamp offers plenty of great services, reliable longevity (almost a decade in business), and great functionality.
Ease of use is accelerated by the option to trade on a simplified trading view, suitable for beginners, or the ProTrader view, which is better suited to, well, pros.
The biggest negatives would be site navigation, a small selection of altcoins, unregulated trading, and no margin trading feature.
Winner: Bitstamp just about edges it.
Deposit Methods
Funding Your Bittrex Account
Bittrex has a three-tier system for deposits, but since New/Unverified users can't do a thing until they provide some personal information, we'll skip right past that.
Basic users
Can deposit or trade 4 BTC per day
Must provide their name, DOB, address, country of residence
Non-US Enhanced users
Require government-issued ID and a selfie holding that ID
Can make deposits via

SEPA Credit Transfer (Europe)
International Wire Transfer
Credit card and debit card (3% fee)
US Enhanced users
Require ID & selfie, as well as banking and residential address documents
Can deposit via debit card with a 3% charge or via wire transfer (minimum $50) – see below:
Bitstamp's Deposit Options
Bitstamp offers direct deposits for EUR, GBP, and USD to verified accounts; however, other currencies are not excluded from the exchange:
EUR – bank transfers on the SEPA network
USD – bank transfers on the ACH network
GBP – bank transfers on the Faster Payments network
Cryptocurrency deposits are free
Other currencies – deposits via bank wire, paying the greater of a flat fee of $7.5, €7.5, or £5, or a commission of 0.05%. Currencies will be converted, with some funds being lost in the exchange rates (see below)
Winner: It's a tie.
Instant Buy Options (Buying with Credit or Debit Card)
Bittrex (Nope!)
Bittrex does not offer a broker service. Users will need to make a fiat deposit and trade it through fiat-crypto market pairs.
Bitstamp – Expensive Purchases
Users with a 3DS-enabled credit card or debit card can make purchases of coins at 5%, plus applicable card charges and a very low spread:
Winner: Bitstamp wins.
Trading Experience
Bittrex
Despite a laggy interface, trading on Bittrex is uncomplicated and intuitive. With over 600 market pairings to choose from (fewer for US users), this is a reliable place to begin your cryptocurrency adventure, though it doesn't offer margin trading.
Bitstamp
Luxembourg-based Bitcoin exchange Bitstamp has offered a quality trading experience for 5 million users in over 100 countries for 10 years. Their website and mobile app are sturdy but not as user-friendly as services like Coinbase or Kucoin. US users might find more issues than their counterparts in the EU and the United Kingdom.
Winner: It's a tie. As you can see, the interfaces are near-identical.
Reputation & Security
Rock-Solid Bittrex
Bittrex has never been hacked. Their stellar security reputation comes down to their founding team, all cybersecurity engineers who had previously applied their talents at Microsoft, Amazon, and Blackberry.
Bitstamp's Big Exploit
In 2015, Bitstamp was hacked for 19,000 BTC, more than half a billion dollars in current money, but only around $5m back then. They responded well, compensating users from their own reserves and bolstering defenses. They haven't been hacked since and are seen as a superb option for traders in Europe and the United Kingdom in particular.

Winner: Bitstamp is solid.
Bitstamp vs Bittrex: Who Is Our Overall Winner?
This comparison was much closer than we ever expected. Both cryptocurrency exchanges having a top-quality set of services to offer. However, Bittrex wins.