Coinbase vs Bittrex Comparison
With Coinbase being the #1 crypto-broker in the world and Bittrex ranked as the 15th best exchange, this comparison could throw up some interesting results. Are these businesses even playing the same game? Is Bittrex trying to attract beginners to their platform? Is Coinbase an exchange? There's a lot to discuss here.
Fees
Coinbase Purchase Fees
Beginner-favorite Coinbase is loved by the masses and loathed by those who hate paying hefty transaction fees. Accompanying their expert brokerage service makes buying cryptocurrency as easy as doing online shopping. Coinbase offers the most expensive fees of any Tier 1 cryptocurrency exchange.
Coinbase's purchase fees will be the greater of the two following conditions:
Condition one: a flat fee for transactions under $200 (USD):

$0-10 – fee: $0.99 | €0,99 | £0,99 | C$.99
$10-25 – fee: $1.49 | €1,49 | £1,49 | C$1.49
$25-50 – fee: $1.99 | €1,99 | £1,99 | C$1.99
$50-200 – fee: $2.99 | €2,99 | £2,99 | C$2.99

Condition two: 1.49% of the total purchase via bank transfer or 3.99% for debit and credit card purchases
To simplify what is an unnecessarily complicated fee system:
The 1.49% bank transfer fee only kicks in when a purchase is over $200
Paying by credit card will always be more than the flat fee (buying 1 BTC would cost $1,000+ in fees)
You should also be aware that:
Coinbase adds 0.5% to the market price; this is called the spread
Converting one crypto into another through your web wallet will result in a 2% fee in that cryptocurrency
Crypto-withdrawals to an external wallet cost 1%
Convenience can be costly.
Bittrex Trading Fees
Bittrex is more straightforward than most exchanges when it comes to fees. There is a flat 0.20% commission on all trades and only five different tiers of discounts for makers and takers, as you can see in the chart below:
Bittrex, or Bittrex Global, charges a small built-in network transfer fee for withdrawals, as is standard (EOS, TRON, and Ripple offer the lowest network fees). Users can view the variable withdrawal cost only when trying to make the withdrawal in the platform.
*Bittrex Global is a near-identical exchange that is registered in Bermuda and operated from Liechtenstein. The two platforms share liquidity and allow more global users to join and exchange under slightly different terms. The names Bittrex, Bittrex International, and Bittrex Global are synonymous.
Winner: Bittrex. Their fees are pretty low in the crypto world.
Sign up and KYC experience
Coinbase Onboarding Process
To remain compliant with Know Your Customer (KYC) and Anti-Money Laundering (AML) procedures, Coinbase has to perform an ID verification on every user when signing up.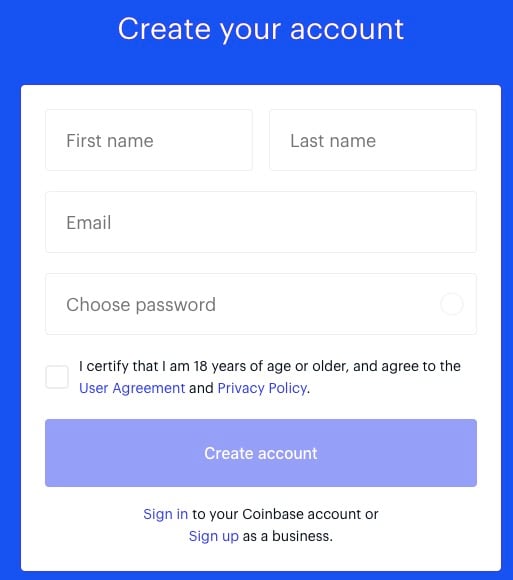 Here's the process in full:
Visit Coinbase.com and hit 'Get Started' in the top-right corner.
Provide your name, email address, password, and country of residence.
Agree to the terms and conditions and wait for your email verification link.
Open your email client and click the email verification link. Enter your password again.
Provide your phone number and wait for the 7-digit verification code that comes by text.
You'll now be asked for further details as part of the KYC check, such as:

Your name
Date of birth
Home address
Reasons for joining Coinbase
Source of funds
Occupation / Employment
Employer name
Last digits of your Social Security Number (US only)

Another email will ask you to verify your identity by sharing a picture of your passport, ID card, or driving license. This can be done by webcam or mobile phone, at the user's discretion.
Wait for confirmation; once that arrives, you're good to go and can start adding funds!
How To Join Bittrex
If you are keen to open your Bittrex account today, follow these steps:
Visit the Bittrex website and click 'Sign Up.'
You will have the option for a Personal or Corporate account; make sure you click Personal, then provide your email address and password. Click 'Create Account' and then head over to your email client to find a verification email.
Hit 'Verify Email' and then slide back over to Bittrex.
Accept the terms and conditions.
Provide your personal information: country of residence, address, and date of birth.
The following section regards ID verification and is mandatory for all users. You will have to supply a photo of your ID and a selfie to confirm it is you in the ID. You can do this with your computer webcam or your mobile phone. Using a passport is recommended by Bittrex for faster processing times and can allow for verification in just 10 minutes; however, some nationalities are banned, and failed ID verification can slow down the onboarding procedure.
Wait for a 'Successful Verification' notification, and then you can add funds to get going (you'll see how to do this in the 'Deposit Methods' section).
Winner: Tie. The process is pretty similar for both.
Ease of Use & Feel of Website/App
Coinbase, Kings of Convenience
Is Coinbase a cryptocurrency exchange? Not really. It's primarily a brokerage and wallet (but a wallet that allows you to trade with Coinbase at their prices). You buy the crypto from them, and they look after it for you.
Coinbase's web and app designers sit on a lofty perch, looking down from the top spot at all of the other sites that wish they could master digital user experience. Kudos are due.
Bittrex, The Powerful Platform
Despite having the feeling that they are highly corporate, the platform is pretty easy to grips with and shares some similarities with industry-leader Binance. Like Binance, users can find the pair they want to trade before they enter the trading view. When they select the pair, they enter the trading platform with everything set up to make a trade — the user only needs to fill in the amounts. The web platform and app both work in the same way.
With multiple viewing options and heaps of valuable data, their trading view is a powerful tool. Too powerful, though, perhaps? It crashed the first two times we tried to load it up. On the third time, we were pleased with their design and the fact that the Zendesk support ticket system uses customer queries to build a massive bank of thoroughly answered FAQs.
Winner: Coinbase. Ease of use is their unique selling point.
Deposit Methods
Which Deposit Methods Does Coinbase Permit?
Deposits are possible via:
Bank transfers on the ACH network
Wire transfers (US only)
SEPA Transfer (Europe only)
Ideal/Sofort (Europe only)
Users have the option to connect their bank account through online banking for instant purchases.
Cryptocurrency or digital assets from an external wallet
Bittrex Deposit System
Depositing funds into Bittrex can be a little bit complicated. The platform has three different types of user:
New/Unverified accounts
Basic accounts
Enhanced accounts
New/Unverified
No deposits or withdrawals of fiat currency, so essentially a useless account that sits in limbo until personal information has been provided.
Basic accounts
Provide your name, date of birth, address, and country of residency. Now you can deposit crypto in the hot wallet and withdraw up to four BTC per day.
Enhanced accounts
To unlock Bittrex's fiat service and buy crypto with your fiat currency, you will need to provide your ID and a selfie holding it. Users in the US will also need to provide their banking information and a residency document, such as an apartment lease.
Enhanced accounts in Europe can deposit fiat currency via:
SEPA Credit Transfer
International Wire Transfer
Credit/debit card (3% fee) – there is a minimum deposit of €20 and a minimum withdrawal of €10.
Users operating in certain US states can use Bittrex, but they won't have access to the same cryptocurrencies. Regardless, they can make fiat deposits using:
Debit card (3% fee)
Wire transfer (minimum $50)
Winner: Coinbase. This is a no-brainer. Bittrex makes US citizens jump through more hoops to access crypto, whereas Coinbase has solidified its market share through simplicity.
Instant Buy Options (Buying with credit or debit card)
Coinbase
Coinbase offers only debit card payments for instant crypto purchases, which is undoubtedly an area they will aim to improve over time.
Bittrex
Unlike most exchanges, Bittrex is not a broker, and they will not sell you crypto directly. Once you have deposited fiat currency, you can use it in a market pairing like USD/BTC to purchase cryptocurrency instantly.
Winner: Coinbase.
Trading Experience
Trading On Coinbase?
Coinbase isn't really for trading; it's for buying and selling cryptocurrencies for fiat money (real-world currency). It's a brokerage, which is more or less an online store. It means they have a lot of cryptos (50 different coins) in their shop, and they are willing to sell them to you, at a premium, for the convenience and speed of their service. If users choose to trade their cryptocurrencies for other cryptocurrencies, they will lose a 2% slice each time.
If you want to get into trading through Coinbase, look at Coinbase Pro, their trading product.
Is Trading On Bittrex Good?
As we mentioned before, we had some trouble loading up the Bittrex trading platform on the first couple of tries, but once it was open, it was solid. We loved to jump from the dashboard right to the market pairing and make a trade so quickly and seamlessly. This is excellent user-friendliness and should give new users confidence who might worry about complications and mistakes.
Bittrex offers over 250 unique cryptocurrencies and more than 600 market pairings, making them one of the most diverse exchanges in the sector.
Reputation & Security
Coinbase's Supreme Reputation
Having never been hacked or compromised, Coinbase is glad to be one of the members of the ultra-secure club in the crypto-world, a club whose membership list seems to get shorter and shorter each year (*cough* Kucoin *cough*). You can trust that unless you compromise your private keys and password, your account should be safe.
Coinbase has built its reputation, not through security but convenience and service quality. They are widely accepted as the go-to platform for first-time buyers of cryptocurrency, despite their dizzying fees and commissions, which are expected to remain true in 2021.
Bittrex's Minor Scandal
It's excellent for Bittrex's management that they have earned themselves a first-class reputation for institutional and corporate accounts, but it might make beginners wary of their platform.
On the topic of security, they are negating one significant risk by not being a broker. Still, they have created another one by not offering users an offline wallet for when they aren't trading. An online (or hot) wallet is more likely to be hacked and emptied than an offline (cold) wallet.
Fortunately for Bittrex, they've never had a significant breach or hack. However, they were caught in one scandal when a Seattle-based investor was personally hacked for $1m in Bitcoin. The guy then went on a PR rampage trying to destroy the company's reputation, but to no avail, as Bittrex was not really at fault for the user losing access to his phone. Bittrex's advanced security may come down because cybersecurity engineers formed it from Microsoft, Amazon, and Blackberry.
Coinbase vs Bittrex: The Conclusion for Beginners
These two platforms will pop up on the list of the top services in the cryptocurrency world, but when placed under a microscope, we see that they are vastly different propositions. Coinbase is a broker that wants to sell cryptocurrencies for fiat currency. In contrast, Bittrex is a trading platform aimed at people or institutions with cryptocurrency and large quantities.
For beginners, you can use both platforms by buying cryptocurrencies directly from Coinbase and sending it over to Bittrex to trade, if you wish. But in this case, our overall winner is Coinbase.