Coinbase vs Coinmama: Two Easy-to-Use Crypto Exchanges
Welcome! Today we present our Coinbase vs Coinmama exchange comparison, showing beginners in the crypto world which one is better for trading, buying crypto, security, and a whole host of other factors. Let's go…
Fees
Coinbase Fee System
Starting with Coinbase, it's important to know that they are the most expensive top-tier cryptocurrency exchange when it comes to trading fees at 2% for crypto-to-crypto trades. Some of their major competitors, like Binance and Kucoin, charge a maximum of 0.1%.
When it comes to the purchase fees, users must pay the greater of condition 1 or 2.
1.49% of the total purchase when paying by bank transfer, or 3.99% when paying via debit or credit card
A flat fee system for purchases under $200

$0-10 – fee: $0.99 | €0,99 | £0,99 | C$.99
$10-25 – fee: $1.49 | €1,49 | £1,49 | C$1.49
$25-50 – fee: $1.99 | €1,99 | £1,99 | C$1.99
$50-200 – fee: $2.99 | €2,99 | £2,99 | C$2.99
Condition One of the fee system is applied only to purchases over $200, meaning $1,000 by credit card would cost an additional $39.90. Coinbase also places a 0.5% spread on top of the actual market for their profit margins.
There are no cryptocurrency deposit fees, and whereas most cryptocurrency exchanges charge a variable withdrawal fee depending on the coin being withdrawn, Coinbase has a flat 1% fee for crypto withdrawals.
The Costs Of Coinmama
Now, if you thought Coinbase was expensive, Coinmama is even more costly. The difference is Coinmama does not offer a cryptocurrency exchange or trading platform — it's just a broker. This means you can visit Coinmama and buy seven different cryptocurrencies or sell them Bitcoin for EUR (Euros). That's it. The service stops there.
If you decide you want to purchase crypto from Coinmama, here are the facts:
Their spread is 2%.
The commission on purchases is 3.9% (only 0.9% on sales).
A further 5% 'momentum fee' is applied to credit and debit card payments.
Total fee by credit or debit card: 10.9%
Using that information, purchasing $1,000 worth of Bitcoin by debit card would cost you $1,109. In reality, the service works in reverse, so you pay $1,000 but only receive $891 worth of Bitcoin. Yup, it's painfully expensive.
There are cheaper alternative payment methods than credit cards and debit cards. Those in Europe can purchase coins via the SEPA network and avoid the 5% debit or credit card fee, bringing the charge down to 5.9% on top of the market price. Users in the US who pay by SWIFT are charged 5.9%, but they must pay a $20 fee for transactions under $1,000.
Winner: Coinbase is cheaper.
Sign Up & KYC Experience
Creating Your Coinbase Account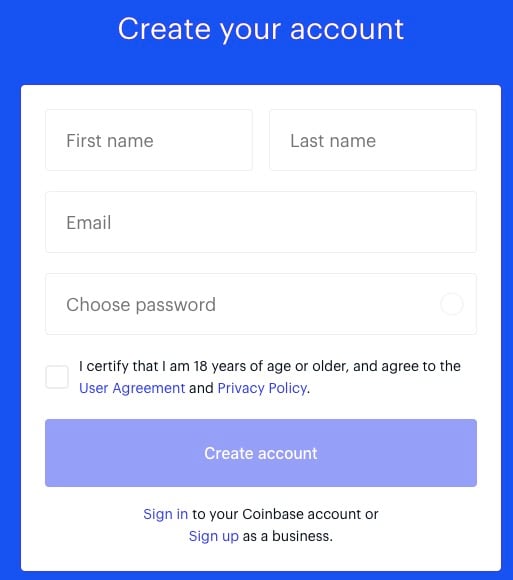 Head to Coinbase.com and click 'Get Started' in the top right-hand corner
Type in your first name, last name, email address, and password. Confirm you are over 18 years old, agree to the User Agreement and Privacy Policy, and hit 'Create Account.'
Head over to your email client to find a new email from Coinbase with a verification link inside. Click that, and then it will open a new window, where you will be asked to type your password again.
Coinbase will ask for your phone number, after which you will receive a seven-digit code for account verification via SMS.
Now, the KYC (Know Your Customer) check begins. These checks help crypto exchanges avoid onboarding users who may act fraudulently or try to launder money. You will need to give your name, date of birth, address, reasons for using Coinbase, source of funds, occupation, employer, and, for our readers in the US, the last digits of your SSN.
You'll need to go back to your email client. In the latest email, a link will ask you to verify your identity by providing a photo (or scan) of your passport, ID card, or driving license. You can do this over webcam or with your smartphone.
You will also have the option to set up two-factor authentication
Now, you need to wait. It can take minutes or days, depending on whether there was an error in your application or they're tackling a registration backlog.
Once approved, you can add a payment method and begin.
Starting Your Coinmama Customer Journey
Head over to Coinmama.com and click 'Sign Up.'
Next, provide your email, a password, and a country of residence.
Go to your email client and find an email from Coinmama with a verification link inside.
Now, the KYC process will begin, with the first step asking for your name, phone number, date of birth, gender, address, and country of residence, then click 'Next.'
You'll now be asked to upload photos of the front and back of your identity document, along with the ID number and expiration date.
Next, take a piece of paper and write your name, Coinmama, and today's date on it. You'll be asked to submit a selfie with the piece of paper and your ID (like below).
Once submitted, you have to wait for confirmation, which can take as little as 15 minutes.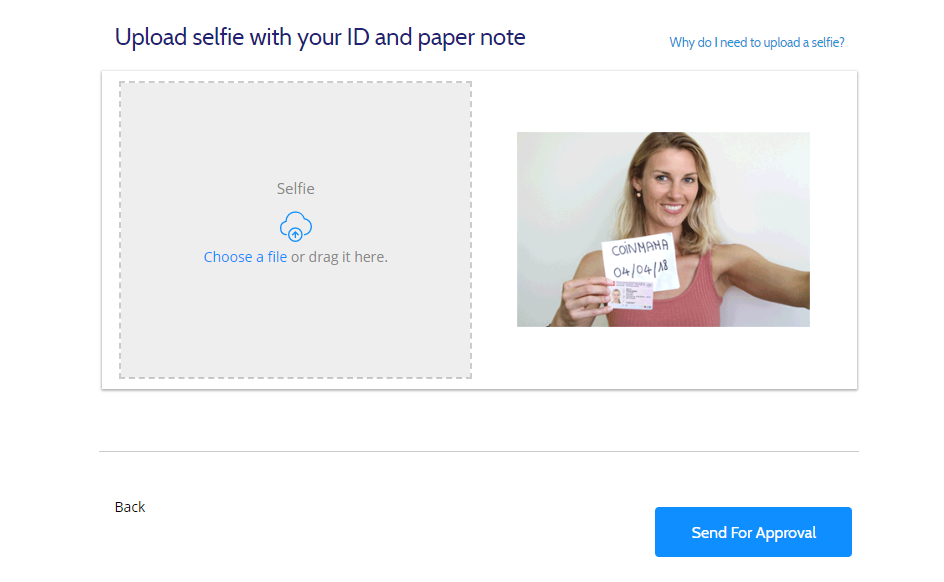 Winner: The processes are near-identical, so we can't call a winner on this section.
Ease of Use and Feel of Website/App
Using Coinbase
Coinbase is becoming a household name and globally recognized as the go-to place to buy Bitcoin. You can make an easy buy, download a wallet, trade instantly, stake coins, and more. If we look past the sky-high transaction fees, we see a world-class service that can't be beaten on ease of use. It's so comfortable and friendly to use; just about anyone could buy some Bitcoins.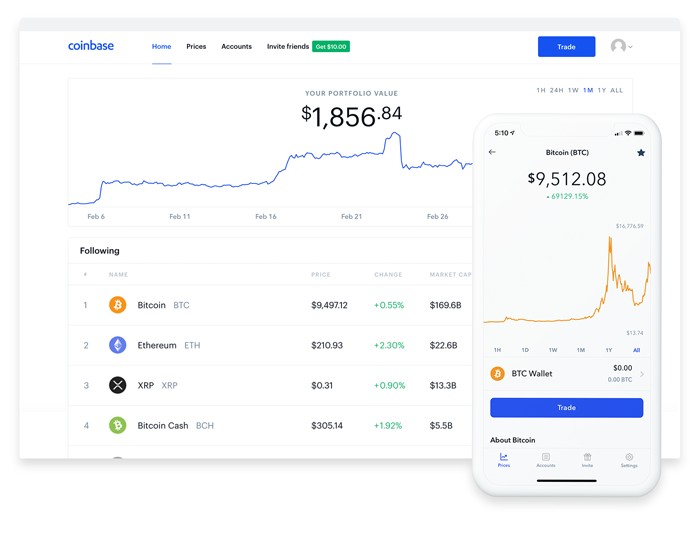 To add to the excellent web experience, they have two Coinbase apps, one which allows you to make trades and purchases without a hitch, and another mobile app that offers a solid wallet with high security.
Coinmama Experience
Since Coinbase is the market leader, their rival brokerage services have to work extra hard to claw back some of the market shares. Coinmama is no exception, and so whilst trying to attract more users, they have introduced a lot of excellent features along the way, including:
A live chat feature to get immediate customer support from a real person. Also, if your problem or issue doesn't need fixing immediately, there is an email ticket system for more comprehensive customer support.
Coinmama has tried to cast a global net, excluding only those countries that are under international sanction, like Iran and North Korea, and the seven US states where regulations prevent them from operating.
KYC checks are, of course, in place, as all brokerage services must perform them. Coinmama, however, offers a fast-track application process so that you can get verified in just minutes if you're in a rush.
Coinmama accepts most global fiat currencies. As long as the buyer has a compatible payment method, their purchase will go through a foreign currency exchange before it is converted into crypto. This has helped more than 2.5 million customers in 190 countries to access their platform
To increase their legitimacy and stop fraudsters in their tracks, Coinmama is FINCEN-registered.
Now that we've shared the good things, we should be transparent about the bad. Where Coinbase and Coinmama differ relates to wallets and cryptocurrency exchanges. Coinmama offers no exchange and no wallet, so customers must provide a wallet address on another platform, requiring an additional registration and account elsewhere.
Not having a cryptocurrency exchange means that once the purchase is made and the cryptocurrencies are sent to the customer, the transaction and relationship are done. So, the customer went through the entire signup and verification hassle to make a purchase, with no aftersales, no trading, and no staking. Coinmama is missing out on some massive opportunities to grow a loyal community and upsell products and services, as Coinbase has done. Oh, and they don't have a mobile app either.
Winner: There's not a single cryptocurrency exchange comparison we can do against Coinbase where they don't win this category. They're the world's best for easy-buy services and user experience.
Deposit Methods
Depositing Fiat Currency Into Coinbase
Coinbase deposits vary widely depending on where in the world you are based, so for the most accurate results, search "Coinbase Deposits" and "Your Country" on a search engine. In general, here are the accepted deposit methods:
Bank transfer (ACH in the US)
Wire transfer (US)
SEPA Transfer (Europe)
Ideal/Sofort (EU)
Faster Payments (UK)
Manual bank account connection (US)
Cryptocurrencies or digital assets from another wallet (free)
Aside from wire transfers, all of the above methods are typically free, though some banks may add a flat fee or percentage charge on top.
No Deposits On Coinmama
Coinmama offers no wallet service, so there's nowhere to deposit your money. This is a brokerage service, and so they only offer an instant-purchase shop (as you will see below).
Winner: Coinbase wins this round easily.
Instant Buy Options (Buying with Credit or Debit Card)
This Coinbase vs Coinmama comparison would not be complete if we didn't assess the instant buy options since it's the cryptocurrency broker's primary feature.
Purchasing Crypto On Coinbase
You'd think that by now, Coinbase would have a whole range of options for making instant purchases on their platform, but in 2021, debit card payments remain the only method.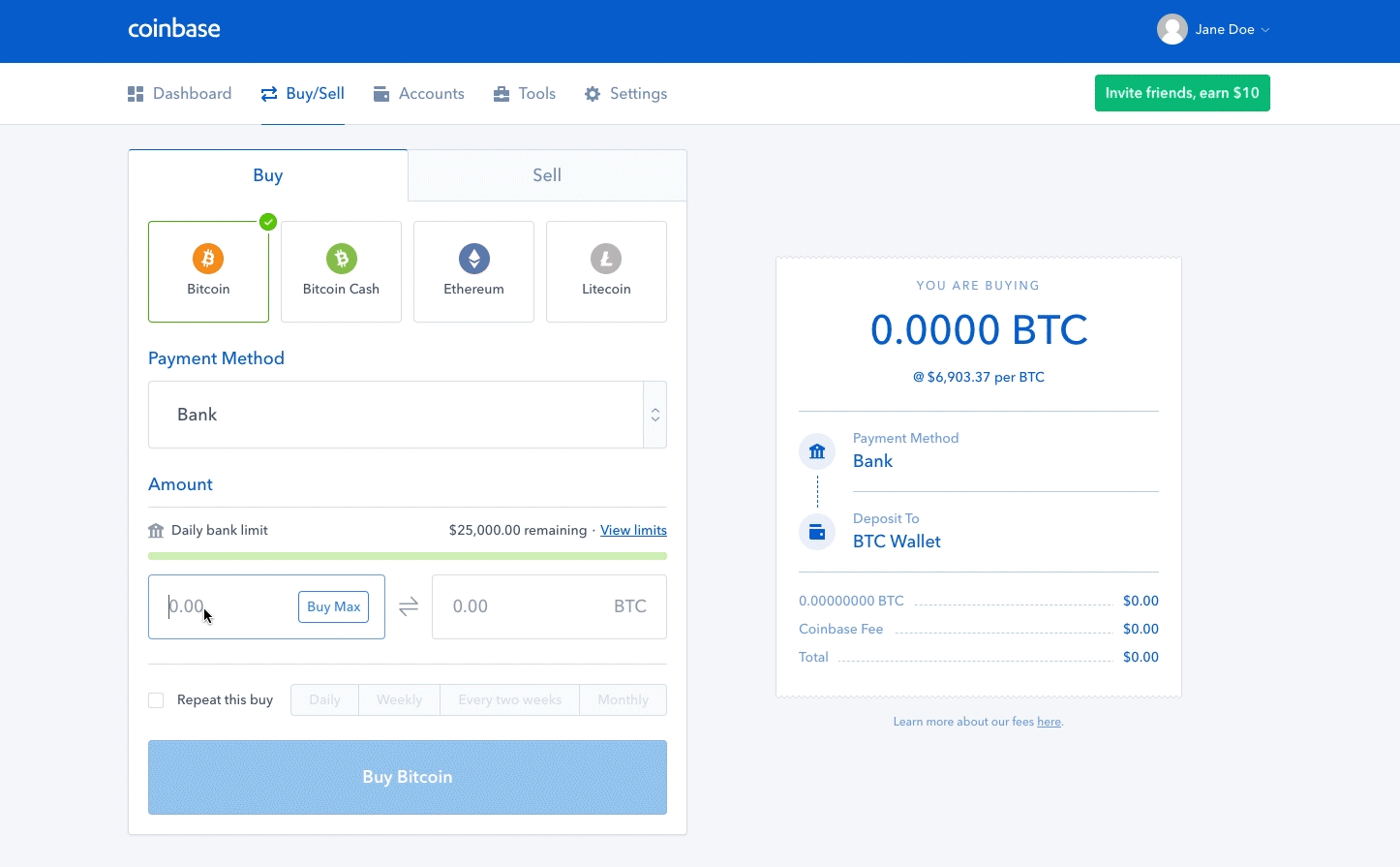 Technically, if you have fiat currency on your account, you can also use that, but you will have to wait for the transfer to go through.
If you want to buy Bitcoin or Ethereum, or around 50 other cryptocurrencies, your debit card will be required for spontaneous transactions.
Coinmama's Crypto Collection
Coinmama offers a place for people to buy and sell their cryptocurrencies. However, their services are constantly changing. They recently removed Ripple and EOS from their platform and changed their fiat currency options for selling them your Bitcoin to EUR only.
After the changes, they now sell:
Bitcoin
Bitcoin Cash
Ethereum
Ethereum Classic
Cardano
Litecoin
Qtum
Tezos
Purchase options include:
Both debit cards and credit card purchases
Online banking payments
Apple Pay
SEPA Transfer (EU)
Faster Payments (UK)
Sofort (EU)
Wire Transfer (US-only and not instant)
Coinmama claims to deposit purchased coins within 10 minutes. Coinmama charges, as explained in the fees section, are applied to the total price shown and are not added on top.
Spending limits on Coinmama are comparably high, at $30,000 per transaction via bank account or $15,000 by debit or credit card (Coinbase limits are $25,000 per day on the ACH network). Business accounts on Coinmama can get a $100,000 transaction limit.
Winner: Coinmama has more payment options, but Coinbase offers you more cryptocurrencies to choose from.
Trading Experience
Trading On Coinbase
Trading on Coinbase is easy, but it's not cheap. You are forced to trade crypto with them at 2% per trade, on top of a 0.5% spread. No serious traders stay here once they've bought their crypto. Instead, many move over to Coinbase Pro, their trading product, where trades are charged at 0.5%.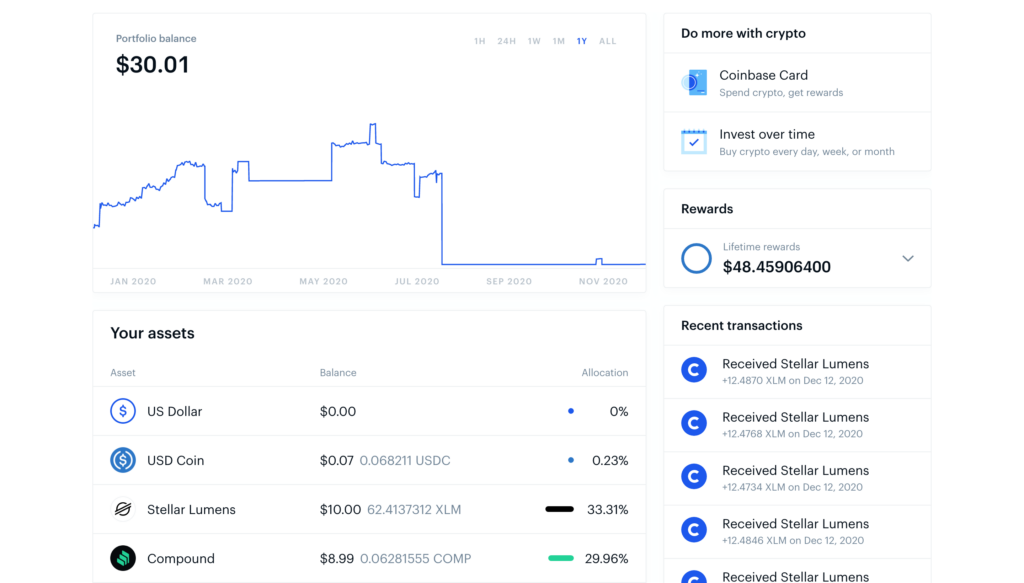 Despite the high costs, the service is quick and ultra-convenient. The trades are instant, and it's as simple as picking your pair, typing in the amount, and confirming the transaction, all without entering a trading interface.
Coinmama Swaps
There are no market orders, no charts, no fill forms, and no exchange data to add confusion to the process of buying crypto. On this stripped-down platform, you can purchase seven different digital currencies or sell Bitcoin directly to them. That's pretty much it. It's effortless to do and would certainly pass the 'Grandma Test.'
Winner: Coinbase has mastered the art of trading experience.
Reputation & Security
Coinbase's Gold Star
Coinbase's primary reputation is that it is the go-to platform for first-timers in the crypto space, which is a great thing. However, when you factor in the eye-watering fees, the custodial wallet, and the lack of a typical trading exchange, there is room for improvement. Fortunately, the security protocols are excellent, with most user funds kept safely in cold storage. They've also never been hacked or compromised, so users feel very safe storing their coins with Coinbase.
Coinmama's Data Hack
Back in February 2019, Coinmama was hacked, with 450,000 sets of user data being stolen. With no payment information stored, the hackers could not steal funds; however, they did get away with taking a large number of email and password combinations.
Customer support on Coinmama is highly rated, so they do earn some credit for that.
Winner: Coinbase has an almost perfect reputation and no hacks, which is why 45 million people are verified on the service.
Coinbase vs Coinmama Comparison: Who Wins?
Picking a winner in this Coinbase vs Coinmama comparison is quite easy. Coinbase wins in most departments. It is more user-friendly, more secure, offers wallets and trading capabilities, and is slightly cheaper for making purchases, even by credit card. Coinmama has its strengths, but in this case, it's not enough.
Read our Best Coinbase Alternatives analysis if you're looking for somewhere to transfer your Coinbase funds.