Crypto Exchanges With The Most Trading Pairs
We believe that the best crypto exchanges all have a special secret sauce that makes them a success. So, what's in this secret sauce? The magic ingredients: user-friendliness, effective security, a wide range of trading pairs and crypto assets, excellent charting tools and trading features to follow the market, and a broker service that lets you buy and sell supported currencies directly or through a liquidity provider. Stick to these features, and you've found an exchange that's going to help you in the long run.
This article will be looking at the best cryptocurrency exchanges and trading platforms with the most trading pairs. Variety is the spice of life, right? Also, be sure to check out our other articles that will help you narrow down the top exchanges with specific preferences you may have — like easiest to use, which list the most coins, centralized exchanges with the best brokerage services, and where your crypto portfolio is most secure. Back to trading pairs. Since that's not a perfect metric for judging quality, we've added our ranking methodology below.
Ranking Methodology
Winners
Diving Deeper Into Our Winners
Since rebranding from Bter.com to Gate.io in 2017, the platform has become one of the top cryptocurrency exchanges in the world, overtaking many significant rivals, like Bittrex, and Poloniex along the way. As explained in the introduction, all of the top Bitcoin exchanges offer a mixture of ease-of-use, suitable payment methods, excellent security, and more. However, Gate.io does better than any other reputable exchange globally by listing coins and forge trading pairs. It's their forté, their gift, their 'thing.' We regularly commend them for it and were recently acknowledged by Gate.io for labeling them 'The Altcoin Hunter's Dream.'
Ultimately, what's the use in listing lots of coins if you don't have the liquidity to place them in effective trading pairs? This is why Gate.io has an excellent strategy for listing, de-list, promoting, and developing their listings. First of all, the listing process may seem like it has a low barrier to entry because of how many coins it has listed, but it's misleading. In truth, Gate.io is hard to get listed on; it's just that it is far more active than its competitors when it comes to the new coin listing process. Other exchanges have long wait times, huge listing fees in the hundreds of thousands of dollars and are more interested in getting new traders than listing new coins.
Each application must detail their team, tokenomics, how their crypto can help the industry and investors, and more. Gate.io doesn't want any trash coins listed, being pumped and dumped, and irritating their investors (however, some risky projects always make it through based on industry and community demand). So there's always going to be some due diligence to get past the listing team first. Many projects are allowed (18 in the 30 days before this article) to be placed on the Startup page each month. This crowdfunding campaign-style initiative provides each project with a capital goal to be raised to get listed (in USDT). Every single project that has been through the Startup process has risen well above its given target. The 18 projects added in the last month raised a combined total of around $300 million. This success proves that people want to invest in new projects that are laden with potential. While we can't give investment advice, we can confirm that these altcoin hunters are typically the ones with the wildest stories of astronomical gains.
Once a project is successful, it needs to be listed as a trading pair. Over 850 trading pairs on Gate.io feature USDT, around 100 feature BTC, and almost 600 feature ETH. Users can track new listings and see how they perform. We just took a glance and saw that one of the most recently listed new coins has grown over 1,000% in price in the last 24 hours. Potential gains are missed while you're not trading cryptocurrencies.
Before we move on to the next exchange, we want to highlight Gate.io's increasing functionalities with fiat currency. At the start of 2021, this was a crypto-only platform with no brokerage service, meaning you needed to buy crypto elsewhere and transfer it to your Gate account. This year has seen a 180-degree reversal in that policy, as Gate.io has forged partnerships with Banxa, Simplex, Mercuryo, Advcash, and Legend Trading, giving users an excellent selection of fiat-to-crypto onboarding methods. Unfortunately, offboarding isn't so easy, but this centralized exchange may surprise us one day by launching as a broker – many digital-only cryptocurrency exchanges have done precisely that.
Quick Look
800+ cryptocurrencies
In 2021, Gate's user base, reputation, and trading volumes have all been on the rise, placing it comfortably in the world's 10 best crypto exchanges
Trading fees start at 0.2% for makers and takers
Offers third-party broker services with multiple payment methods:

Their partnership with Legend Trading allows users to buy digital currencies with USD, EUR, GBP, HKD, SGD, AUD, CHF, MXN and fees as low as 0.08%
Partnerships with well-known liquidity providers Banxa, Simplex, Mercuryo, and Advcash allow users to buy crypto with their credit cards
The only downside is that there's no option to sell cryptocurrency back to these providers

Getting listed on Gate.io may seem easy due to the number of coins and trading pairs, but it's actually a community-driven process, with the projects that proceed beyond the application stage being placed into a Kickstarter-style 'Startup' scheme that gauges interest in the project and encourages investment
We recently wrote about the fantastic story of how Changpeng Zhao and his team of Chinese developers managed to rapidly migrate Binance from Alibaba over to Amazon Web Services and flee the country when China banned crypto. Those were auspicious times for Binance, as they'd been watching their user base, profits, and popularity skyrocket, so to be derailed by their government was a tough blow to take. Fortunately, it acted as a catalyst, with crypto-friendly nations welcoming them in and allowing their crypto trading platform to truly flourish.
Since that rocky first year in business, Binance has gone from strength to strength, with many cryptocurrency exchanges watching on in awe, wondering what the key ingredient Binance has that makes trading crypto with them so appealing. We've explored the recipe already but must now point out that facilitating a high number of trading pairs with excellent liquidity is a surefire way to win new users and keep them. What more could a trader want than a diversity of options and the liquidity there to make sure their trades go through quickly. To do that, Binance has had to dominate certain coins, ensuring they have more volume and liquidity than any of the other top crypto exchanges.
Quick Look
380+ cryptocurrencies
Binance is the world's best cryptocurrency exchange based on a whole load of qualifiers, such as trading volume, volume per user, philanthropy and much more, however, in the case of this article, it wins a respectful silver medal
Maker fees and taker fees start at 0.1% on the Binance crypto platform
Binance accepts more than 50 fiat currencies, helping users globally to buy Bitcoin and many other digital currencies
USD deposits will be converted to BUSD (Binance USD), which has 210 different trading pairs!
Binance also allows users to sell digital assets directly to them in exchange for various fiat currencies
One way Binance has asserted its dominance among the cryptocurrency trading platforms is by creating its blockchain. The Binance Smart Chain is a challenger to Ethereum, allowing developers to build dApps on top of it. This means that savvy developers can create new coins almost at will, with some of the most famous ones being BNB, CAKE, RAMP, and DODO. Since the technology is so versatile, significant projects like Ethereum, Tether, and TRON are also making their coins cross-compatible so that you will be able to find them on decentralized cryptocurrency exchanges. Binance essentially gets the first choice of which coins to list within their centralized crypto exchange by supporting new coins on their blockchain.
Of course, projects can also go down the more traditional route for getting coins listed, which starts with a thorough and informative application process that gives Binance a strong indication of whether they are the best cryptocurrency exchange to list the token or not. Will the coin appeal to their audience? Does it provide technological value? Is it going to be pumped and dumped and upset investors? These are some of the considerations made before a coin reaches its cryptocurrency trading platform. If a token is chosen successfully, new listings are expected to pay a 'donation,' which is not obligatory (but is implied). They are reported to be around $250,000 (worth of the cryptocurrency listed, often making Binance a whale). To keep the project listed, there is also a yearly subscription fee that token projects pay. Once listed, however, if the token is successful and the price, volume, and popularity increase, traders can expect to see more market pairs appear on the trading platform, allowing them to buy and sell at will.
While you can trade somewhat on Binance and Gate.io without KYC verification, it's KuCoin that has an excellent reputation for being a pro-privacy platform and the only one that lets you withdraw funds too. Account registration on some platforms (like Coinbase and Gemini) typically requires you to upload scans or photos of your documents (and yourself) so that they have a traceable record of you. KuCoin doesn't need that, and while the whole industry is stricter or had tougher requirements placed on them, KuCoin increased their KYC-free daily limit from 2 BTC (worth of crypto) to 5 BTC. That's roughly $200,000 a day that you can move in and out of the KuCoin crypto exchange without doing KYC checks. But, of course, who knows how long such a policy can last?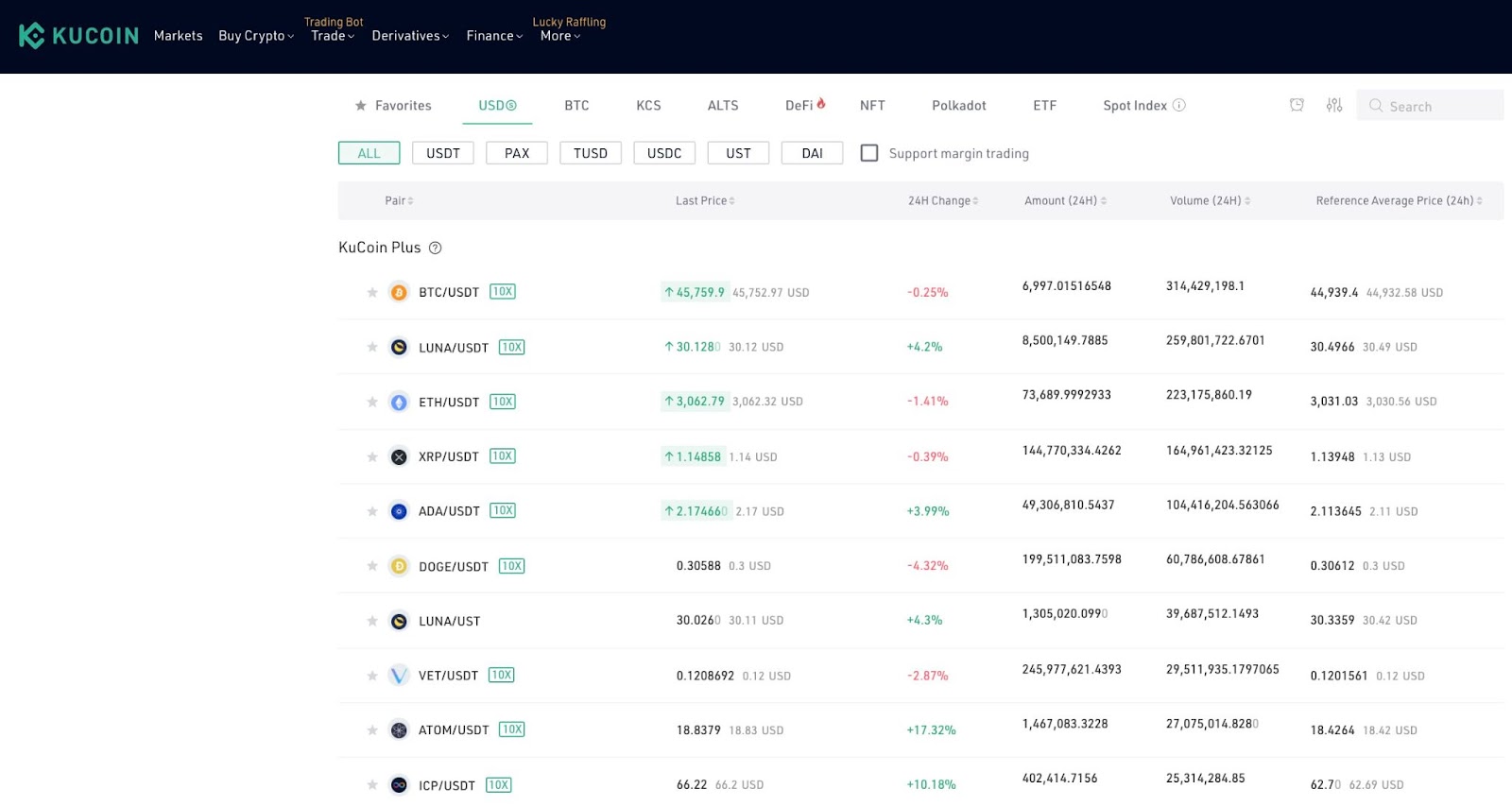 Arguably, there are many negative or criminal assumptions about KYC-free traders; we prefer to see them as part of the original idea of cryptocurrency, decentralized from the traditional financial markets and the mighty hands of banks and governments. Perhaps, also, they love altcoin hunting and are incredibly good at it, making huge gains on risky projects over the years. That kind of track record would undoubtedly lead them towards the privacy-friendly KuCoin and its 400+ cryptocurrencies and 800+ crypto trading pairs.
KuCoin will always be among the best cryptocurrency exchanges for listing new projects and giving startups a chance. However, the model of centralized exchanges in this article is far slower and more stringent than decentralized exchanges. For example, the process to get a coin listed on KuCoin can take months; in fact, some of the largest cryptocurrency exchanges have waiting lists that can take years to climb to the top of.
Quick Look
415+ cryptocurrencies
KuCoin is seen by many as the best crypto exchange for those who want to trade without going through KYC checks, and for its interesting altcoin collection. It has been one of the top 10 global crypto exchanges for a couple of years now
0.1% transaction fees allow you to start trading without worrying about the cost of trades
As well as being able to trade Bitcoin, you can also buy it through Simplex and Banxa on the KuCoin website, with payment methods including Visa, MasterCard, and Apple Pay
KuCoin also offers an OTC trading desk, a P2P marketplace for off-exchange crypto trades with other users, margin trading, and an express checkout for certain fiat currencies
Is Trading Pairs an Effective Metric of Quality?
Yes and no. We could debate this all day. However, it's safest to say that choosing your cryptocurrency exchange based on the number of market pairs would be overlooking things like security, functionality in your country, liquidity, user-friendliness, and more. The best Bitcoin exchanges will offer all of those things, as well as real-time market data and an exceptionally well-designed interface to trade cryptocurrencies.
We don't give investment advice, but allow us to say this if you want to trade cryptocurrency effectively: do your research, invest in personal crypto security (get a wallet and take good care of your private keys), and find your balance between risks and rewards. The best crypto exchange for you might be entirely different from people you know and trust. Trial and error can be very effective.