Bybit Review
A high-leverage, low-fee crypto exchange noted for its speed and user support, yet challenged by a steep learning curve and does not allow U.S. traders.
Bybit distinguishes itself in the competitive crypto exchange market with its high-leverage options and notably low fees, attracting traders who prioritize cost-effective and dynamic trading environments.
Its impressive transaction processing speed enhances trading efficiency, a key factor for active market participants.
While Bybit's rigorous security measures provide a solid trust foundation, the platform's complexity, and limited cryptocurrency selection might be challenging for beginners and those seeking diverse trading opportunities.
The geographical restrictions, particularly its unavailability to U.S. users, and specific withdrawal timeframes could be limiting. In essence, Bybit is a strong fit for experienced traders focused on leveraging advanced trading features and cost savings.
General Overview
High Leverage

Low Fees

Fast Execution

Secure Trading

Extensive Support
Learning Curve

Limited Cryptos

Withdrawal Restrictions

Slippage Susceptibility

Geographic Limitations
Trading Volume
$3,830,736,688
Bybit Deposit & Withdrawal Methods
| | Deposit | Withdraw | Speed |
| --- | --- | --- | --- |
| Cryptocurrency | | | Instant |
| Credit Card | | | Instant |
| Apple Pay | | | Instant |
| Bank Transfer (ACH) | | | Instant |
| Paypal | | | Instant via P2P platform |
| AdvCash | | | Instant via P2P platform |
| PAYEER | | | Instant via P2P platform |
Bybit supports the deposit of cryptocurrencies and the purchase of crypto via third-party service providers. Cryptocurrency deposits can be made by a wallet-to-wallet transfer without deposit limits or fees. For fiat currency deposits, Bybit allows the use of Visa, MasterCard, Apple Pay, and other gateways. There are over 59 fiat currencies listed on the exchange for purchasing crypto, including USD, AUD, GBP, EUR, NZD, and others​​​​.
Bybit enables withdrawals of cryptocurrencies by transferring from the Bybit wallet to an external wallet. Setting up 2FA is necessary for withdrawals. The P2P platform on Bybit allows for fiat withdrawals to bank accounts, debit and credit cards, PayPal, Payeer, AdvCash, and other methods.
KuCoin does not offer KYC verification for U.S. users, limiting them to basic account functions. This means U.S. users can only trade and withdraw in cryptocurrencies, with no access to higher withdrawal limits and fiat transactions. Withdrawals usually take around 30 minutes, but larger transactions may require more time. This policy is in line with the strict cryptocurrency regulations in the U.S.
Bybit Fees
Base maker fee
0.01%
Base taker fee
0.06%
Bybit employs a dynamic fee structure that caters to different trading styles and volumes. Its fee system is competitive within the industry, offering advantageous rates for both casual and professional traders. Bybit's approach to fees reflects its commitment to providing a flexible and accessible trading environment, balancing the needs of various traders with market realities.
Spot Trading Fees: 0.1% for both makers and takers.
Futures Fees: Start at 0.02% for makers and 0.055% for takers.
Options Trading Fees: Begin at 0.03% for both makers and takers.
Margin Trading Fees: Include a 0.1% spot trading fee, interest, and liquidation fees.
Funding Rate: Variable, based on Interest Rate and Premium Index, updated every minute with exchanges at set intervals like every 8 hours.
Full Fees Chart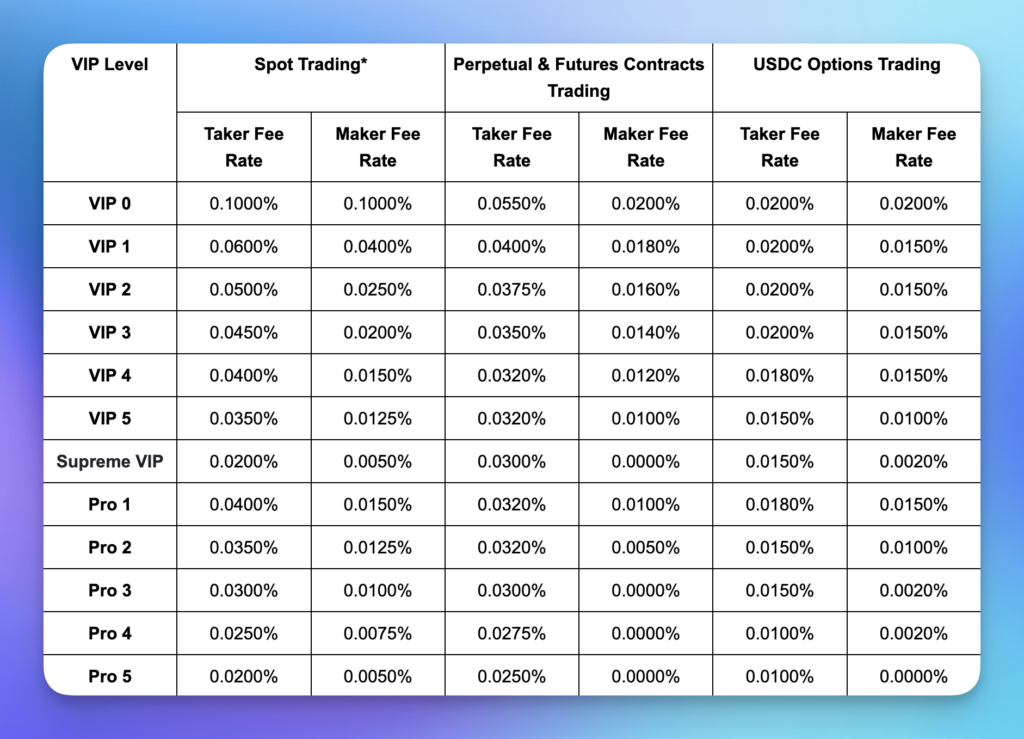 How to Sign Up for Bybit
Visit Bybit's homepage and click the "Sign up" button located in the top right corner.
Choose your preferred method of registration, either via email or mobile phone number, and provide the necessary details. You can also enter a referral code if you have one.
Click "Create Account" after reading and agreeing to Bybit's terms and privacy policy.
A window listing restricted countries and regions will appear. Confirm that you are not from any of these regions by clicking "No."
Complete the reCAPTCHA verification, then enter the verification code sent to your email or mobile phone.
Once you input the code, you will gain access to the Bybit platform.
Pros Explained
High Leverage: Bybit enables up to 100x leverage on perpetual contracts, allowing significant potential profit maximization.
Low Fees: The platform offers competitive fees, with non-VIP maker and taker fees as low as 0.06% and 0.01% respectively.
Fast Execution: Bybit boasts a matching engine capable of processing up to 100,000 transactions per second.
Secure Trading: Implements advanced security measures like cold storage, multi-signature wallets, and two-factor authentication.
Extensive Support: Provides 24/7 customer support through email, live chat, and social media​​.
Cons Explained
Learning Curve: Bybit might present a steep learning curve for new users​​​​.
Limited Cryptos: Supports a limited number of cryptocurrencies compared to top exchanges​​.
Withdrawal Restrictions: Certain cryptocurrency withdrawals are not available at all times, with three specific withdrawal timings daily​​.
Slippage Susceptibility: The platform's low spot market orders are vulnerable to slippage from trading bots​​.
Geographic Limitations: Bybit is not available for users in the United States​​​​.