Welcome, crypto-enthusiasts! In this comparison guide, we'll be putting our critical lens on Kraken, who sit fourth in our cryptocurrency exchange rankings, and Bitstamp, who are 15th. Both exchanges will celebrate ten years in action during 2021, which deserves a round of applause in itself, but which of their features is worth applauding? Who is more economical? Which exchange offers better security for your investments? Which of these well-known crypto exchanges provides the best all-around trading experience? It's time we dug deeper into the Bitstamp vs Kraken debate.
Compare Kraken vs Bitstamp
Kraken

Bitstamp

USA Accepted?
Yes
Yes
Trading Pairs
426
134
7 Day Volume
$22,968,860,629,988,992
$2,583,813,128
Fees
Kraken – Cheap at 0.1/0.2%
As is most common for large volume cryptocurrency exchanges, Kraken charges users for trades based on a maker-taker fee schedule. A maker places orders above the market price, adding liquidity and receiving lower trading fees (0.16%) as a result. In contrast, a taker buys at the current market price and pays a higher cost (0.26%) for convenience.
Users can unlock discounts by having a higher trading volume over 30 days, as is shown below in the table. Confused? Here are the complete fee schedule and some trading examples to provide clarity.
Bitstamp – Costly at 0.5%
Like Kraken, Bitstamp's exchange fees work on a maker-taker system; however, their charges are much higher, starting at 0.5%. Bitstamp traders can also receive discounts by buying and selling large volumes of crypto, but for beginners who find their feet in this world, boasting a massive trading volume isn't common.
Bitstamp has shared all of their costs for things such as trading, fiat deposits, withdrawal fees, exchanging currencies and more all in one place.
Winner: Kraken wins this category.
Sign Up and KYC Experience
Getting A Verified Kraken Account
Let's keep this ultra-simple:
Go to Kraken.com and click 'Create Account.'
Type in your email, country of residence, and username and password to use.
Agree to the terms and conditions and click 'Create Account.'
Keep Kraken open and in a new tab; head to your email inbox to find an email from Kraken with a key consisting of numbers and letters you need to copy and then paste back in the Kraken tab. Type in your username and password where requested.
On the navigation bar, find a drop-down menu with an option to 'Get Verified.'
Choose an account type (we recommend intermediate if you want to deposit fiat money).
The verification process will require a photo or scan of your government-issued ID (passport, ID, driving license), proof of residence (bank statement, utility bill), a selfie holding your ID, and your occupation details.
Wait 10 minutes to see if your identity is verified then you're good to make a deposit.
Bitstamp's Onboarding Process
Bitstamp, Europe's oldest major cryptocurrency exchange, makes signing up super easy:
Go to Bitstamp.com, click 'Register,' and choose to open a Personal Account.
Provide your name and email address, and accept the terms of service.
You will be asked to complete a CAPTCHA form and click 'Register.'
Now, open a new tab and go to your emails. Open the unread message from Bitstamp, copy the client ID and password provided and paste it in the Bitstamp tab where asked.
You will be asked to log in to your account and change your password to something stronger.
When you sign in with the new password, click 'Verify Your Account' and again take the 'Personal' verification option.
This time, type your name, address, nationality, and date of birth.
Provide Bitstamp with a scan or photo of your ID, passport, or driver's license, as well as a scan or photo of a bank statement, utility bill, or government-issued document.
Bitstamp now asks some slightly intrusive questions about your income, occupation, and intentions on their cryptocurrency exchange.
Verification on Bitstamp can take a few days, so you'll have to play the waiting game. During this waiting period, we suggest improving your account security by adding options such as two-factor authentication.
Winner: Kraken wins this round for the speed of verification and for asking for less personal information than Bitstamp.
Ease of Use and Feel of Website/App
Kraken – Retro Design
We are big fans of what Kraken is doing, so here's a *fist bump* for their developers who have built a very cool website and some excellent apps; however, we aren't quite such fans of their crypto exchange trading view, with its retro design and layout. Why fix what isn't broken?
The Kraken crypto exchange app is so highly rated for its ease of use and friendly feel that it's often spoken about in the same breath as Gemini and Coinbase. For advanced traders, the Kraken Pro app and the Kraken Futures app are equally popular, though creating a new app for each service sets a strange precedent and is not very user-friendly, so we wonder why they can't centralize all of their mobile apps?
Bitstamp – Multiple Layouts
User reviews and comments would suggest that Bitstamp is a crypto exchange that offers plenty of quality services and a lot of functionality for its users. When browsing the Bitstamp website, traders can choose the trading interface that is most suitable for them, with a simplified view available for beginners, and a Pro Trader version for more advanced users, with all the bells and whistles, included. There's certainly room for improvement in on-site navigation and modernization, but they're doing a superb job when it comes to their primary functions. Users with a large trading volume might actually feel more comfortable using Bitstamp than Kraken.
Winner: Kraken wins this round for its modern approach to UI and UX.
Deposit Methods
Making Deposits On Kraken
Aside from New York and Washington residents, Americans can use Kraken freely, as can users from many countries worldwide. This international accessibility is matched by loads of great deposit options, such as:
USD – Fedwire, SWIFT, SEN
EUR – SEPA, SWIFT
CAD – Wire, SWIFT, Cash/Debit at Canada Post
AUD – Bank transfers / Osko
GBP – FBS, BACS, CHAPS, SWIFT
CHF – SIC, SWIFT
JPY – SWIFT
Each fiat currency deposit method listed above comes with different terms and different fees. Some are free; some are not. Some are instant, and some take days. Find out everything about deposit methods and fees here, and while you're at it, check out this guide for depositing funds.
Bitstamp Deposit Choices
Bitstamp users will also find some great options for depositing fiat currencies into the crypto exchange, however, not quite as many as Kraken:
European users can use the SEPA network for free and fast deposits
American users can make use of the ACH network for quick and free deposits
British users can take advantage of Faster Payments for free and rapid deposits
International users can send almost any currency to Bitstamp via bank wire, with a flat fee of $7.5, €7.5, or £5 or a commission of 0.05%, whichever sum is greater
We like how internationally friendly the bank wire option is. Still, it can be costly, as not only do you have the fee/commission but if your fiat currency is not in the table below, you will also lose a percentage when your money is exchanged to get you a balance on your account in a platform-compatible currency.
Bitstamp users can deposit the following cryptocurrencies for free, from an external wallet:
Instant Buy Options (Buying with Credit or Debit Card)
Making Instant Purchases On Kraken
Kraken now offers 60 different cryptocurrencies to trade in 240+ markets, a quality selection of projects to engage with for newbies in the crypto-world, and more regularly added. On top of this great introduction to trading is the option to make instant cryptocurrency purchases through both the website and the app, using previously-deposited funds or directly via debit or credit card (for verified users with 3DS-enabled cards).
Debit and credit card fees are 3.75% of the total order amount, plus a flat fee of €0.25 per transaction. These fees are placed against Kraken's selling price, which is somewhere between 2% and 10% above the market price (this difference is known as the spread), depending on the purchased coins. Remember, in the crypto-world, convenience is costly.
The following cryptocurrencies are available for direct purchase on Kraken:
For all terms and conditions, see Kraken's crypto-purchasing guide here.
Bitstamp's Credit & Debit Card Cost!
You'll also be pleased to know that Bitstamp permits 3DS-enabled debit and credit card purchases of cryptocurrency (outside of the US). However, there are fees of 5%, plus potential card provider charges. Bitstamp reportedly has one of the lowest spreads of all the legitimate exchanges, so their fees essentially balance out when compared against Kraken.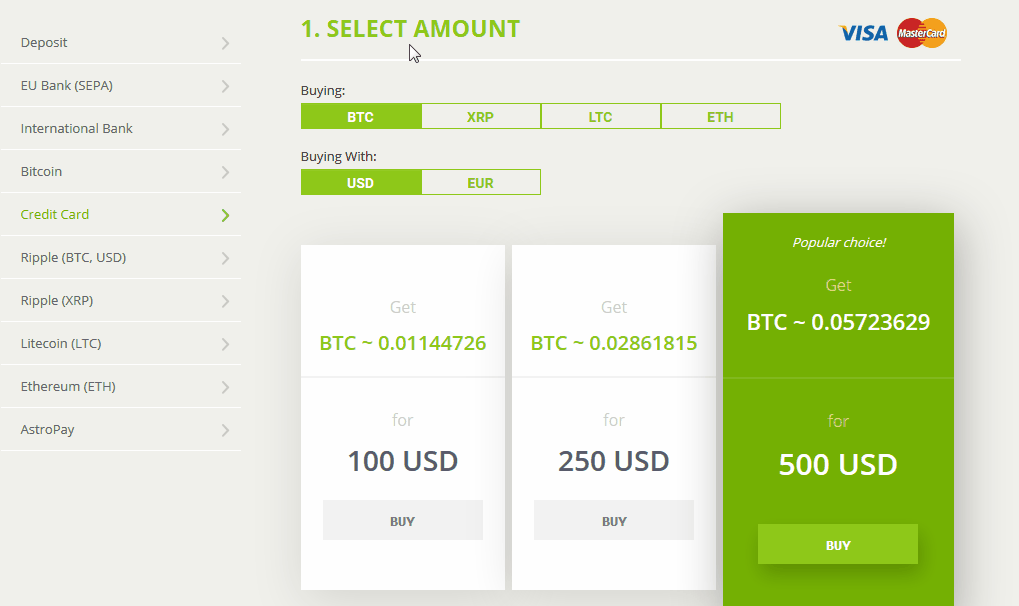 Bitstamp's in-app broker service includes these major coins:
Based in Europe, Bistamp's services are better suited to Europeans and traders from the United Kingdom. Despite presenting information primarily in US dollars, as is standard for an exchange platform, behind the scenes, they are operating in Euros.
Winner: It's a tie. Both work out to be pretty expensive when purchasing by credit or debit card, so users are incentivized to make fiat deposits first.
Trading Experience
Trading On Kraken
As we mentioned earlier, Kraken's web trading view is made in a retro style with a reversed layout, which might be to your liking, but we think it's trying too hard and is reductive to the user experience. Overlooking that, the mobile trading performance in all three apps is really smooth and enjoyable and will help you build confidence as you trade more.
Kraken has also introduced a coin staking program that can earn great returns (up to 20%) for users. It includes:
Kraken facilitates up to 5x leverage trades for advanced members and low trading fees in a simple interface for beginners, so everyone's a winner. With 243 trading pairs, 60 cryptocurrencies, and seven supported fiat currencies, Kraken appears highly versatile.
Bitstamp's Sustainable Growth
Once upon a time, Bitstamp was a humble Bitcoin exchange that started trading in the European microstate of Luxembourg. Now, a decade later, they boast offices around the world, more than five million traders in over 100 countries, and a great reputation for their trading platform. Unfortunately, there are also no margin trading features on this cryptocurrency exchange and only 42 trading pairs from 13 supported cryptocurrencies, which is very low for an exchange of their size.
Winner: Kraken just about edges it thanks to their apps and leveraged trading. When it comes to 24hr trading volume, Kraken is a more extensive exchange that processes more and more significant trades than Bitstamp.
Reputation & Security
Kraken's Solid Status
The management team at Kraken accidentally set a positive trend a couple of years back by publishing their 'proof-of-reserves audit,' which essentially proves that they hold all of their users' funds in cold storage. Some exchanges, like banks, reinvest your money behind the scenes, but in the volatile crypto-world, traders want the assurance that if an exchange collapses, their coins don't go down with them. Now, many crypto exchanges are following the lead set by Kraken and publishing their proof-of-reserves.
Fortunately for Kraken's users, hackings and collapse seem unlikely, as they've never been successfully hacked (yet), despite countless attempts, the strongest of which caused them to close for a week in January 2018 to improve their defenses. Thanks to their offline cold storage efforts, it's tough for cyber-criminals actually to get close enough to the cryptocurrencies to steal them.
Kraken users are, of course, provided with several security features, such as two-factor authentication and biometric logins.
Bitstamp's Ancient Exploit
This is one aspect of the Bitstamp vs Kraken comparison where the winner is glaringly obvious.
Way back in 2015, in a world before Binance, before DeFi, and before much of the innovation and commercialization of crypto that we've come to know took place, Bitstamp suffered a humongous hot wallet hack. At that time, a 19,000 BTC hack was serious, but it wasn't going to ruin many lives. Back then, that amount of Bitcoin was worth around $5m, but at today's price, it's over half a billion US dollars and would certainly risk many livelihoods if stolen in 2021.
Fortunately, Bitstamp reacted well to the hack, using their reserves to replace users' stolen BTC before massively improving their cybersecurity defenses and protocols. They haven't suffered a hack since and now have excellent levels of security. Long-gone trading platforms, such as Mt Gox (which inspired Kraken's security-first ethos), crumbled in the face of a giant hack, and so Bitstamp deserves some credit for riding the storm.
Winner: Kraken.
Bitstamp vs Kraken: Who Is The Overall Winner?
Of course, it's Kraken, they outperformed Bitstamp on almost every category, and that's why they are currently reaping massive rewards. Both companies were founded in 2011 and have had an equal opportunity to become the world's biggest and best exchange, but Binance, Gemini, and Coinbase quickly leapfrogged both.
While Kraken sits fourth in our overall cryptocurrency rankings, they may climb that list in 2021 as the crypto world continues to evolve and welcome new members. Of course, we expect Binance to hold down the top spot, so Kraken would have to outperform Gemini and Coinbase in order to climb the chart. Does Kraken have what it takes to become a household name as crypto truly enters the mainstream? We think they do. If we compare Bitstamp by the same measuring stick, we aren't so confident in their global appeal.