Welcome! In this comparison piece, we grab our magnifying glass and take a good close look at Kucoin, fourth in our exchange rankings, and Bitstamp, currently ranked 15th. Which is best for beginners? Who offers superior features? Which platform provides better value to traders? There's only one way to find out … scroll down!
Compare KuCoin vs Bitstamp
KuCoin

Bitstamp

USA Accepted?
Yes
Yes
Trading Pairs
437
134
7 Day Volume
$30,338,834,997
$2,583,813,128
Fees
Kucoin Trading Fees
Kucoin's 0.1% maker and taker fees for beginners make them one of the cheapest cryptocurrency exchanges to trade on in the whole industry, alongside Binance. As well as that, they have a native utility token called KCS. Think of buying KCS as a sort of membership to a rewards club, which can make trading fees drop even further and can earn your bonuses.
What's also interesting about Kucoin is that beyond rewards, they even give rebates to traders who trade, say, about half a billion dollars worth of crypto per month.
Thanks to its economic viability, legitimacy, and reliability, the entire fee schedule has been carefully designed to attract beginners, professionals, and institutions. See more here.
Note: Users in the US cannot trade on Kucoin.
Bitstamp Trading Fees
Bitstamp is one of the oldest and most well-respected exchanges in the crypto-world, but that doesn't mean that they are cheap; in fact, major exchanges typically offer around 0.2% in maker-taker fees; it's a surprise that Bitstamp still starts at 0.5%. Discounted trading charges kick in once Bitstampers trade more than $10,000 a month, which isn't highly common for beginners.
All charges on the Bitstamp cryptocurrency exchange, including deposits, withdrawals, bank exchange rates, and more, can be found here.
Winner: Kucoin wins this round thanks to their lower trading fees.
Sign Up and KYC Experience
Kucoin's Setup Process
Let's keep this as simple as it needs to be:
Go to Kucoin.com and click 'Sign Up.'
Give an email address and password.
Go to your email inbox, open the Kucoin email and click the activation link.
Connect to Google Authenticator.
Your account is made; now you need verification.
Click 'Individual Verification' in your user portal.
Provide your name and country of residence.
Submit your ID document and ID number.
Wait for verification.
The personal information provided will satisfy Kucoin's KYC1 and KYC2 checks, allowing for advanced verification and the least restricted trading experience.
Joining Bitstamp
Bitstamp, once a European Bitcoin Exchange, is now a reliable global cryptocurrency exchange with excellent features that are worth signing up to enjoy. Joining is as simple as following these steps:
Go to Bitstamp.com and click 'Register.'
Choose to open a Personal Account.
Give your name and email address, accept the T&Cs and continue
Complete the CAPTCHA form and hit 'Register' again.
Open a new tab, go to your emails and open the latest email from Bitstamp. Copy and paste the Client ID and password from the email into the Bitstamp account where displayed.
As you log in, you will be asked to change your password.
Sign in again with the new password and click 'Verify Your Account.'
Opt for Personal Verification.
Type in your name, address, nationality, and D.O.B.
Now, give a scan or photo of your passport, ID, or driver's license.
Next, give a scan or photo of a bank statement, utility bill, or government-issued document.
Answer the KYC questions about your income, occupation, and intentions on Bitstamp.
Now, wait for verification (it can take days).
Ease of Use and Feel of Website/App
Kucoin: Convenient Enough?
Suppose you're a beginner reading this Bitstamp vs Kucoin comparison article. In that case, you're in the right place because Kucoin offers one of the absolute smoothest and easiest websites and apps in the industry (Coinbase and Gemini are their main competitors). Convenience is their selling point, with cool designs, intuitive features, and a great user experience sprinkled throughout.
Users can also choose to purchase and hold KCS, which will unlock discounted trading fees. Other great community features include their referral scheme, a soft staking program, a crypto-mining area, and dividend payouts for KCS holders.
Bitstamp: Hot Or Not?
Having looked at plenty of user reviews and comments, we can report an overall positivity towards Bitstamp; however, some suggest improving site and app navigation. One feature that we appreciate is that users can choose between a simplified and clean trading interface for beginners and a Pro Trader version for experts with loads of data, charts, and APIs.
Winner: Kucoin wins this round for its overall friendliness to first-time traders.
Deposit Methods
Kucoin's Deposit system
When a cryptocurrency exchange chooses not to allow for fiat deposits, it's typically a way of pushing you towards their broker service. This means big commissions are coming.
Whilst you can't deposit fiat currency, you can deposit cryptocurrency. When you attempt to make a deposit on Kucoin, a pop-up will ask 'Do you have digital assets?'. If you do, transfer them, and if you don't, buy them directly from Kucoin.
Making Fiat Currency Deposits On Bitstamp
Deposits on Bitstamp are allowed, with different options in different parts of the world:
Europe: SEPA network (free and typically less than 24 hours)
USA: ACH network (free and fast)
UK: Faster Payments (free and fast)
International: Bank wire transfer with a flat fee of $7.5, €7.5, or £5 or 0.05%, whichever is greater
The bank wire transfer option is excellent because most countries can use it to make deposits, instantly converting fiat currencies (see here) into crypto at the best rate possible.
Caption: Historical conversion data above. See here for real-time.
Free crypto transfers to Bitstamp are possible in these cryptocurrencies:
Bitcoin
Ripple
Litecoin
Ethereum
Bitcoin Cash
Stellar
Paxos
Chainlink
OMG
USD Coin
Winner: 100% Bitstamp.
Instant Buy Options (Buying with credit or debit card)
Kucoin's Immediate Purchase Methods
The first method we want to discuss is 'Kucoin Fast Buy', a speedy shop for buying Bitcoin, Ethereum, and Tether that is functional with the following currencies:
Australian Dollar
Bangladeshi Taka
Indonesian Rupiah
Canadian Dollar
US Dollar
Philippine Peso
Indian Rupee
Vietnamese Dong
As well as the express method above, Kucoin allows for purchases with all of the following methods (dependent on currency), either directly from them or on their P2P Fiat Trade platform:
Bank transfer
Sepa
Paypal
Interac
POLi
iDEAL
Credit card transactions through Simplex (3.5% fee)
Banxa
WeChat Pay
Alipay
PayMIR
How You Can Buy Instantly On Bitstamp
Bitstamp also permits debit card and credit card purchases, as long as the user's card is 3DS-enabled for advanced security. Whereas Kucoin charges 3.5% for credit card purchases, Bitstamp has a 5% fee, plus whatever your card provider might add on top.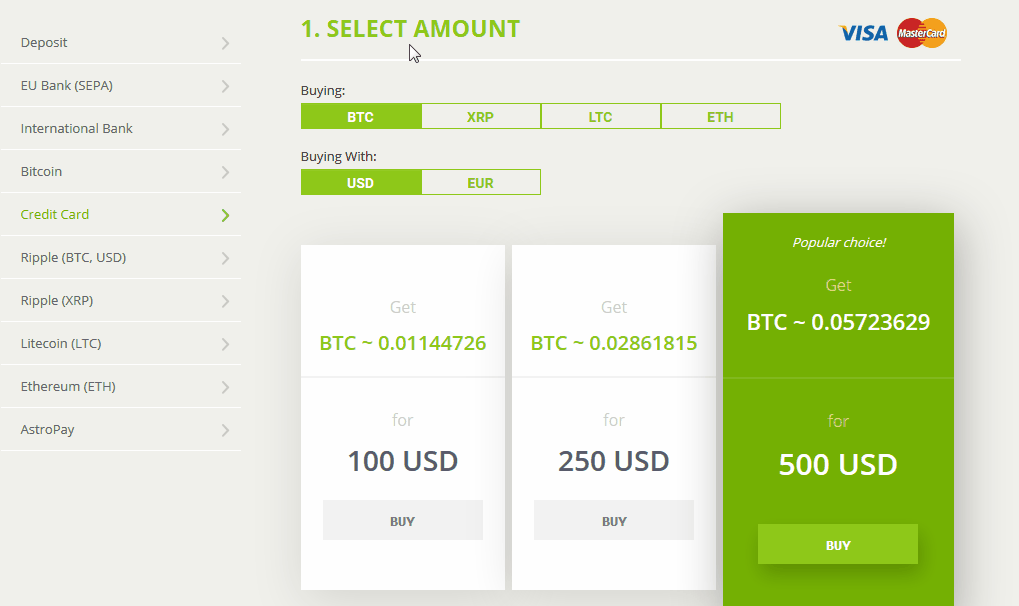 Instant purchases on Bitstamp can get you the following major coins:
Bitcoin (The biggest market cap)
Ripple
Litecoin
Ethereum (The second-biggest market cap)
Bitcoin Cash
Stellar
Paxos
Chainlink
OMG
USD Coin
Winner: Kucoin wins this round.
Trading Experience
Kucoin's Trading Performance
We like how well-designed Kucoin is, both for beginners and pros. There are over 500 trading pairs, high volume, significant liquidity, and excellent trading interface options. The platform revolves around the coins with the largest market cap, seen through the ETH and BTC dominance, which account for 80% of all trading volume.
The overall trading experience for beginners is highly positive, with accessible spot trading features on an agile platform. Advanced users will also enjoy the futures trading feature, which offers leverage of up to 100x on specific coins.
Making Trades On Bitstamp
BTC dominance in the early days of crypto encouraged Bitstamp to launch as a Bitcoin exchange. Over time, they have come to signify great trading, efficiency, and intuitive features that over five million traders enjoy in more than 100 countries. There's no margin trading feature, which is a shame, as is the fact that their 42 trading pairs are comparably low.
Winner: Kucoin wins this time.
Reputation & Security
Kucoin, The Champions Of Recovery
Security is a big deal in the crypto-world because hackers see exchanges as exploitable platforms that they can force entry to and rob for millions. Sadly for Kucoin, they are one of the most recent victims of this form of cybercrime, as back in September 2020, they lost $30m of Bitcoin, $86m of Stellar, and other coins totaling $147m. The story doesn't stop there, though.
Kucoin was reasonably well prepared for such an event, and their emergency plan was applied immediately. They contacted all of their partners, fired up all of their security protocols, and used watertight insurance policies. In just days, other exchanges sent back $160m worth of coins, and Bitfinex and Tether froze $33m worth of USDT that had passed through. After months of hard work, they recovered $235m (84%) of their crypto. $25m seemingly vanished, and $13m was already withdrawn through decentralized protocols. The culprit was caught, though their identity remains a mystery.
Kucoin survived, improved its defenses, and proved that cryptocurrency exchanges do not need to crumble in the face of a hack.
Bitstamp's Big 2015 Hack
While it might seem like ancient history, Bitstamp was hacked for $19,000 BTC back in 2015. That amount of crypto was worth around $5m back then but now values more than half a billion dollars. Fortunately, Bitstamp had the BTC in reserves and quickly transferred it to hacked users to replace what they had lost. After that, they set about improving their overall exchange security and creating website content around protecting digital assets with guides like this.
Winner: Kucoin showed great strength and determination after their hack and empowered many cryptocurrency exchanges as a result.
Bitstamp vs Kucoin: Who Is Our Overall Winner?
Congratulations to Kucoin; they won every round of this comparison except for deposit methods. However, avoiding deposits is clearly part of their overall business plan.