KuCoin vs Coinbase: A Close Race?
Welcome! KuCoin, placing eighth in our crypto exchange rankings, offers low fees and smooth trading. Coinbase, sitting in third, boasts the smoothest customer experience. What other comparative factors under our scrutiny could push you towards either? Let's find out.
Fees
KuCoin's Exchange Platform
The maker fee and taker fee on KuCoin are just 0.1% for beginners
Members who hold KuCoin Shares (KCS) can receive a 20% discount, reducing fees to 0.08%
Traders with an incredibly high trading volume (over 70,000 BTC) may unlock negative trading fees (rewards) – quite an uncommon scheme
Cryptocurrency deposits are free
Coinbase
Coinbase is the most expensive top-tier exchange for trading, at 2% for crypto-to-crypto trades
There is a spread of 0.5%, which is the difference between the real market price and the price Coinbase sells at
A credit card or debit card is the most expensive payment method on Coinbase
Withdrawals of crypto from Coinbase elsewhere are charged at 1% plus a mining fee
Coinbase has a separate trading platform called Coinbase Pro, where trades start at 0.5%
Purchase fees for buying cryptocurrency are as follows, with the greater fee coming into effect:
Condition 1: a flat fee for transactions under $200 (USD):

$0-10 – fee: $0.99 | €0,99 | £0,99 | C$.99
$10-25 – fee: $1.49 | €1,49 | £1,49 | C$1.49
$25-50 – fee: $1.99 | €1,99 | £1,99 | C$1.99
$50-200 – fee: $2.99 | €2,99 | £2,99 | C$2.99

Condition 2: 1.49% of the total purchase via bank transfer or 3.99% for debit and credit card purchases
Winner: KuCoin fees are lower.
Signup and KYC Experience
Opening Your KuCoin Account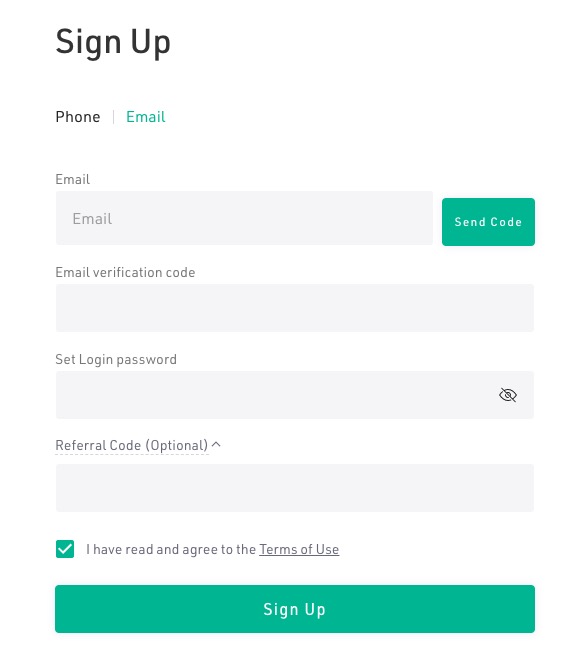 Head to KuCoin.com and find the 'Sign Up' button.
Provide an email address and a password.
Go to your email inbox and click the activation link.
You'll now need to connect to Google Authenticator for 2-step authentication when making future sign-ins.
Your account is now made, and you can trade small amounts of crypto; however, to deposit fiat currency, you must go through KYC checks.
Find the KYC verification option in your user portal and provide photos of your ID, a state ID, driving license, or passport.
Account Creation On Coinbase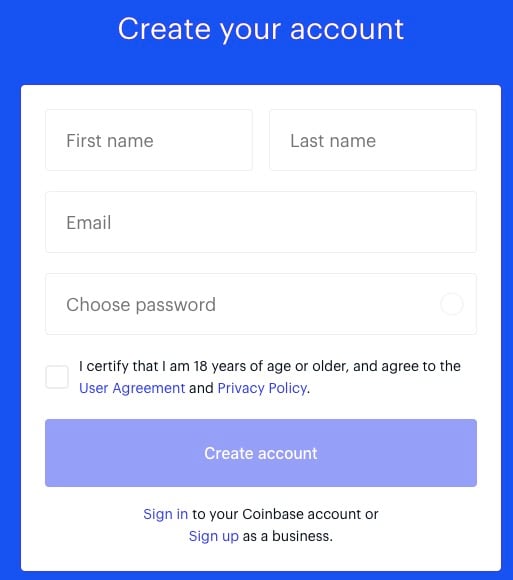 Visit Coinbase.com and find the option 'Get Started.'
Type in your name, email address, and password, as well as your country of residence, then accept the terms and conditions.
Go to your email inbox and click the verification link in the latest email from Coinbase.
You'll be asked to enter your password again.
Now give your phone number.
Coinbase will send an SMS with a 7-digit code inside to type into your browser where indicated.
KYC checks will begin, asking for your name, date of birth, home address, why you're joining Coinbase, what your occupation is, where your funds are sourced, and the name of your employer. United States users will need to provide the last digits of their Social Security Number too.
Go back to your emails and find the verification email.
You can do the verification via mobile or computer, with the process requiring photos of your passport, ID, or driver's license.
Verification times vary.
Winner: KuCoin wins, as it allows for KYC-free trading (restrictions apply).
Ease of Use & Feel of Website/App
Is KuCoin A Good Place To Trade?
Their intuitive and well-designed trading interface appeals to beginners and experienced traders.
In our opinion, a great choice of colors and fonts, helping to digest the information within.
Multiple reward options for the community. As well as low trading fees, there is a KCS mining program, a dividend reward scheme for KCS holders, and soft staking options to earn interest on locked-in cryptocurrencies.
The sign-up process, the trading process, understanding your wallet, and navigating your portfolio are all intuitive and quick to embrace.
KuCoin has margin trading enabled.
KuCoin's cryptocurrency exchange offers its data for transparency, such as trading volumes and market cap, whereas Coinbase does not.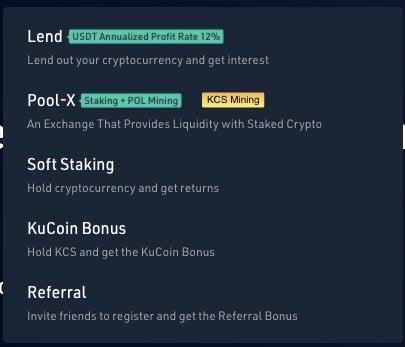 Coinbase: The Trusted Trading Option?
Users in the United States are more than welcome on Coinbase.
Coinbase is the easiest and most convenient website for purchasing cryptocurrency.
More than 45 million users prefer Coinbase to other platforms.
The closest thing to a household name in the crypto-broker world.
More first-time buyers come here than anywhere else, as the buying process feels much like doing online shopping.
Crypto-to-crypto trading is instant, however, very costly at 2% per trade.
Winner: Coinbase has mastered ease of use and website feel, with no competitor truly coming close.
Deposit Methods
Making Deposits On KuCoin
No fiat currency can be deposited into KuCoin.
When you sign up KuCoin, you will be asked to select from 'I don't have digital assets' or 'I do have digital assets.' If you have digital assets, KuCoin will guide you on transferring them into your web wallet.
Users without digital assets (cryptocurrencies) will need to make a purchase, which you can read about in the 'Instant Buy Options' section.
Coinbase Deposit Facts
If we compare Coinbase to KuCoin in this regard, then the user experience of depositing into Coinbase is far superior. Here are the options for Coinbase customers from different regions:
Europe – SEPA (free), iDEAL, Sofort
United States – ACH network (free), Wire transfer
United Kingdom – Bank transfer (free) Faster Payments (free), SWIFT
Like all crypto exchanges, digital asset deposits are free, though they must be compatible with Coinbase. Learn more here.
Winner: Coinbase wins.
Instant Buy Options (Buying with credit and debit card)
KuCoin Purchase Options
There are many coins available on KuCoin, each of which can be purchased instantly via numerous payment methods, depending on your base fiat currency and nationality:
Bank transfer
Sepa
Paypal
Interac
POLi
iDEAL
Credit card
Simplex
Banxa
WeChat Pay
Alipay
PayMIR
Kucoin Fast Buy, offer's KuCoin cryptocurrency customers an option to purchase Bitcoin, Ethereum, and Tether instantly with these fiat currencies:
Australian Dollar
Bangladeshi Taka
Indonesian Rupiah
Canadian Dollar
US Dollar
Philippine Peso
Indian Rupee
Vietnamese Dong
Buying Immediately On Coinbase
Debit card charges are 1.49%, and this presents the only instant purchase option on Coinbase.
Credit card charges are 3.99%, though the service is not instant.
International rules and restrictions on purchases can be read here.
Winner: KuCoin wins this time.
Trading Experience
KuCoin
With more coins (275) and trading pairs (587) listed on their cryptocurrency exchange on an almost-daily basis, investors can be very pleased.
Low trading volumes compared to the perceived size of the exchange
Trading for the first time involves moving funds between wallets and then requires finding trading pairs on the exchange which can be a little confusing.
KuCoin is investing in its customer support channels to improve user reviews.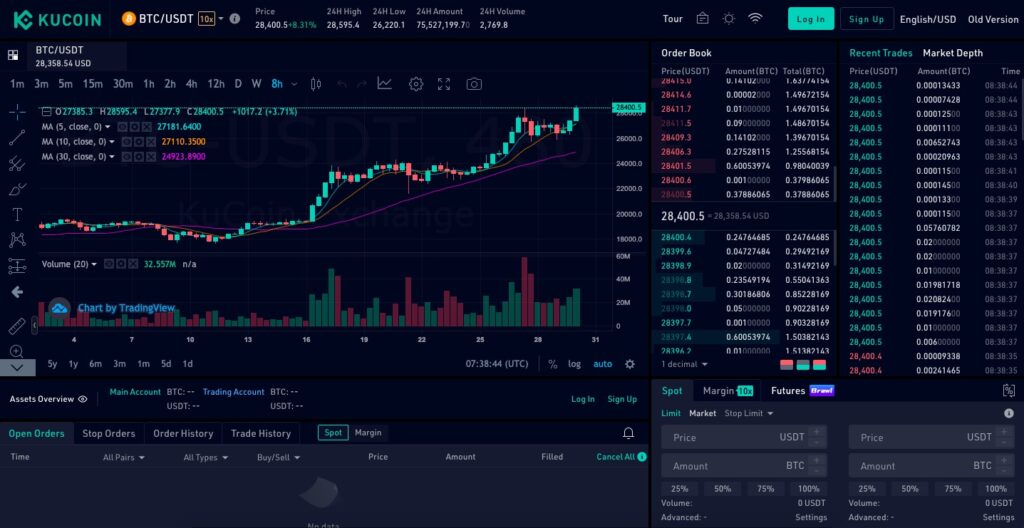 Coinbase
If we compare Coinbase, Kucoin certainly offers a better trading selection; however, trading is much easier and quicker on Coinbase, thanks to a superior interface.
There is no traditional exchange — only the Coinbase interface.
Winner: Trading on Coinbase's cryptocurrency exchange is easier and faster.
Reputation and Security
KuCoin
Unlike Coinbase, KuCoin has suffered a major hack, losing (at the time) $281m in Bitcoin ($30m), Stellar ($87m), and other altcoins ($147m)
Emergency measures recovered over 85% of the stolen coins
KuCoin popularity and trust dipped massively, not only with traders but with altcoin projects whose coins were stolen
Their reputation is still in peril
Coinbase
Never hacked
The expensive option
Never compromised
Highly-rated customer service
The best place to get started in crypto (only competing with Gemini and Binance in this department)
Winner: Coinbase wins.
Coinbase vs Kucoin: Who wins?
This Coinbase and KuCoin comparison has been much closer than many expected. However, we give the victory to Coinbase.