Litecoin continues to trudge higher, Bitcoin and Ethereum not far behind.
Litecoin continues to trudge higher and lead its Coinbase peers. It's sitting up against a key breakout area inside a bullish continuation pattern. Let's look at what is going on and what could happen.
Litecoin higher on the day, continues to show a squeeze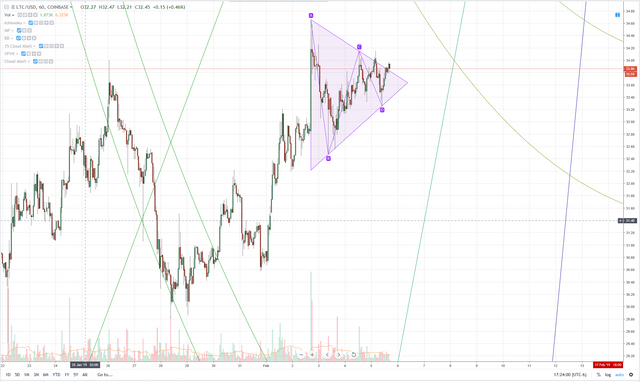 While Litecoin may not be in the top 5 market cap coins anymore (it's current 6), it nonetheless is one of the most important cryptocurrencies in the world. I consider only three cryptocurrencies to be considered 'Major Pairs' and they are those cryptocurrencies which are listed on Coinbase and can be easy exchanged back into fiat. While Coinbase does list Bitcoin Cash (BCH), Ethereum Classic (ETC), 0x (ZRX), Zcash (ZEC) and Basic Attention Token (BAT), none of those cryptocurrencies currently have the same staying power and participatory volume that Bitcoin, Ethereum and Litecoin have. And even those three cryptocurrencies (Bitcoin, Ethereum, and Litecoin) move in the same direction, they do have their own movements which go against each other. The best way I could describe it is how the Dow Jones, S&P 500 and the Nasdaq move. In this scenario, Litecoin would be the Nasdaq. Litecoin is a 'representative' of the altcoin class cryptocurrencies.
In yesterday's article, I wrote about Litecoin's current price position on the daily chart and that it was in a candlestick pattern known as a 'Squeeze Alert'. That pattern looks to actually continue. At the time of writing this article (1720 CST), there remain 40 minutes in the trading day until the cryptocurrency markets print their daily candlestick. Unless something changes, the current candlestick for Litecoin looks to be another inside bar (depending on your broker/data provider). This would be the third inside bar in a row – meaning we are getting a tighter and tighter trading range. There is a symmetrical triangle that has formed off of the initial spike on February 2nd. The nature of a symmetrical triangle is also the same nature of a squeeze pattern. Essentially, we see the same lower highs and higher lows being made over time. Where a Squeeze Alert pattern indicates that there is an impending and big move coming, it does not do a very good job of identifying when that move would happen.
Symmetrical triangle patterns, depending on how they are formed, are considered continuation patterns. This current symmetrical triangle comes off of a bullish drive higher and would, therefore, be a bullish continuation pattern called a bullish pennant. Pennants are very common and very strong continuation patterns. But the nature of the triangle and how price moves with this pattern is important. Generally, price will continue to consolidate and constrict until it reaches the final 1/3rd of the triangle where volume and participation will drop off just before a breakout of the triangle. That is the present condition that Litecoin is in. In fact, after connecting the swing highs and lows of this current triangle, Litecoin has broken above the triangle on the hourly chart and is currently retesting that break. If we get a big move up and out of this triangle, that could trigger a very strong and bullish drive higher for the remainder of the week.