Weekly Roundup: Crypto Markets Hammered, Bitcoin Cash Fork to Blame
In this week's edition, we lament over recently crushed prices across the board, with most coins in the top 100 suffering double-digit losses over the last 7 days. At the time of the publication of this story, bitcoin was struggling to keep above the $5,100 mark, and despite analyst clamorings that the year would still end with a bull run, some traders remained quite worried that the worst was still to come.
BTC Drops to Lowest Level of 2018
All in all, it was a bad week for crypto as the total market cap of all coins dropped some 20%, or some $41 billion over the course of the last 7 days. As of early Monday morning, bitcoin was down 18%, and over one quarter of Ethereum's value had been erased as it traded places with Ripple in the rankings (with XRP now firmly in the #2 position). The total market cap now stands firmly below the $200 billion mark for the first time in over a year, currently at a paltry $168 billion. The main catalyst behind the downward move appeared to be the highly contentious Bitcoin Cash fork, which pitted two prominent crypto multi-millionaire personalities, Roger Ver (backing BCH ABC) and Craig Wright (backing BCH SV), in a battle for ownership of the BCH ticker title.
The usual Wall Street talking head analysts remain highly disparate in their end-of-the-year forecasts, with some claiming bitcoin could fall as low as $1,500 while others maintained it would end the year at $15,000. Bitcoin has already lost some 60% of its value this year but some technical analysts fear it has a lot farther to drop. For almost the entirety of 2018, the price of bitcoin had been contained in a "wedge" shape formation, slowly descending in waves but never falling below the $5,860 level. On Thursday afternoon, this level was broken, meaning price movement no longer corresponded with the wedge patterns.
By Sunday afternoon, BTC had fallen even further below the $5,860 support level, to prices not seen since October 2017. In addition to Ethereum, several top-tier coins had also fallen considerably, including Bitcoin Cash (BCH, -36%), EOS (EOS, -25%), Litecoin (LTC, -25%), Cardano (ADA, -29%), and Monero (XMR, -26%), making last week one of the most devastating since May. Most of the blame for the losses was put on investor confidence being undermined by the proceedings of the highly contentious Bitcoin Cash fork, which saw people who wanted to get in on the coin-doubling action cashing out their BTC to buy BCH, fork leaders cashing out their BTC stashes to fuel their war efforts, and the community at large cashing out of crypto altogether as they waited on the sidelines to wait for the dust to settle.
Bitcoin Cash Hash War Declared Over by Exchanges
As we reported in depth on last Saturday, the Bitcoin Cash fork has proven to be something of a battle royale within the BCH community, polarizing many of its prominent members. After the developers responsible for maintaining its core client, called Bitcoin ABC, released plans for an upgrade of the main Bitcoin Cash software, computer scientist Craig Wright (widely known for his claim of being Satoshi Nakamoto in 2016) vowed to fight the changes, with plans to release his own version of the software, called BCH SV (for "Satoshi's Vision). On the ABC side of the battle was Jihan Wu, founder of the Chinese bitcoin mining hardware company and pool, Bitmain, who was soon joined by Roger Ver of bitcoin.com. On the SV side of the battle was Craig Wright, and his #1 support Calvin Ayre, owner of the crypto news website and mining pool Coingeek.
In the weeks leading up to the November 15 hard fork, Wright had sworn that Coingeek's hashing power would dictate which path the future of Bitcoin Cash would follow, while Wu and Ver were more of a community-minded approach. Four days after the hard fork, it would appear that the ABC version had won out as it maintained a consistent lead in blockchain length and total hash power. Wright had said early on that he viewed the "hash war" as more of a marathon than a sprint, but by the morning of November 19th, it was all but apparent who the actual winner was, with several exchanges using the ABC version of the fork as the one representing the BCH ticker, employing the use of BSV or BCHSV to denote Wright's version. Nevertheless, Wright continues to believe nothing has been settled, vowing to carry on a war to eventually beat BCH ABC in hash power and chain length.
A reminder, hash competitions are a marathon, not a sprint.

Never look st victory too soon…. pic.twitter.com/GFdCR4J2RA

— Dr Craig S Wright (@ProfFaustus) November 15, 2018
Widely used crypto price tracker CoinGecko made the following announcement early Monday morning, succinctly categorizing the various differences in the naming systems of the (currently 3) different versions of Bitcoin Cash, which incorporates the decisions of how several major exchanges decided to handle the BCH issue going forward:
"On 15 November 2018, Bitcoin Cash undergone (sic) a hard fork and is permanently split into two chains – Bitcoin Cash ABC and Bitcoin Cash SV. For a few days, this resulted in 3 Bitcoin Cash profiles on CoinGecko – Bitcoin Cash (BCH), Bitcoin Cash ABC (BCHABC), and Bitcoin Cash SV (BCHSV).

On 19 November 2018, 07:30 UTC, CoinGecko is merging our Bitcoin Cash (BCH) and Bitcoin Cash ABC (BCHABC) profile in order to better reflect the market. Based on our observation, most exchanges are using Bitcoin Cash (BCH) to refer to the Bitcoin ABC implementation…

This has caused the Bitcoin Cash (BCH) market value to reflect closer to the Bitcoin ABC implementation. CoinGecko has decided to merge both the Bitcoin Cash and Bitcoin Cash ABC profile as maintaining both profiles will lead to market confusion.

A number of exchanges have supported Bitcoin Cash SV or Bitcoin SV as a fork and a new trading pair…

Do be careful when trading these pairs. Expect more announcements to be made from companies offering greater clarity on which chain they will support in the coming days. We will monitor and update based on market situation."
Switzerland Approves Cryptocurrency ETF
In the United States, home to some 13 different Bitcoin ETF applications that are all currently under review by the SEC, the issue on whether or not bitcoin could legally be defined as a tradeable commodity remains wholly unsettled, yet capable of attracting billions of dollars to crypto once it is. In Switzerland, however, things are a bit different as the world's first crypto-backed ETF opens for trading next week. The ETP (Exchange Traded Product), offered by the U.K.-based fintech company Amun Crypto, is being launched on Switzerland's leading stock exchange, which is the 4th biggest in Europe. It will be backed by the holdings of 5 different cryptocurrencies, with BTC comprising about half of its value while BCH, XRP, ETH and LTC comprise the remainder. The ticker for the ETP is aptly named HODL.
According to Hany Rashwan, CEO of Amun, the ETF aims to achieve the following goals:
"The Amun ETP will give institutional investors that are restricted to investing only in securities or do not want to set up custody for digital assets exposure to cryptocurrencies. It will also provide access for retail investors that currently have no access to crypto exchanges due to local regulatory impediments."
Back in the U.S., it is hoped that a successful launch of a crypto-backed ETF in Switzerland could help the case for a Bitcoin ETF domestically, however, the method of how the prices that compose an index-backed fund (such as a Bitcoin ETF) is still undetermined, with the SEC's chief complaint being that a futures market (such as that proposed by upcoming crypto firm Bakkt) is not sufficient in determining the underlying price of a commodity. As the bitcoin trade remains highly unregulated in comparison to classical commodities like gold and oil, the SEC fears that the price of a Bitcoin ETF could be highly manipulated by the exchanges which comprise its index.
Bitcoin Ransomware Story Has Rare, Somewhat Happy Ending
In a rare turn of events, parties infected by bitcoin ransomware ended up paying the ransom, and actually got their computers de-encrypted as the result. Usually such cases end up poorly, with a malware ransom paid and the affected servers remaining locked, or only to be quickly infected again. For the remote Alaskan town of Valdez, this time things were to be different, as administrators who had crucial city data encrypted by bitcoin ransomware decided to go an unusual route.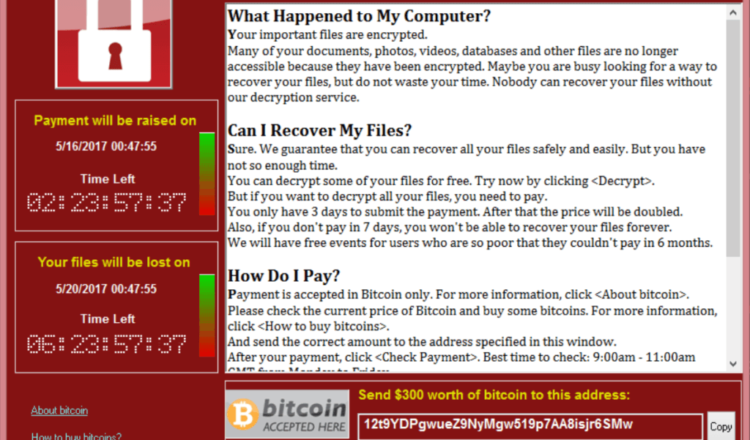 At first, the ransom was set at 52 bitcoins, or roughly $400,000, but city employees, wary of paying such a large amount of taxpayer-collected money for potentially no benefit, decided to hire a 3rd party intermediary service to negotiate with the hackers on the dark web. The hackers were located by the service and talked down to a relatively meager 4 bitcoin ransom, which was then paid, but only after the hackers submitted proof they could actually decrypt the data. The city administrators were then given a decryption key which was successfully used to free their sensitive data, though it had to be combed through extensively in case if new malware was somehow embedded into the databases during the time that it was missing.
The average ransomware loss by an afflicted business is approximately $2,500, and total losses around the globe are projected to surpass $115 billion by 2019. Though Windows operating systems are by far the most frequent targets of attacks, attacks on both Apple and Linux OS have been on the rise in 2018.
Also in the News