7 Best Coinbase Alternatives
Coinbase is one of the most popular cryptocurrency platforms out there, especially for its brokerage service. As well as allowing you to purchase a range of cryptocurrencies, you can use Coinbase to sell, transfer, or store your crypto. Like all platforms, it has its advantages and disadvantages; on the plus side, it is perhaps the most straightforward broker service to use and has never been hacked. On the downside, it offers limited payment options and high transaction fees.
An overview of the best Coinbase alternatives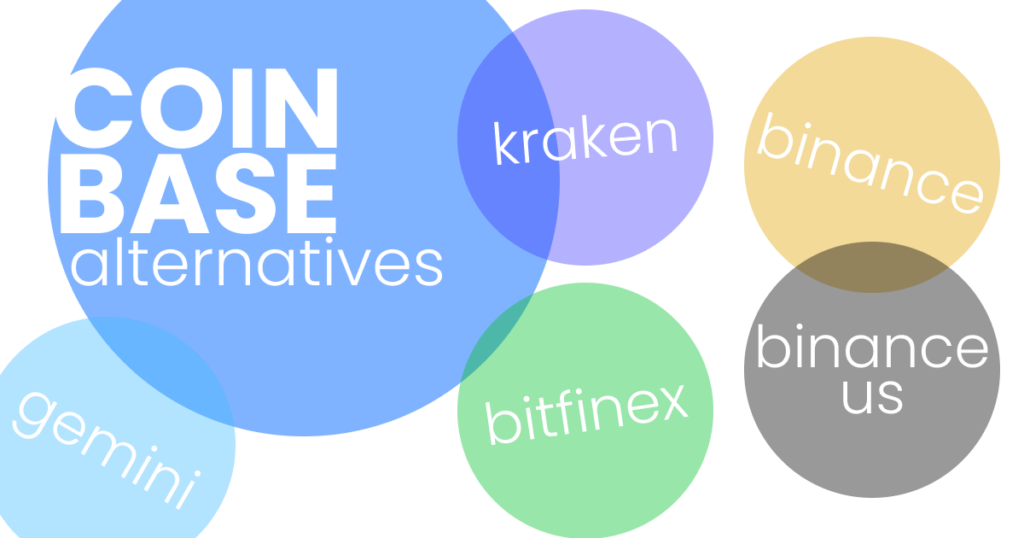 What are the 7 best Coinbase alternatives?
We happily present the seven best Coinbase alternatives to you, a list hand-picked by our crypto-specialists to offer traders the top crypto exchanges with superior features. Furthermore, to remain unbiased and transparent, we will highlight how these sites like Coinbase are better and worse to make your judgments.
Gemini is the most highly regulated and legitimate exchange globally, which gives optimal levels of credibility, security, and reliability to your crypto-activities, key attributes for many investors. Primarily trading in Bitcoin, Litecoin, Ethereum, and Bitcoin Cash, Gemini is the only exchange that is arguably more user-friendly than Coinbase.
Is Gemini better than Coinbase?
Gemini beats Coinbase on several aspects, including:
Lower purchase fees by comparison, for 47 different cryptocurrencies
Cheaper cryptocurrency withdrawals (free for the first 10 withdrawals each month)
A more complete trading experience, with members being able to choose between a simplified user interface or an advanced ActiveTrader view
An arguably better portfolio dashboard design
A mobile app that many users find more friendly than Coinbase
Gemini is absolutely solid and its reliability and security are unquestionable
What's not so good about Gemini?
Gemini only accepts new customers from the United States
Gemini has chosen to focus on just Bitcoin and Ethereum, meaning, for example, a user could not trade from Litecoin to Cardano if they wished
The web platform and mobile app charge a commission fee and a convenience fee, which can make purchases very expensive especially when buying small amounts
Binance is the world's largest cryptocurrency exchange by trading volume, so this is your best alternative if you agree that bigger is better. As well as their brokerage and spot trading services, they offer heaps of advanced trading, leveraging, and staking opportunities, as well as DeFi and P2P services for users. So if there's something, in particular, you want to do with your cryptocurrencies, you're more likely to find the service here than on Coinbase.
Is Binance better than Coinbase?
The trading fees are significantly lower, starting at 0.1% rather than Coinbase's industry-high 2%
Trading with other users is enabled through one of the best trading interfaces in the industry
There's a wide range of interesting cryptocurrency coins available (320+) and trading pairs to interact with (1,000+)
More than 40 different fiat currencies accepted, including the usual suspects, USD, EUR, GBP, AUD, CAD, CHF, JPY, and RUB
What does Binance get wrong?
The exchange faces very little financial regulation and so some suspect that their activities are a little dubious, though this is hard to prove
Having acquired CoinMarketCap, some feel that they have an unfair advantage in the industry and are trying to create a monopoly, which goes against the founding principle of Bitcoin, which is to create more financial democratization
Customer support could be better, this is an area that would benefit from some more resources and options, as a live chat feature would seriously outperform the ticket system
US nationals based outside of the US use the platform in fear of being 'geo-blocked', with the digital currency exchange looking to sweep all Americans over to Binance.us
Despite being founded in China, the platform is now banned there, with geo-blockers working to stop any IP addresses originating in China
As mentioned above, Binance is the ultimate cryptocurrency exchange platform, but it's slightly different for users in the US to navigate their tricky financial regulations.
This means that Americans get a version that looks and feels the same but features fewer cryptocurrencies as each one must be strictly vetted and comply with those regulations.
Still, it's an immense cryptocurrency exchange, and for those in the USA who want to trade crypto and have a reliable broker, in the same place, Binance.US can be a sturdy alternative to Coinbase.
Is Binance.us better than Coinbase?
Trading fees on Binance.us start at 0.1%, much lower than Coinbase at 2% (and even better than Coinbase Pro, which starts at 0.5%)
Wire deposit limits are $1m, much more than the $25,000 per day on Coinbase
Binance.US has a larger parent company, which means better liquidity, faster trading transactions, and more services to choose from
Coinbase doesn't report its trading volumes, which is typical of many brokerages but does draw some questions about its transparency
What are some drawbacks of Binance.us?
The obvious setback is that it's only for Americans, however, since that is its purpose, it's not a major fault. The fault, however, is that they are missing the regulatory requirement for 13 different states: Alaska, Alabama, Connecticut, Georgia, Florida, Hawaii, Louisiana, New York, North Carolina, Idaho, Vermont, Washington, and Texas
There is a limited selection of coins available to traders, which is what many Americans found frustrating after Binance was blocked and Binance.us was set up, however, for new users, this isn't much of an issue. Binance.us and Coinbase each offer some of the same cryptocurrencies but have selected different altcoins to meet their market needs
Kraken, like Gemini, is fighting for that share of the market where first-time crypto-buyers and traders exist. It's very user-friendly, offers industry-topping legal compliance standards, and can boast full reserves, which means your assets are stored safely rather than being reinvested by Kraken. As far as the best alternatives to Coinbase go, the ease of use of this trading platform should be convincing enough to give it a try.
Is Kraken better than Coinbase?
Kraken boasts impeccable levels of security and a zero-hack history
Buying and selling cryptocurrencies can be done instantly and easily with numerous payment methods
Kraken's 0.16% maker fee and 0.26% taker fee for new users is quite low, making it an economic Coinbase alternative for trading
A live chat feature connects you directly to their helpful customer support staff
An address-checking feature that makes sure your funds won't get lost in transactions
A beginner who is new to either cryptocurrency platform will have equal levels of accessibility in onboarding, as both are easy to use immediately, however, Kraken is one of the few Coinbase alternatives that offer more options for deposits and withdrawals
We believe that Kraken's mobile app is better for beginners than Coinbase, but ultimately it comes down to personal preference
Is Kraken legit?
Instant-buying of Bitcoin and other crypto costs 3.75% + a €0.25 flat fee, which makes them a more expensive broker than Coinbase for every payment method except for credit card
On top of this high commission fee is Kraken's spread, which varies from 2-10%, making some instant purchases of cryptocurrency extraordinarily high. Paying as much as 13.75% on top of the market price is unacceptable for most
Some users really like the web trading platform, but where competitors like Binance and Bitfinex have made a simple yet serious interface, Kraken has strange fonts, colours, and a retro feel, as well as their layout being backwards (though this can be adjusted manually). We think simpler is better, so the trading view needs work
Whilst they have never been hacked, there have been many cyber-hacking attempts on them, which, in 2018, forced them to shut down temporarily and improve their defences. This left users in limbo and broke a lot of trust with their traders
In April 2018, Kraken stopped serving the Japanese market basically overnight, creating complications for many traders. Could this happen in another market? It's possible
Israeli cryptocurrency exchange Coinmama is debatably better than Coinbase in some regards, such as accepting credit cards as one of their payment methods and allowing instant purchases for different coins.
For European traders, Coinmama's instant selling option for Bitcoin to all 37 members of the SEPA agreement is a big bonus.
Is Coinmama better than Coinbase?
Purchases of Bitcoin and other cryptocurrencies happen instantly and funds are transferred right away
Account verification is faster than on Coinbase
Coinmama allows users to purchase cryptocurrency and make deposits using credit card
Users can buy and sell cryptocurrency with minimum fuss once verified, thanks to the user-friendly payment gateway
What are the downsides of Coinmama?
Coinmama doesn't offer a wallet for purchases, meaning users need to send the purchased funds elsewhere
Coinmama's fees are drastically higher than Coinbase, charging 5.5% commission and a 5% credit card fee, making an overall 10.5% fee, a figure that is simply too high for many for the simple purchase of digital currencies
Coinmama claims to be a crypto exchange, but really, it's a broker. Rather than offering a trading platform for users to trade with one another, they offer a currency exchange service, typically from fiat currency to crypto
At this time, Coinmama only offer 7 cryptocurrencies, which is fine for users who want to buy Bitcoin, Ethereum, Cardano, Litecoin, Tezos, Bitcoin Cash, and Ethereum Classic, but is not so helpful for those who want more options to buy other coins
Coinmama has a monthly deposit limit of $100,000, whereas Coinbase users could, in theory, deposit around $775,000 per month if they wished
We believe that CEX.IO is the best UK Coinbase alternative, and one reason for that is that they enable Paypal transactions, something that is not typical of a digital currency exchange. Another reason UK users consider trying CEX.IO is that their deposit fees are halved to 1.49% when sending funds from a British bank account. In addition, SEPA (EUR) and Faster Payments (GBP) are completely commission-free as well.
Is CEX.IO better than Coinbase?
Transactions using debit cards take just an hour to go through
100+ cryptocurrencies and 220+ trading pairs
A great variety of payment methods for international buyers and sellers
Users can trade on their highly-rated web platform or mobile apps
Security is paramount and this exchange platform has never been hacked
Offers up to 100x leverage on margin trading
Staking allows users to earn interest on their held crypto
Users can take out USD and EUR loans by using Bitcoin or Ethereum as Collateral
Email, phone, and live chat makes their support system far superior to Coinbase
The development team are constantly innovating new services and features for their millions of traders
What are some drawbacks of CEX.io?
CEX.IO focuses mainly the major cryptocurrencies, which is great if you want to buy Bitcoin, Ethereum, DASH, Litecoin, Ripple, or Bitcoin Cash, but is not helpful for other highly sought after altcoins
Instant-buy fees, when all is added up, from commissions, convenience fees, and the spread, equate to roughly 7-8%, which is quite high but can be avoided by depositing first and trading on a fiat/crypto market pair
On top of the high purchase fees, CEX.IO has the highest withdrawal fee of all currency exchanges in this article, at 3% + card fees (ouch!)
Verified users whose account is less than 3 months old can only deposit up to $3,000 a month, a rule that is meant to reduce fraudulent behavior, but in fact, slows down investments and turns away many high volume traders
Bitfinex is a platform that is highly recommendable for professional traders and institutions rather than for beginners. It is one of the oldest cryptocurrency exchanges still in operation and is generally a top 5 crypto exchange in terms of the trading volume. Sadly for readers and traders in the United States, Bitfinex is entirely unwelcome towards Americans, who cannot use its services. 
Is Bitfinex better than Coinbase?
Bitfinex offers an excellent 'Paper Trading Account' which is a demo account for practicing trading with popular coins and imaginary fiat money
Users have greater levels of autonomy over their security options, including two-factor authentication, new IP address blocks, a withdrawal confirmation phrase, and PGP mail encryption settings
Bitfinex offers a comprehensive and high-quality trading platform on the web and in their mobile apps, something that Coinbase does not have
The logic of the user dashboard, which facilitates easy trading and even offers a 'market order' button to buy at the current price, make this a very likable cryptocurrency trading platform
Bitfinex boasts hundreds of trading pairs for users to engage with on their exchange
Bitfinex offers hundreds of digital assets but only one of them is native, the LEO token, which can be used on Bitfinex to help get discounts and rewards
Bitfinex offers margin trades with up to 5x leverage
What are some of the negatives of Bitfinex?
Minimum deposits of fiat currency are £10,000, $10,000, €10,000, or 1m Japanese Yen and only by wire, whereas on Coinbase, most deposit methods, like debit cards or bank transfers, have no minimum. The only payment method with a minimum amount is wire transfer, which is just $5,000
Bitfinex only offers about a dozen major digital currencies, like Bitcoin and Ethereum, to buy and sell directly, whilst Coinbase has over 50
Bitfinex was the victim of the second-biggest hacking in crypto-history, when 120,000 Bitcoin were stolen, worth several billion dollars at today's rate. For some, who demand impeccable security from their Bitcoin exchanges, this makes Bitfinex untrustworthy, despite their attempts to strengthen their security
What are some commonly asked questions about Coinbase and its alternatives?
Sites like Coinbase are often competing directly with Coinbase, which is incredibly difficult to do, based on how well-connected and well-established they are. Fortunately, there is some low-hanging fruit for competitors, like offering low fees, giving more autonomy over security measures, providing discounts to big volume traders, and introducing advanced features like margin trading.
Now that you know Coinbase and its competitors aren't perfect, what would you also like to know? Recently we appealed to some members of our crypto community to find out what reservations or questions they had about the other sites like Coinbase.
Which mobile app is better than Coinbase?
As we've said, Gemini is most similar to Coinbase out of all their competitors, but thanks to some savvy development and plenty of hard work, they now offer one of the best mobile apps in the whole FinTech industry. Apps like Coinbase have to value ease-of-use and functionality over almost everything else, making sure that they're so easy to use, even your grandma could figure them out. This means designing a purchase process comparable to online shopping and making the portfolio dashboard clean and user-friendly.
Gemini is the best Coinbase mobile app alternative.
Is Coinbase the only way to buy Bitcoin?
While it is the most popular method for first-time buyers and beginner traders, it's not the only way to buy Bitcoin. All seven companies like Coinbase that we've listed in this article offer a brokerage service for purchasing digital assets like Bitcoin and Ethereum. There are very few Coinbase alternatives that don't provide a broker system.
Which is the best Coinbase alternative for getting low trading fees?
Binance is your best bet for low fees, which is one reason why they are dominating the market right now. Trading fees start from 0.1%, lower than most competitors, and it continues down to zero for large-volume traders. What we also love about their fee structure is the opportunity to get discounts on those already-low fees by either purchasing enough of their native utility token, BNB or by taking part in their referral scheme and getting new users on the exchange.
Beyond low trading fees, they offer low deposit fees in 43 different currencies, with great payment methods like debit cards and bank transfers.
What is the best alternative to Coinbase for using a credit card?
Since Coinbase offers credit card transactions for 3.99% (to select countries), plus their spread, which is around 0.5%, we want to present some alternatives that can, if you play it right, get you a slightly better deal. We say 'slightly' because credit card companies are not super happy about crypto, and neither are payment gateways, although that stance is starting to change. This hesitance from card companies, who worry about fraud and have a duty to their customers, translates to high transaction fees. As a result, many cryptocurrency exchanges use a service called Simplex to help users get fiat currencies like USD, EUR, and GBP from their credit cards to their web wallet. Simplex charges 3.5% as standard.
So, that leaves you with three good options from our list of exchanges like Coinbase:
Binance offers a credit card purchase fee of 3.5% or a flat fee of $10, whichever is greater, which means that spending over $285, roughly, will get you over that flat fee
CEX.io also has an option for using your credit card with 3.5% fees, but rather than making an instant purchase which will cost closer to 8%, users can deposit via credit card for 3.5% and then trade their currency on the exchange for maker and taker fees (0.16/0.25%)
Kraken's credit card fee for purchases is 3.75%, plus a flat transaction fee of €0.25
How do I send Bitcoin from Coinbase to a new exchange?
To send cryptocurrencies such as BTC, Litecoin, Ethereum, and Ripple from your Coinbase account, sign in to Coinbase and look at your balances. Next to the crypto you want to move, click 'Withdraw.' You will now be able to enter the recipient address. In your new exchange, find the same cryptocurrency in your wallet and click 'Receive,' which will generate an address. Copy this address into the recipient box on Coinbase, input your amount, a memo if requested, and hit send. You will receive your crypto on the new exchange shortly.
Here are some photos of a transfer from Coinbase to an Exodus web wallet.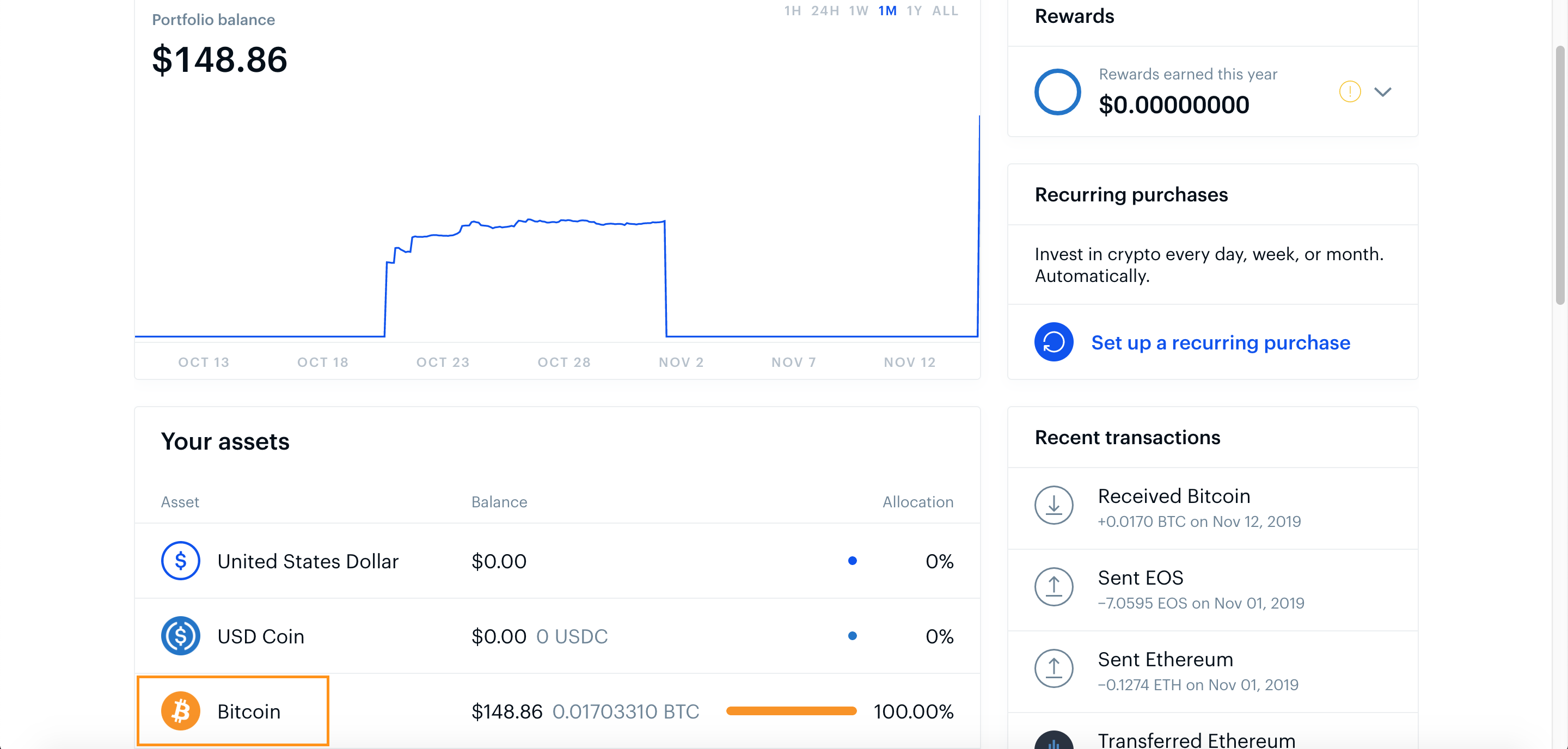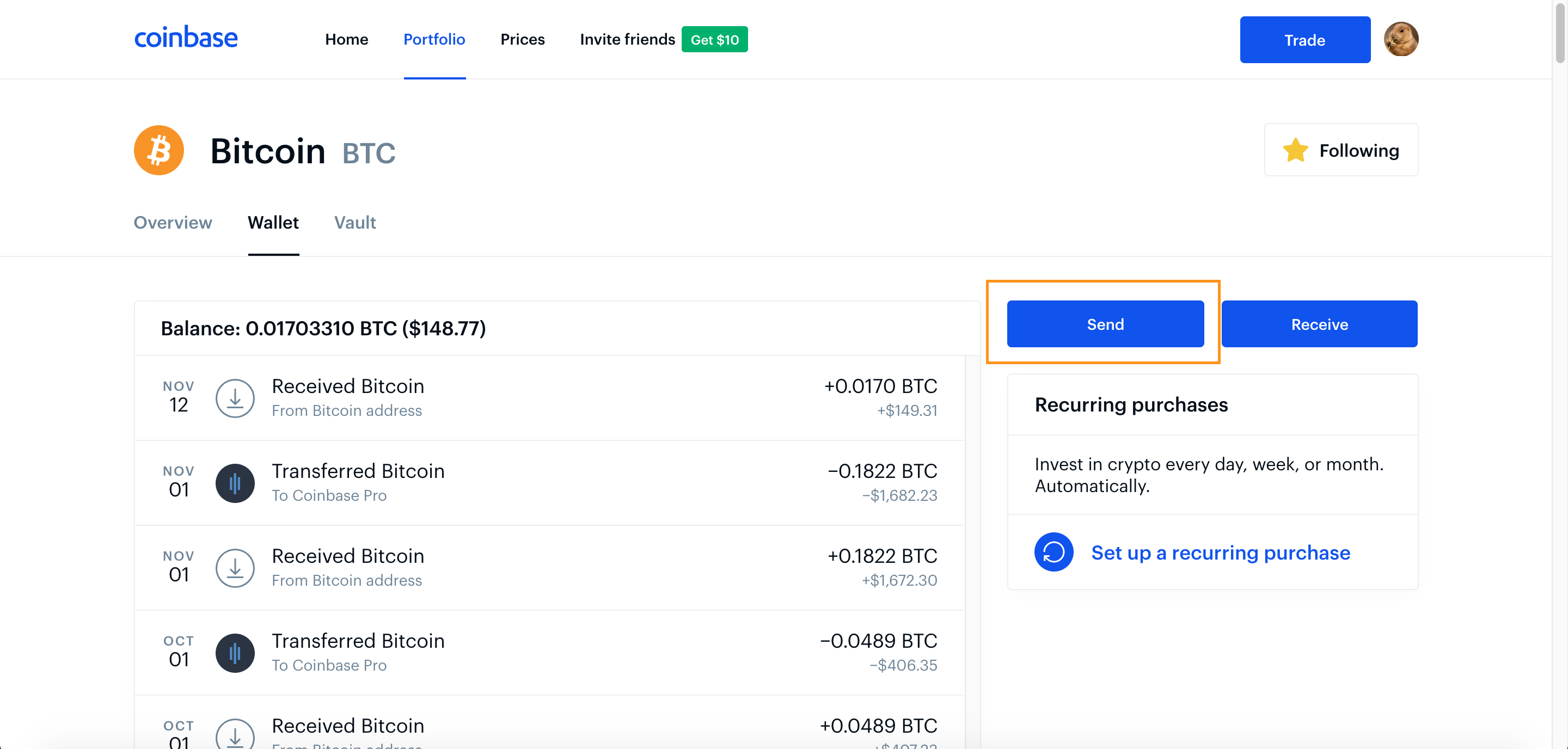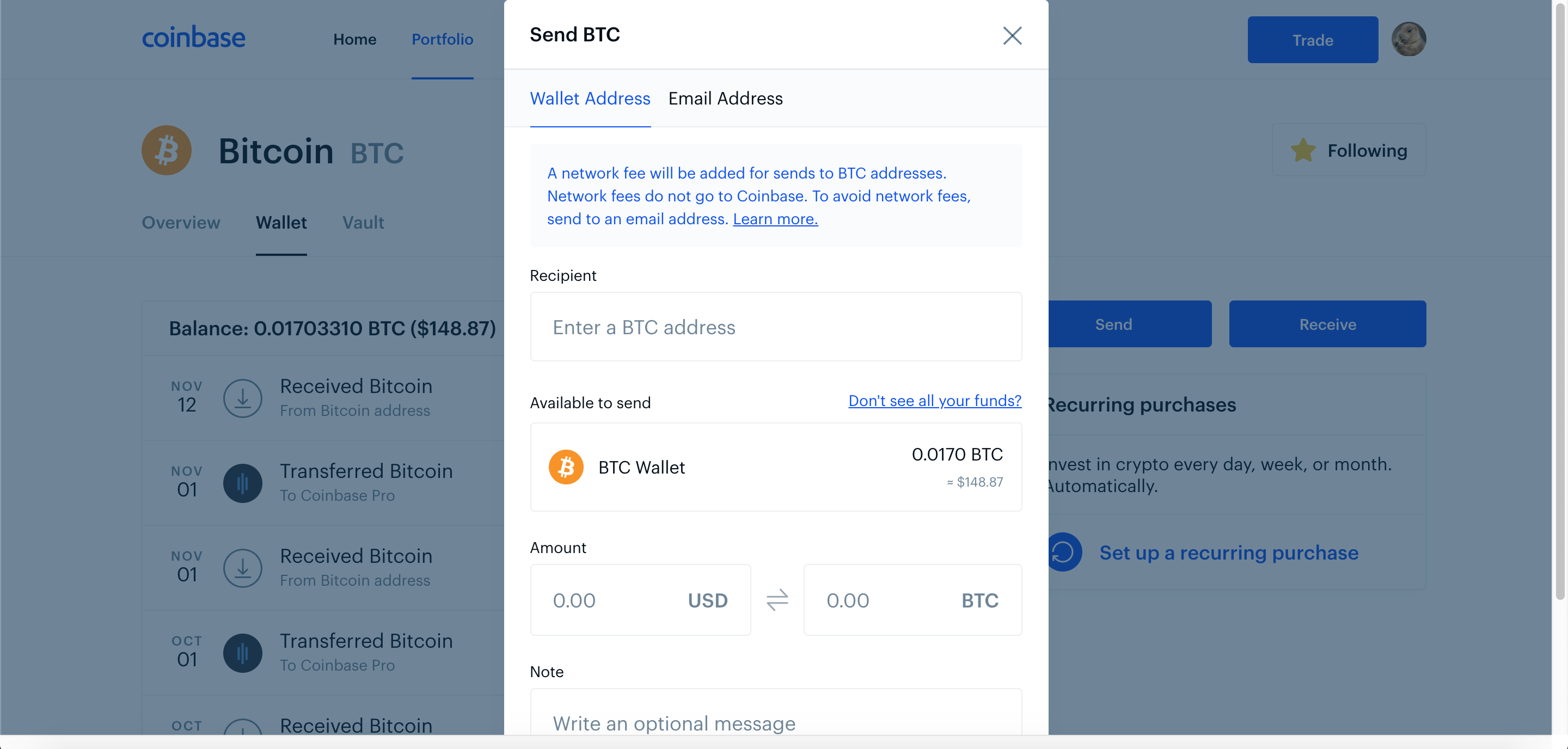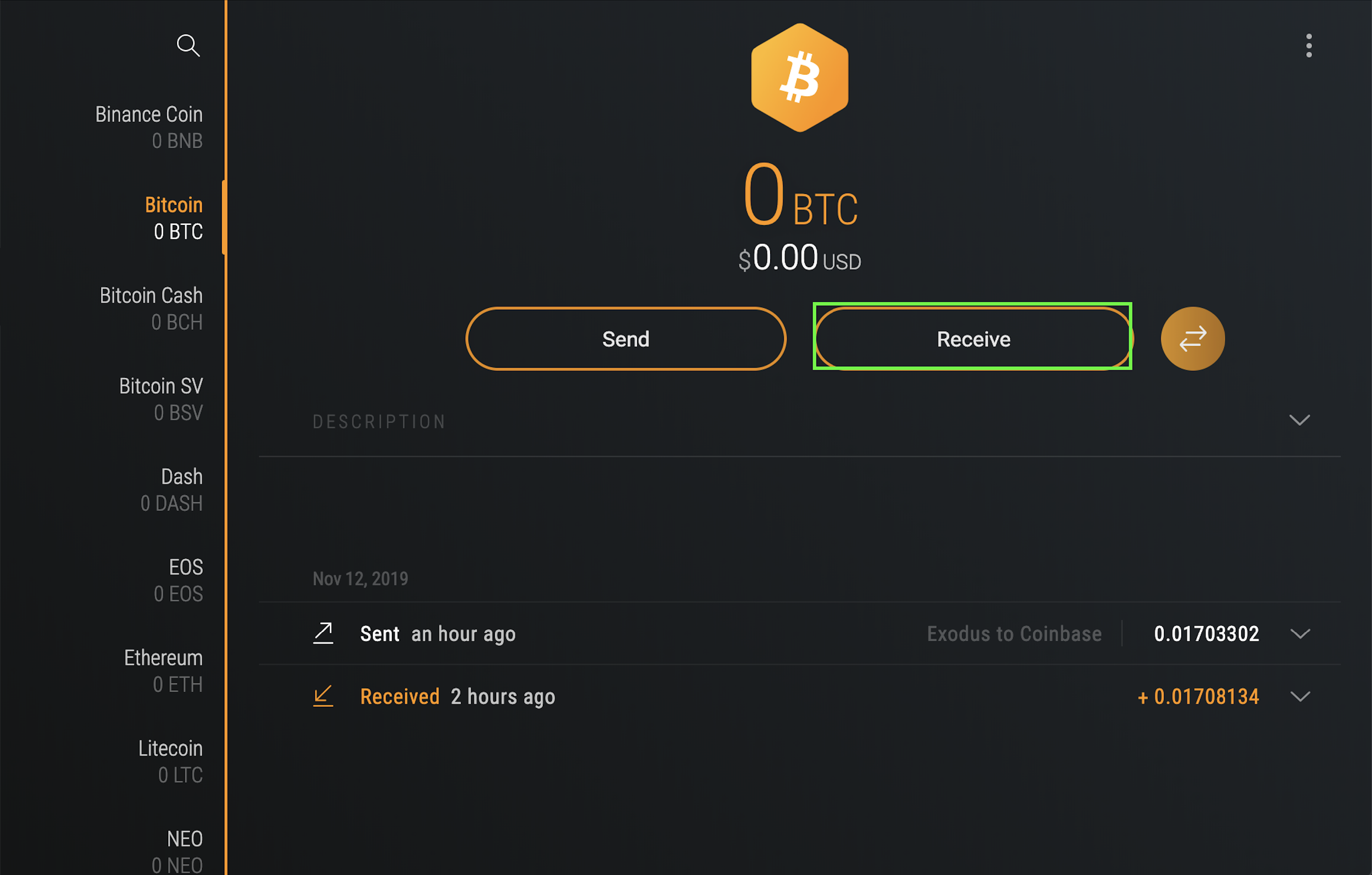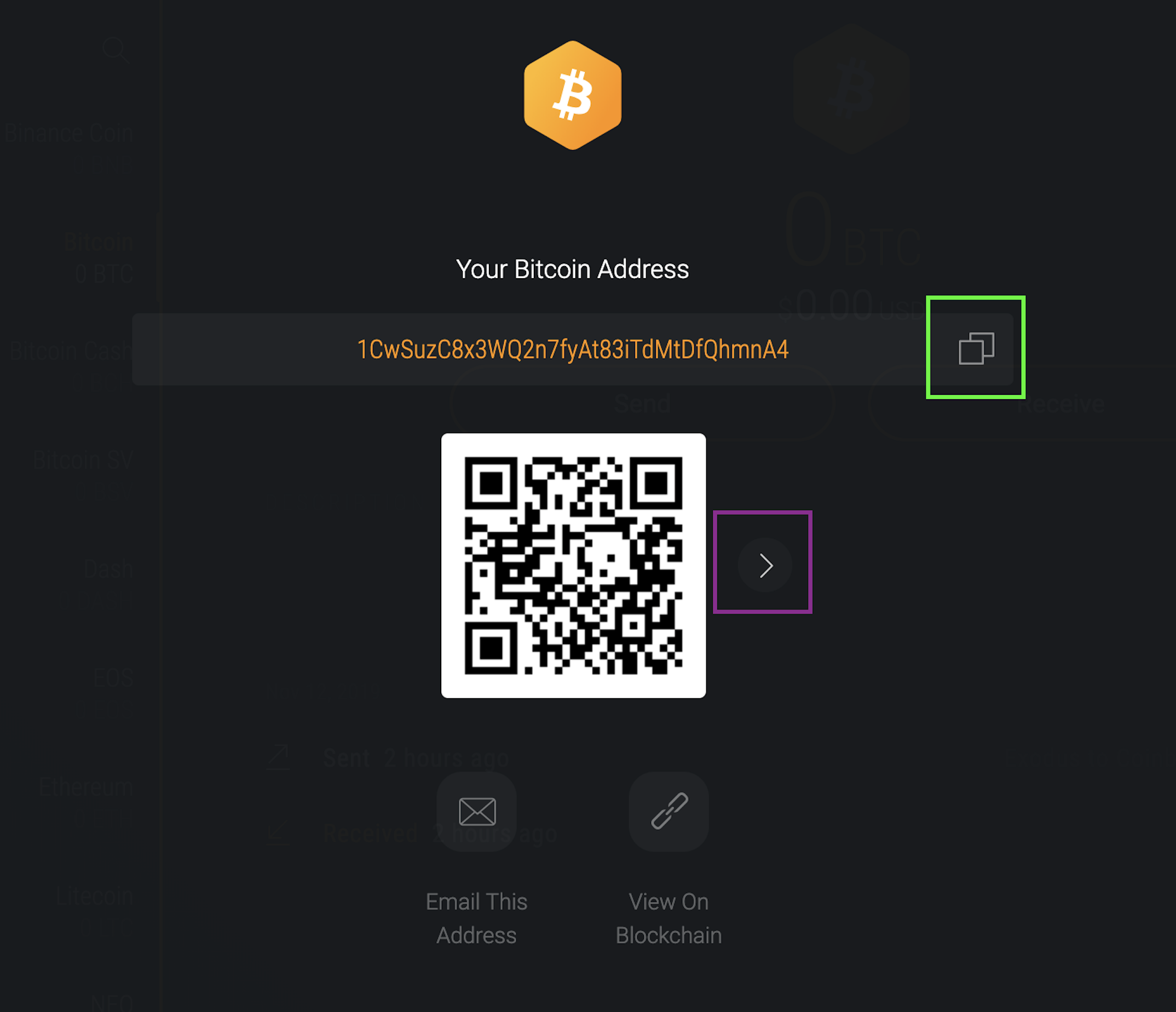 For the best alternative to Coinbase, sign up and start trading at Gemini.