7 Best Places to Buy Bitcoin in Canada
Many cryptocurrency exchanges are not friendly to Canadians, making it challenging for buyers to fund their accounts. This difficulty has resulted in many people using costly or unreliable methods, such as Bitcoin ATMs or the now-defunct QuadrigaCX, to purchase coins. Luckily we have reviewed and rounded up all the best places to buy bitcoin for Canadians.

Read on to find out which options made our list of best Canadian exchanges to buy Bitcoin, along with one big name that you should avoid at all costs.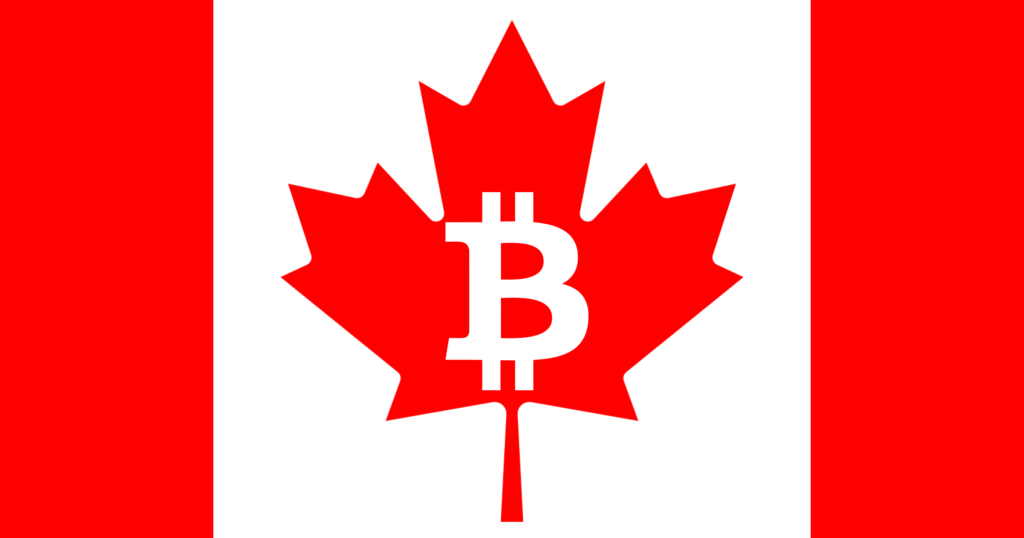 Luckily, this has changed in recent years, and almost all major exchanges are now accepting deposits in Canadian dollars. Furthermore, many new Canada-based exchanges have appeared, offering quick and easy funding methods designed to cater to those wishing to deposit CAD.
Here we will look at what deposit options are available to Canadians on the three big exchanges and some Canadian Bitcoin exchanges that provide convenient funding methods for those north of the 49th parallel.
Where to buy Bitcoin in Canada
Founded in 2011, this San Francisco based exchange is one of the oldest around and currently experiences the third-highest average daily volume, behind Binance and Coinbase.
The exchange trades 53 coins and six currency pairs, including CAD. As of now, they offer four deposit options:
Credit Union Atlantic Wire Transfer: This funding option requires the user to send a wire transfer to a bank account held by Kraken at Credit Union Atlantic. The wire transfer fee is usually between $25 and $35 depending on the sending bank and can take two to three business days to complete. First-time deposits are subject to a 72 hour holding period once in the account, and the minimum deposit amount is $100.
Bank Frick SWIFT Transfer: The second option allows Canadians to send a SWIFT transfer to a Kraken bank account held at Frick Bank. This process can take one to five business days and comes with a fee similar to a wire transfer fee. Kraken charges a $3 fee for receiving funds by SWIFT transfer and requires a minimum of $40.
In-Person Payment (IPP): Unlike some of the other top exchanges, Kraken offers an in-person payment option through Canada Post. If the user decides to go this route, they will be provided with a QR code to present at any Canada Post office. The first time this method is used, the funds are placed on hold for 72 hours once received. After this, the transaction will go through in 30-60 minutes. The IPP transaction fee is $1.25 + 0.25% of the total transaction amount.
Etana Custody: Etana Custody acts as a sort of third party custodian of digital and fiat currencies. Although many users are confused about how the service works, it essentially allows users to link their accounts with Kraken. Any fiat funds deposited into their Etana Custody account will then be instantly transferred to their Kraken account. Funding an Etana account requires a wire transfer, meaning there isn't any added value to using the service and only adds an extra step. Furthermore, many users have expressed concerns over the company's legitimacy and the fact that they seem to be operating without proper licensing. Because of this, we do not recommend this deposit method.
| | | | |
| --- | --- | --- | --- |
| Deposit Option | Fee | Maximum Deposit | Minimum Deposit |
| Credit Union Atlantic Wire Transfer | C$25 – C$35 depending on bank | C$300,000 | C$100 |
| Bank Frick SWIFT Transfer | C$25 – C$35 depending on bankC$3 transfer fee charged by Kraken | C$5,000,000 | C$40 |
| In-Person Payment (IPP) | C$1.25 + C0.25% of transaction amount | C$500 | C$20 |
| Etana Custody Transfer | C$25 – C$35 depending on bank | C$1,000,000 | C$1 |
2. Bitbuy
This Toronto based exchange was founded in 2013 under the name Instabit rebranded to Bitbuy in 2016. Bitbuy deals exclusively in Canadian dollars and only offers accounts to Canadian residents and citizens. The site is inaccessible to anyone outside of Canada, which can be solved using a VPN. Like CoinSquare, Bitbuy allows users to make deposits using the Interac E-transfer service. All deposits come with a 1.5% charge and are subject to a 24-hour hold. The exchange has increased in popularity in recent years due to its instant verification process and advanced trading interface.
One of the main limitations of Bitbuy is that it only offers seven different cryptocurrencies, meaning active traders usually end up transferring coins to other platforms.
| | | | |
| --- | --- | --- | --- |
| Deposit Option | Fee | Maximum Deposit | Minimum Deposit |
| Interac E-Transfer | 1.5% of transaction amount | C$10,000 | C$20 |
| Wire Transfer | C$25 – C$35 depending on bank | C$500,000 | C$20,000 |
3. CoinSquare
Although it has had some trouble with the Ontario Security Commission (who accused the exchange of engaging in market manipulation), CoinSquare remains one of Canada's more popular trading platforms. The reason for this popularity is simple; it was one of the first Canadian based trading platforms that allowed users to fund their account via Interac e-transfer.
However, it is essential to note that all funds deposited via e-transfer are placed on hold for 24 hours. Coinsquare removes these holding restrictions once you have completed at least five transactions totaling a minimum of $3,000. As of January 11, 2021, CoinSquare no longer charges a fee on deposits made via Interac E-transfer.
CoinSquare also accepts wire transfers as a funding option, which, as we have covered, will usually cost between $25 and $35 and can take two to three business days to complete. CoinSquare does not charge any extra fees for wire transfers. However, they require a minimum amount of $10,000, which may be prohibitive for many investors.
As of now, CoinSquare offers 11 coin options, including its proprietary SquareCoin token. Because of the low deposit fees and ability to fund an account using the Interac e-transfer service, Canadians often use CoinSquare to purchase Bitcoin or Ethereum and transfer them to another exchange such as Binance or Kraken, where more trading options are available.
| | | | |
| --- | --- | --- | --- |
| Deposit Option | Fee | Maximum Deposit | Minimum Deposit |
| Interac E-Transfer | none | C$10,000 | C$20 |
| Wire Transfer | C$25 – C$35 depending on bank | None | C$10,000 |
4. CoinBerry
CoinBerry is another Canadian-based exchange that allows users to deposit funds using the Interac E-transfer method. They boast a 0% deposit fee, which, although true, is made up for by their higher than average trading charges. Furthermore, the platform currently offers only six coins, which may turn off some buyers, but CoinBerry does offer no-fee deposits.
| | | | |
| --- | --- | --- | --- |
| Deposit Option | Fee | Maximum Deposit | Minimum Deposit |
| Interac E-Transfer | 1.5% of transaction amount | C$3,000 – 5,000 depending on bank | C$50 |
| Wire Transfer | C$25 – C$35 depending on bank | C$500,000 | None |
5. Newton
Just like Bitbuy, Newton is another Crypto exchange open only to Canadians. The platform claims to be Canada's first no-fee trading platform. Many Canadians consider Newton to be one of the best available options for purchasing Bitcoin and seven other major coins with CAD.
Unlike some other Canadian exchanges, Newton offers decent volume along with spreads considerably lower than their competitors. The main funding options are Interac E-transfer and wire transfer. Any funds transferred via E-transfer are available immediately and not subject to a holding period, as is the case with some other exchanges.
Deposit Option
Fee
Maximum Deposit
Minimum Deposit
Interac E-Transfer
none
C$10,000C$5,000 for new users
none
Wire Transfer
C$25 – C$35 depending on bank

C$50 processing fee for wire transfers under C$10,000
C$500,000
None
6. ShakePay
Shakepay is another no-fees cryptocurrency platform available to Canadians. Like Newton, Shakepay allows users to fund their accounts via Interac e-transfer or wire transfer. One of the features that set them apart from other Canadian based exchanges is Shakepay Change. This program lets users link a debit card and purchase small bits of cryptocurrency by rounding up purchases to the nearest full dollar amount, using the difference to buy small amounts of BTC.
Over the last year, Shakepay has been plagued by slow processing times and claims of unprocessed payments, which may make Newton a better option. Additionally, the exchange only offers two coins, Bitcoin and Ethereum, which may be too limiting for some users.
| | | | |
| --- | --- | --- | --- |
| Deposit Option | Fee | Maximum Deposit | Minimum Deposit |
| Interac E-Transfer | none | C$10,000 | C$5 |
| Wire Transfer | C$25 – C$35 depending on bank | None | C$1,000 |
Coinbase is a popular cryptocurrency exchange known for its easy to use interface, quick sign up process, and 42 different coins and tokens. Even though it doesn't offer the advanced trading options that other exchanges like Binance or Kraken, it is considered an easy entry point to those new to the cryptocurrency game.
Coinbase provides a variety of deposit methods to their American clients, but sadly this is not true for Canadians, who only have one option. Once you have created a Coinbase account, Canadians can link a Visa or Mastercard branded debit card to their account. You can then buy any one of 42 available coins.
Unbranded debit cards, such as those offered by many Canadian credit unions and small banks, will not work. One interesting feature offered by Coinbase is the ability to withdraw fiat currencies to ones' PayPal account. Users should note that PayPal works only for withdrawals and is not available for deposits.
Deposit Option
Fee
Maximum Deposit
Minimum Deposit
Linked Debit Card

C$0.99 on transactions less than $10C$1.49 on transactions greater than C$10, but less than C$25

C$1.99 on transactions greater than C$25 but less than C$50

C3.99% of total transaction on all purchases greater than C$50
Up to C$375.00 per transaction
No minimum
On top of the fees listed above, all transactions come with a 0.50% charge, meaning anyone purchasing more than $50 will end up paying a 4.49% transaction fee. For those funding their account with thousands of dollars, this high transaction fee can prove costly.
One to Avoid: Binance (does not accept Canadians)
We include Binance on this list to clear up that it is not available to Canadians to buy crypto or Bitcoin.
Founded in 2017, Binance is now the largest cryptocurrency trading platform in the world. Not only does it allow users to trade the large-cap coins, such as Bitcoin, Ethereum, and Ripple, but it also lists over 450 altcoins, some with market caps over $1 billion. When the exchange first went live, it did not allow users to deposit fiat funds, and users had to use stable coins such as USDT when they wanted to cash out to a stable asset. This has changed in recent years, and although Binance currently accepts deposits in 17 different fiat currencies, CAD is not one of them.
| | | | |
| --- | --- | --- | --- |
| Deposit Option | Fee | Maximum Deposit | Minimum Deposit |
| None available for CAD | NA | NA | NA |
Bottom Line on Canadian Bitcoin Exchanges
As we have seen, the larger exchanges are not very friendly to Canadians when depositing funds.
As a result, most people looking to purchase cryptocurrency within Canada turn to one of the several Canadian exchanges, such as CoinSquare and Newton, since they offer simple funding options and low fees. Once purchased, the user is free to send whatever coins or tokens they purchased to an address associated with an account on a larger, more comprehensive platform such as Binance or Kraken.
If you want to buy Bitcoin in Canada right now, go sign up at Kraken and you will have some Bitcoin in the next 15 minutes.