Poloniex vs Kraken: An Up-close Exchange Comparison
In this cryptocurrency exchange comparison guide, we will be looking at Poloniex, currently 16th in our crypto exchange rankings, and Kraken, which sits comfortably in fourth. Is this comparison a total mismatch with such a gulf in rank, or does Poloniex have enough unique selling points to sway any beginners away from the alluring prospect of becoming a Kraken trader? It's time we found out.
Fees
Poloniex Trading Fees
As far as trading fees go, Poloniex is one of the cheapest around, with a very economical starting cost of 0.125% for both the maker fee and the taker fee. Once you're trading over $50 million a month (30 days), or you pay to become a Poloniex Plus member, this drops down to 0% (for makers).
Another way to reduce the low fees even further is to purchase some TRX, better known as TRON. By holding the right amount, as seen in the fee schedule below, 25% discounts are yours for the taking (when paying in TRON).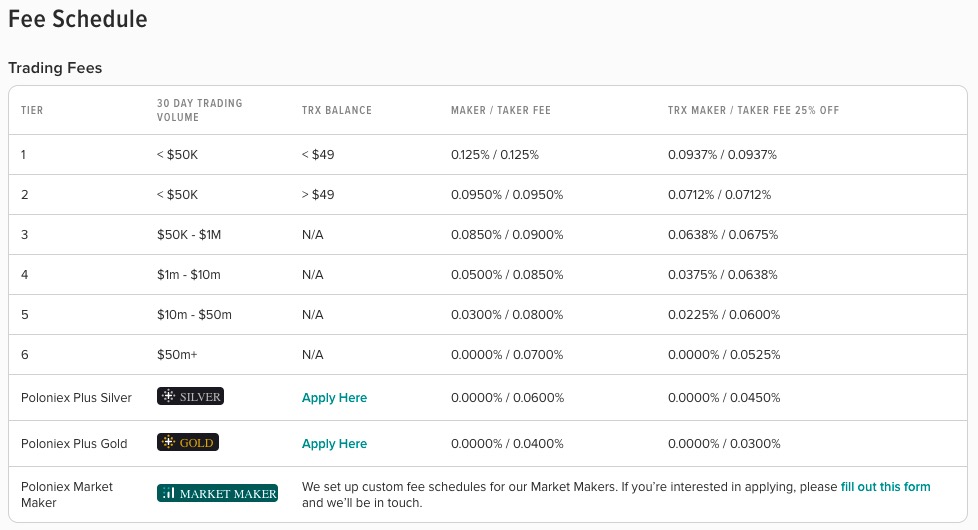 Depositing crypto is free, whereas withdrawing crypto to an external wallet or another exchange will bring about a small network charge to cover the mining costs.
Trading Costs On Kraken
Over at Kraken, the maker fee of 0.16% and taker fee of 0.26% must seem comparably expensive, but they're also some of the most competitive in this industry.
Curious about what maker-taker fees are? When you place a trade on an exchange, you will either be doing a deal at the current market price, or you'll be placing it at a different price to capitalize on market movements. A maker is someone who places an order higher than the market price, thus adding liquidity to exchange (which makes them look good) and being rewarded with lower fees. When you buy at the current market price, you are taking away liquidity from the cryptocurrency exchange. So you typically pay a higher fee, although some exchanges (like Poloniex) charge the same fee regardless.
Kraken's fee schedule is pretty straightforward. The more you trade, the lower your trading costs. This Kraken guide should explain this concept in practice.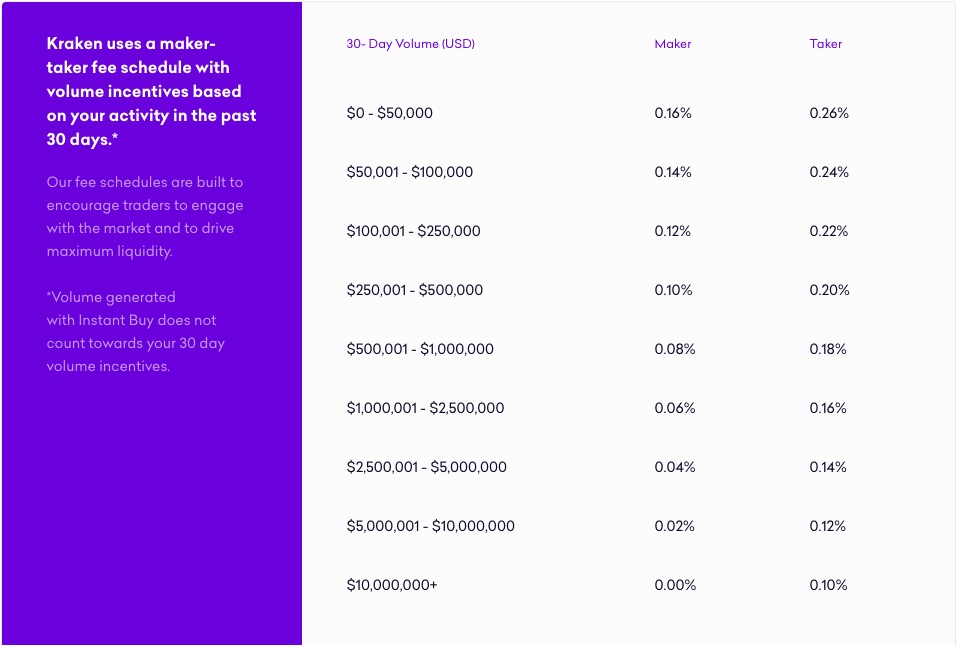 Winner: Poloniex wins this round with very competitive fees and great discounts when paying in TRON.
Sign Up & KYC Experience
Opening A Poloniex Account: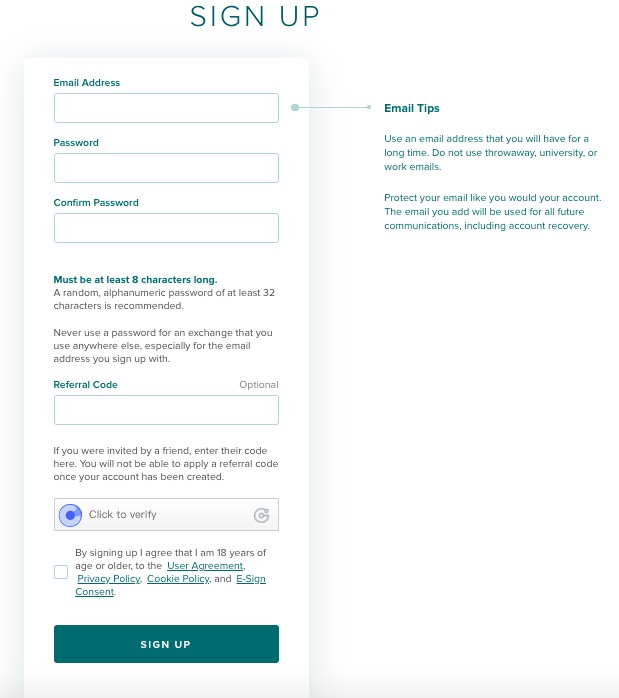 Visit Poloniex.com and tap 'Sign Up' in the top-right corner.
You'll be asked for an email address, password, and a referral code (if applicable).
Accept the terms and conditions and continue to the next page.
As instructed, you'll need to go to your email inbox and open the email from [email protected]. Inside, you'll find a big dark cyan-colored button that says 'Verify My Email.' Click it.
Type in your email address and password and 'click to verify.' When the verification light turns green, log in.
On the right side of your dashboard (see image above) is a column with two options; the first is to Enable 2FA, the other is about increasing your limits and features on their platform. Click 'Get Started.'
Provide your personal information for the KYC (Know Your Customer) checks, including your country/region, name, date of birth, address, and phone number.
Once this information is submitted, you'll start the ID verification process, which will ask for the country of issue and type of ID (passport, identity card, driver's license).
Next, provide a clear photo of your face – you can do this with your webcam. Bonus tip: Hold up a piece of paper with the word Poloniex and today's date on it; this will speed up your verification.
Now, wait. Verification can take anything from a few minutes to a few days.
How To Join Kraken:
Go to Kraken's website and press 'Create Account.'
In the required fields, type your email address, country of residence, and username, and password for signing in. Accept the terms of service and move to the next page.
You'll be told to check your emails and find an activation key, which you can copy and then paste on Kraken, along with the username and password. When you click 'Activate Account,' you'll now enter your dashboard.
From this dashboard, find 'Get Verified' as a drop-down option from the navigation bar.
You'll be presented with three choices for your account. We recommend going for Intermediate right off the bat (Starter and Pro are other account types), so at least you can deposit some fiat currency.
You'll now need to do the KYC checks. Since you've provided your details already, it's straight to the documents, a photo or scan of your ID (passport is preferred), a proof of residence document (like a bank statement), a selfie holding your ID, and details of your occupation.
Verification can take as little as 10 minutes if there are no issues.
Winner: It's a tie, the process is virtually identical.
Ease Of Use & Feel Of Website/App
Poloniex, Very, Very Neat
Potential Poloniex users will be glad to know that you can trade and deposit without KYC verification or restrictions, but only cryptocurrency, no fiat. You'll also be happy to know that Poloniex has its own DEX (decentralized exchange), margin trading, and of course, those super competitive low trading fees. It's fast to make an account and get verified, easy to get crypto onto (you'll see what we mean by this in the Deposit Methods section), and the whole interface is elegant and easy on the eye. Beginners and advanced traders alike can see the benefits.
The website feels friendly, but it's poorly rated for customer support, available via ticket system or social media. There's also a 'trollbox,' which can be used for customer service but is more of a live chat for traders.
Kraken = Retro Shambles?
Thanks to the hard work going on behind the scenes at Kraken, users are welcomed onto a mobile platform that is simple, intuitive, and very friendly. This cryptocurrency exchange's logical mobile app design reduces opportunities for errors, allowing beginner traders to feel more advanced than they might be.
The web platform, however, is a different story. Perhaps we are too critical, but something doesn't feel right about the trading interface. It's a little awkward, and the stylized retro 8-bit display makes it unfriendly on the eyes, as does the reversed layout. Saying that many users express their happiness with the trading interface, suggesting that what makes it different is what makes it great. Overall there are mixed reviews.
Winner: Both have their strengths, let's call it a tie.
Deposit Methods
Poloniex, No Fiat Welcome
Some crypto exchanges allow you to make fiat deposits on their platform, while others don't. Poloniex is in the latter group, so your options are to deposit crypto from elsewhere or purchase coins, like Bitcoin, Ethereum, Ripple, TRON, and 12 more. You'll learn more in the Instant Buy Options section below.
Depositing Funds Into Kraken
Kraken is compatible with seven different international fiat currencies, each of which has a least one method for avoiding deposit fees (with the exception of Switzerland):
USD – Fedwire, SWIFT and SEN are free depending on the service used
EUR – SEPA and SWIFT are typically free, with minor exceptions
CAD – Wire transfer and Domestic Wire are free, cash-in-person deposits cost (these are permitted in Canada only), and SWIFT depends on the payment provider
AUD – Bank transfer / Osko is free
GBP – BACS and SWIFT (Etana) are free, but CHAPS and SWIFT (Bank Frick) are not
CHF – SIC and SWIFT both have 0.75 CHF deposit fees per transaction
JPY – SWIFT is free with a minimum of 15,000 JPY (around €120)
Find your best Kraken deposit method in this useful guide.
As is standard among cryptocurrency exchanges, depositing cryptocurrency is free, with mining costs paid at the sender's end. Selling your crypto for a fiat currency and trying to withdraw it will incur a charge in all currencies except AUD, as you can see in this withdrawals guide.
Winner: Kraken takes the win.
Instant Buy Options (Buying with Credit or Debit Card)
Purchasing Crypto On Poloniex
There are 16 different coins available on Poloniex: ATOM, AVA, BCH, BNB, BSV, BTC, BUSD, DASH, ETH, LTC, PAX, QTUM, TRX, USDT, XLM, and XRP. Poloniex has partnered with Simplex to facilitate this service, which many crypto exchange companies see as a great option. To add, Simplex sets the selling prices under their liquidity providers. In return, users are charged either 3.5% or $10 USD, whichever is greater (the $10 will be greater until deposits hit around $290).
The minimum purchase is $50, the maximum in a day is $20,000, and in a month, you cannot purchase more than $50,000 worth of cryptocurrencies. The exchange platform should deliver your crypto in around 30 minutes.
US Readers: Since 2019, Poloniex has banned Americans from trading. Sorry.
Kraken's Purchase Options
Readers in the United States will be especially pleased to read that Kraken offers 54 different cryptocurrencies to buy, sell, and convert directly on both the web and mobile exchange interfaces. Since depositing fiat currency is typically free, this is the cheapest way to buy your crypto. If you're in a rush or keen to use your credit card, the beginner-friendly purchase service will charge you 3.75% of the total transaction, plus a €0.25 flat fee. Be aware that instant purchases also include 'the spread,' which is the difference between the actual market price and Kraken's selling price. This can vary from 2%-10%.
Winner: Kraken offers similar costs but far more options for which crypto to buy. They also allow for fiat-crypto trading pairs.
Trading Experience
Trading On Poloniex
We like Poloniex's trading view. The blend of white and dark cyan makes the information more accessible to process than many competing cryptocurrency exchanges, whose black interface can make information hard to separate. It's clean, it tells you all you need to know about prices, trading volume, how altcoins are performing, and for developers, there are some up-and-coming third-party API options. Margin trading is also enabled.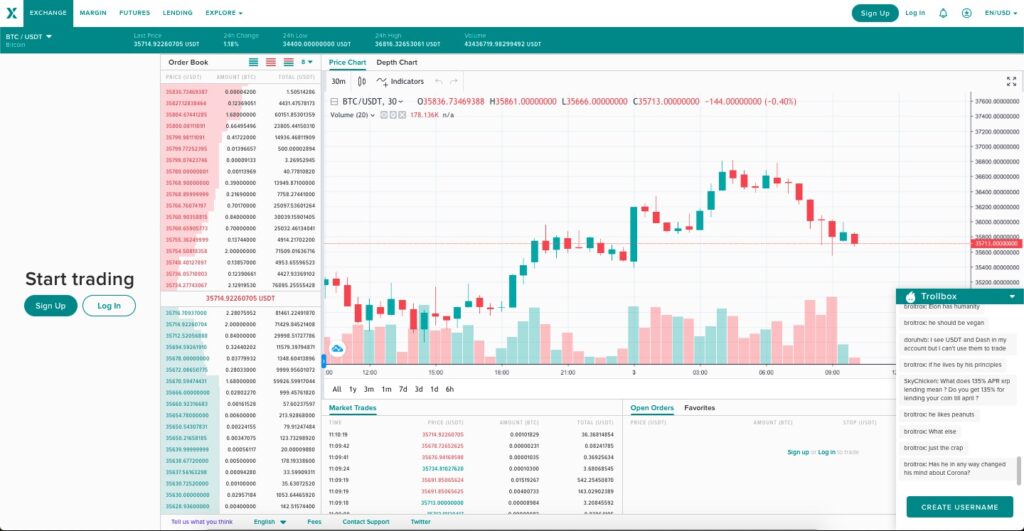 Once you try Poloniex on the web, you'll fall in love with their beginner-friendly mobile app, which is an even neater and classier version of their cryptocurrency exchange, with innovative designs that make transactions straightforward. You're onto a winner if you're looking for a place to trade your Bitcoin, Ethereum, Bitcoin Cash, TRON, and more.
Kraken's Design…
We give the Kraken Exchange so much praise for their service, placing them fourth on our cryptocurrency exchange rankings, but they're not perfect, and it's the trading experience where they suffer. It may come down to preference, but the web trader doesn't have much visual appeal. It feels like it's stuck somewhere between a Windows 95 desktop, a Wall Street stock computer, and a retro arcade game. The fonts don't help the eyes, and the layout is anything but intuitive. They do, however, allow for both coin staking and margin trading: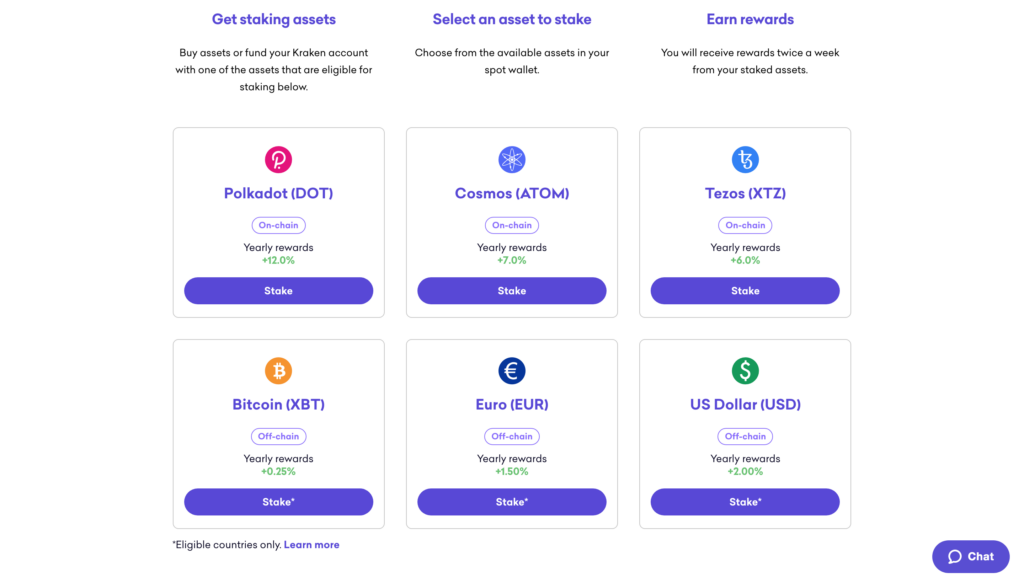 On the other hand, Kraken offers three brilliant apps for iOS and Android that works as mobile crypto exchanges should, by having great UI/UX and in-built customer support through a live chat feature.
Winner: Poloniex wins this time; however, with a trading volume about ten times bigger, Kraken users would disagree with our verdict!
Reputation & Security
Poloniex
There's one blight on Poloniex's record, and it concerns the December 2020 hacking of Russian crypto exchange EXMO. Now, we will never praise hackers because they halt the industry's progress that we love, but we concede that their methods were slick.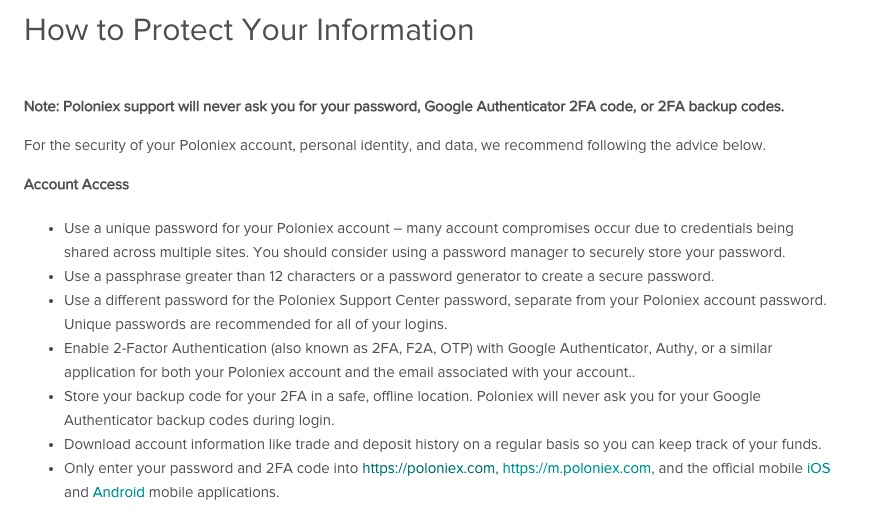 As Bitcoin rallied in late December, hackers managed to siphon around $10.5m worth of Bitcoin, Ripple, Ethereum Classic, Ethereum, Cross, and Elrond. On Christmas Day and Boxing day, when most westerners are enjoying time off with their family, the hackers siphoned $4m of those stolen assets quickly through Poloniex. By the time Poloniex's team was able to put down their turkey legs and react, it was too late. Hopefully, Poloniex's KYC checks will help them catch the hackers.
Fort Kraken
Kraken was never hacked, but in January 2018, they ceased trading for 48 hours, and traders faced further disruptions over a week as the exchange battled a severe cyber attack. Some feared accounts were compromised, yet there were no resulting hacks, and Kraken improved their defenses afterward.
Kraken also has an excellent reputation thanks to their Proof-of-Reserves audit, an assessment that shows that Kraken safely protects users' funds in cold storage. If the exchange collapsed, the funds would not go missing.
Winner: This round goes to Kraken.
Kraken vs Poloniex: Who Wins This Exchange Comparison?
16th vs fourth, it looked like a total mismatch, right? Poloniex might have surprised you with how well they performed in this crypto exchange comparison, but that's because it is a first-class exchange. The most significant downsides about Poloniex are that they don't welcome fiat money or Americans, which every top-tier trading platform really should! So, Kraken takes the win.