Poloniex vs Bittrex: A Comparison of Two Giant Exchanges
Join us as we make our comparison of Bittrex and Poloniex, two highly-rated and popular cryptocurrency exchanges that each boast millions of users.
Which cryptocurrency exchange will come out on top for categories such as fees, deposit methods, security, and more? Spoiler alert, Bittrex sits fourth in our cryptocurrency exchange rankings, whereas Poloniex is 16th. So, you can probably already guess who is our winner between Bittrex and Poloniex…
Fees
The Cost Of Trading On Poloniex
In the ultra-competitive cryptocurrency exchange marketplace, something as small as 0.05% can make all the difference in attracting thousands, if not millions, of traders to an exchange. This is good news for Poloniex. With 0.125% for the maker and taker fees, they're fairly competitive. Of all the major exchanges, perhaps only Binance and Kucoin offer lower fees to beginners (0.1%).
Like Bitcoin and altcoin exchanges, the fee schedule you will see below works on the system that the more you trade in a 30-day period, the lower your fees. This is great for makers and takers. To clarify, makers place orders above the market price, adding liquidity to an exchange, and takers are those who purchase at the current price, removing liquidity. If makers trade over $50m per month, their maker fees drop down to zero.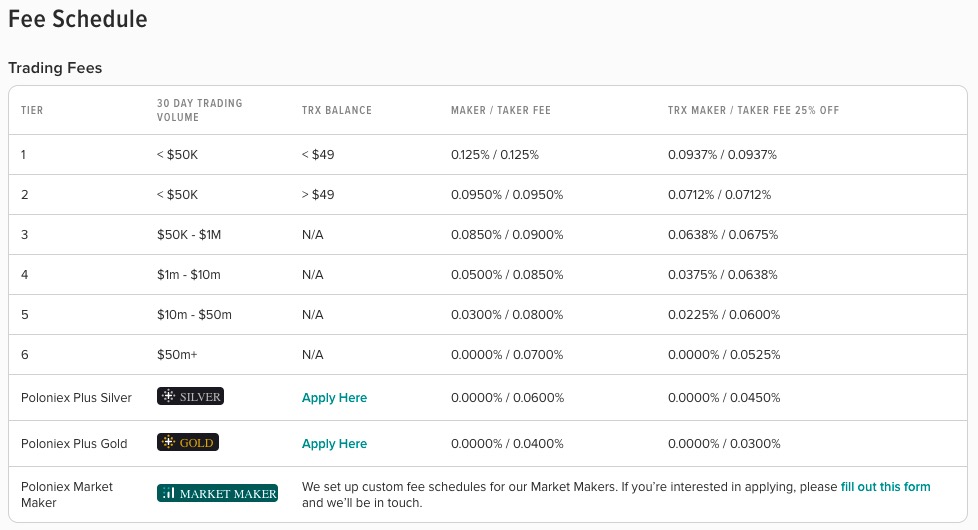 Other important facts about fees on Poloniex:
Poloniex Plus is a two-tier VIP program that offers Poloniex members an additional way of reducing their trading fees to 0%. Since you must apply and be selected for this service, we can't confirm how much it costs at this time.
Users who pay their fees in Tron (TRX) can unlock a 25% discount on their trades which is a popular option.
Cryptocurrency deposits are free, but make sure your Poloniex web wallet supports the cryptocurrency you want to transfer (you can see more in the Deposit Methods section).
Withdrawing cryptocurrency to another exchange or external web wallet brings about a small network charge to cover the mining costs. Many people refer to this as a 'gas fee.'
Bittrex Trading System
As we mentioned before, small percentages can make a massive difference in this game; however, with a 0.2% trading fee for both makers and takers, Bittrex can't be described as expensive per se. 0.2% is about the average these days, so both Bittrex and Poloniex are very fair with their service charges — especially when you compare them to two exchanges like Coinbase (2%) and Bitstamp (0.5%). They also recently reduced their fees by 20%, as they had been set at 0.25% for several years, which shows a great deal of loyalty to their crypto community.
Please note in the fee schedule above that Bittrex has decided to keep things simple by only offering five different levels of discounts, each of which is based on 30-day trading volumes. Many digital currency exchanges overcomplicate the fee schedule, so Bittrex makes it very beginner-friendly.
What else do you need to know?
Bittrex, Bittrex International, and Bittrex Global all relate to the same company; however, different regions experience different branding and an appropriately different service
US Dollar withdrawals are free, but all crypto withdrawals will face a small network charge, as is standard for all exchanges
The Bittrex referral scheme offers the referee 10% of all commissions that their referrals pay, essentially working out to be around $2 per $1,000
Winner: Poloniex just edges this round.
Sign Up & KYC Experience
Opening Your New Poloniex Account
Here's how to sign up and get verified in under 24 hours.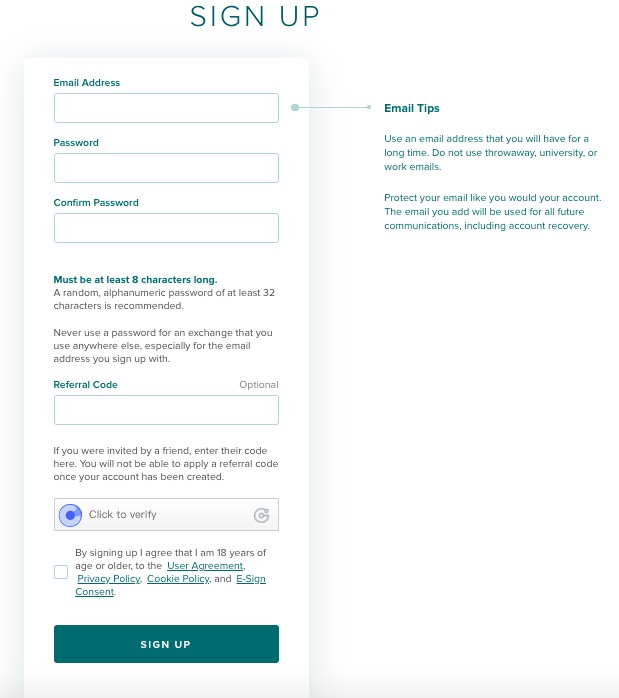 Get yourself over to Poloniex.com and find the 'Sign Up' button in the top right-hand corner.
The first step of registration will ask for your email address, a password.
Accept Bittrex's terms and conditions.
Head to your email inbox and find a new unread email from [email protected] – make sure the address is correct. Within this email is a link to 'Verify My Email,' so go ahead and press that.
You'll be asked to log in again with your email address and password. A small verification box will ask to be clicked, and when it turns green, you can proceed. We assume this is doing an IP or robot check.
When you log in, there are two options in a cyan column on the right of the page; the first offers you the chance to add two-factor authentication to boost your account security, which you should 100% do, and the second one talks about increasing your limits and access to features on Poloniex. For the sake of verification, choose the second one and 'Get Started.'
KYC checks will now begin, starting by asking for your name, date of birth, address, country or region of residence, and phone number.
Next up is the ID verification process, which requires a high-quality photo or scan of your passport, identity card, or driver's license.
In the final section, you'll be asked for a clear photo of your face, typically via webcam. We're told that writing Poloniex and today's date on a piece of paper and holding that up in the photo will speed up your verification.
Now you have to wait. Most confirmations are done in minutes or under 24 hours.
Starting Your Bittrex Journey
Here's how to get the process underway and get verified: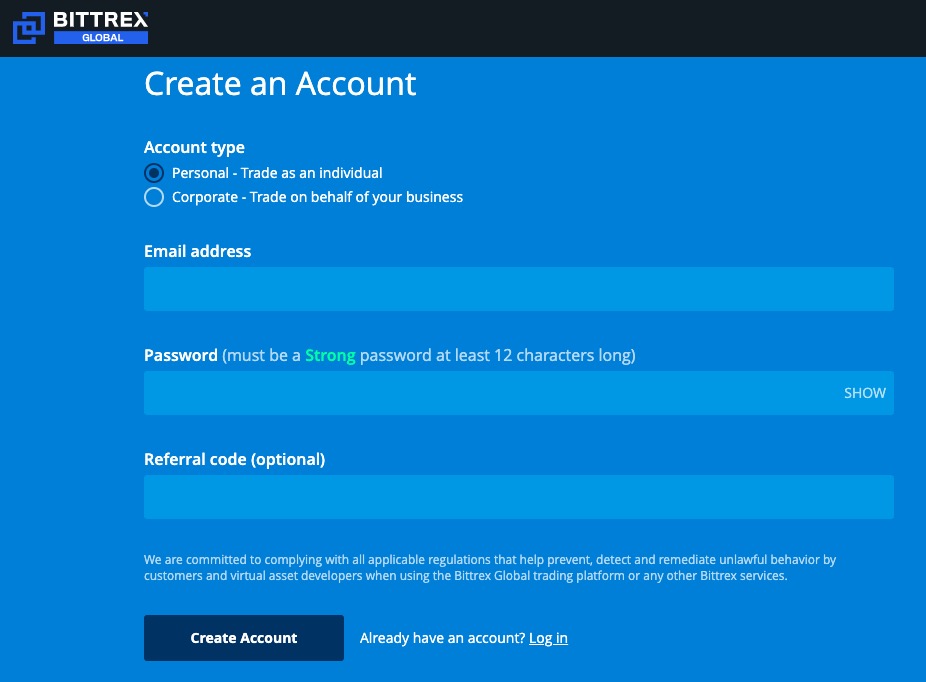 Visit Bittrex.com and find the 'Sign Up' button on their homepage.
When asked to choose, opt for a Personal Account, then provide your email address, a password.
Click 'Create Account,' then go to your email inbox to find a new message from Bittrex with a button saying 'Verify Email.' Clicking this button will open a new Bittrex tab and start the KYC process.
Accept the terms and conditions and provide your county of residence, address, and date of birth.
In the next section, you must submit your ID. This is mandatory for all users (with Poloniex, it's optional). Bittrex advises using your passport for the fastest verification times; however, a driver's license or state-issued ID works as well. Ensure your images are good quality and clear — you will have the option to use your mobile phone if your webcam isn't up to the task.
Now, wait for verification. This can take minutes or hours, and in some cases, days. If it's taking too long, contact customer support.
Winner: We could almost copy and paste these sign-up processes from Bittrex and Poloniex, so it's a tie.
Ease of Use and Feel of Website/App
What's It Like Using Poloniex?
What makes Poloniex somewhat unique in the industry is that they don't require you to do the KYC checks to get level 1 verification on their platform. With this level 1 account, you can trade crypto without limits and even withdraw up to $10,000 per day. No other platform is willing to take this risk in the face of tightening international crypto regulations, but Poloniex is standing firm on the issue. However, as you'll see in the 'Reputation & Security' section, it doesn't always work in their favor.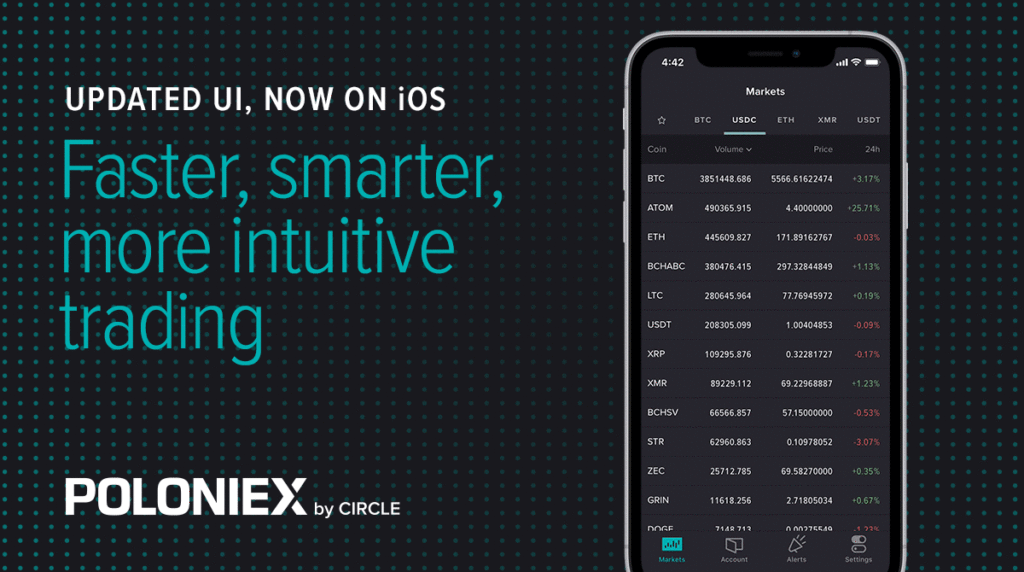 What else is there to comment on? Well, Poloniex offers its own decentralized exchange (DEX), margin trading, and a great referral scheme that earns you 20% of your referral's commissions. These great features are embedded into a visually-pleasing platform with a sleek and clean white/cyan design instead of the traditional black/red/green trading interfaces that we are very accustomed to. The mobile app is a high-quality replica of the web browser version and perhaps offers an even better user experience with all of the same features.
The more you know…
Users who want to purchase directly from Poloniex will need to do their KYC checks before approaching this feature.
The alternative is to transfer cryptocurrencies into the platform and place orders with the 300+ trade pairing options.
Whilst Poloniex offers customer support via ticket system, social media, and the Trollbox (a free-for-all massive live chat), the support itself is not highly rated.
Bittrex & Their Trading Products
Every cryptocurrency exchange is hard at work trying to find the right balance of usability, professional features, a welcoming feel for beginners, and an advanced user interface to attract experienced traders. Walking this tightrope is not easy, and so sometimes users can get a little confused, which is completely normal. In those cases, problem-solving often comes down to how good the customer support is, and in Bittrex's case, it's one of their best strengths.
They've developed a comprehensive Zendesk platform that asks and answers pretty much anything that could come up using Bittrex. When a customer has an issue, it becomes a support article — a great example of how things should be done (it's also how Apple and Amazon create user content).
Fortunately for users, the platform is quite self-explanatory, so we don't envision too many beginners' issues. The functionality is quite similar to Binance, the world's biggest exchange, where you find the trading pair that you want to trade within your user dashboard, and a single click sends you through to the trading interface — there, input your amounts. The app works in the same way.
When it comes to this altcoin exchange's downsides, user reviews and our own personal experience agree that the web platform is slow and buggy. Perhaps a server upgrade is needed. On the other hand, the app is excellent and doesn't give much trouble.
We ran a quick speed test on their trading interface load up times:
USDT/BTC – Poloniex 6 seconds
USDT/BTC – Bittrex 13 seconds
Winner: Both crypto exchanges play to their strengths. It's a tie.
Deposit Methods
Making Deposits On Poloniex
The information you are looking for could not be found…
Most cryptocurrency exchanges allow users to transfer fiat currency, like GBP, USD, and EUR, to their fiat wallets on the exchange; however, Poloniex has opted against this service.
Users can deposit the following 16 cryptocurrencies:
Bittrex' Deposit System
Bittrex operates a 3-tier account system, which influences deposit limits.
The three levels are:
New/Unverified
Basic
Enhanced
New/Unverified users can't actually do anything on Bittrex without verification, so they must sit in limbo until verification occurs.
Basic user accounts require a name, date of birth, address, and country of residency, at which point users can trade and deposit up to four BTC per day but cannot engage with any fiat currency services.
Enhanced user accounts are those that require some ID checks. Additionally, if you're based in the US, you'll need to provide two further documents relating to your banking and another proving your residential address. US users who complete these checks can then make direct fiat currency deposits via debit card, with a 3% fee or wire transfer (fees vary) for amounts of $50.
Users in any other permitted country may make:
a SEPA credit transfer (EUR)
an international bank wire transfer
a credit or debit card payment (3% fee)
Winner: Bittrex is clearly better in this department.
Instant Buy Options (Buying with Credit or Debit Card)
Purchasing Crypto On Poloniex
Poloniex members with a fully-verified account can make fiat-to-crypto purchases of the following 16 cryptocurrencies:
To make credit card purchases possible, Poloniex has partnered with Simplex, who in turn have partnered with several liquidity providers to make these cryptocurrencies available. As a result of this deal, it is Simplex who sets the sale prices on Poloniex.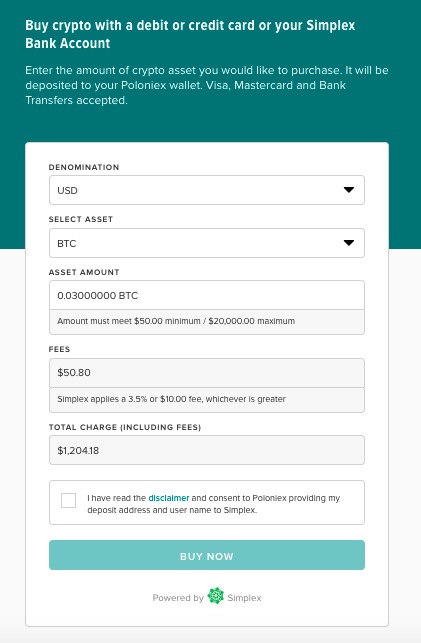 Credit card purchases are charged at 3.5% or $10 USD, whichever is greater, which will be $10 until you purchase over $290-ish of crypto, at which point the 3.5% kicks in. Also, be aware that:
The minimum purchase is $50.
The maximum purchase in one day is $20,000.
The maximum purchase in a whole month is $50,000.
Purchases will be delivered in around 30 minutes to your exchange wallet.
Bittrex: Not A Broker
It's frankly a little strange these days to find an exchange platform that isn't a broker or a broker service that doesn't offer an exchange. We are so used to seeing cryptocurrency trading platforms offer both services when we come across something like Bittrex. Users must deposit fiat or cryptocurrencies and trade them directly on the exchange; it feels a little strange. It's certainly not user-friendly to offer an exchange without a brokerage.
Winner: Poloniex wins this round.
Trading Experience
Trading On Poloniex
Day traders, beginners, institutions — they can all find benefits to trading on Poloniex; after all, it's one of the best exchanges in the crypto world for low fees and even lower restrictions. You might not be able to deposit fiat currencies, but once you see the great selection of trading pairs in their elegant cyan and white trading interface, it can be forgiven. The information provided is easily consumed, laid out nicely, and the platform itself is speedy. Don't forget; they also offer margin trading.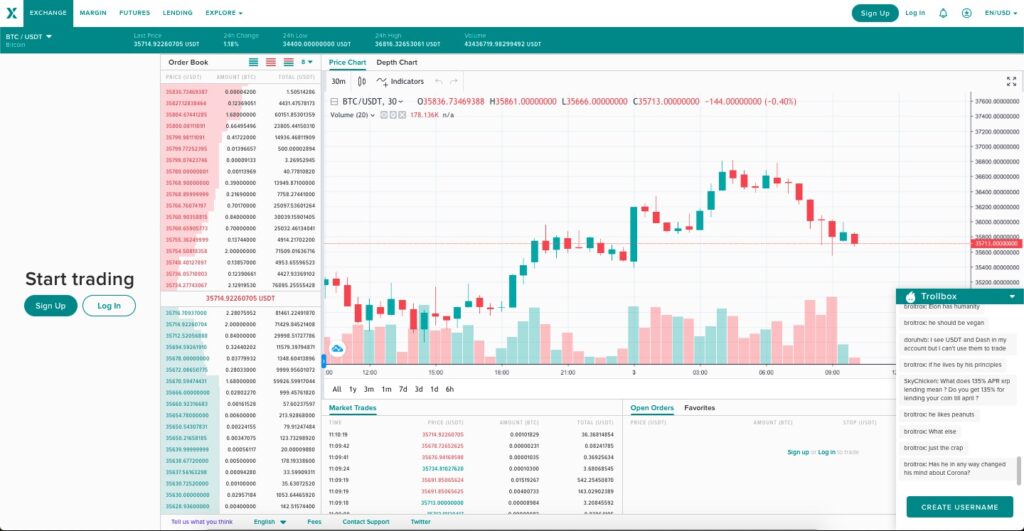 If the web version of Poloniex suits your tastes, you'll be greatly impressed with their mobile app, which offers an even neater and cleaner user experience. Trading is made effortless thanks to the intuitive designs and smooth features, and with 170 cryptocurrencies and over 300 market pairs to choose from, we can see why so many first-time traders join their user base.
Bittrex: Currency Trading Excellence?
Boasting more than 600 trading pairs comprising over 250 cryptocurrencies, this is one of the most comprehensive and well-supplied altcoin exchanges in the world. There are intuitive features and smooth trading journeys that remove many of the complications or room for error, but that doesn't completely negate the fact that by comparison, Bittrex is slower and more buggy than their rivals.
Margin trading features are available to users outside of the EU and EEA.
Winner: Both Bittrex and Poloniex have great options for trading pairs and trade types and are friendly to beginner users to call this round a tie.
Reputation & Security
Poloniex: An Asset To Hackers?
On Christmas Day and Boxing Day of 2020, a group of hackers, who had previously stolen $10.5m in cryptocurrencies from the Russian crypto exchange EXMO, took the chance that Poloniex workers would be too busy enjoying Christmas to be fully-securing the platform. They were right. Whilst Poloniex's team was opening presents and spending time with their families; the hackers siphoned $4m worth of Bitcoin, Ripple, Ethereum Classic, Ethereum, Cross, and Elrond through Poloniex. Their low restrictions on KYC checks came back to haunt them.
Whilst we can't say that Poloniex was hacked, in some ways, this type of activity is worse, as it gives other cybercriminals an incentive to see if this is one of the few exchanges where they can launder or siphon funds.
Bittrex: Built By Security Professionals
Legitimacy and regulations are one area where Poloniex and Bittrex differ, and that's probably because of who formed the company. The founding team was a collection of Silicon Valley cybersecurity experts who had previously been working at major companies like Microsoft, Amazon, and Blackberry.
The only historical blight on their record relates to one customer who was hacked for $1m worth of Bitcoin. The problem is, the man was hacked through his own weak security, which proved that Bittrex had nothing to do with it. Regardless, the man embarked on a PR witch hunt trying to take down Bittrex but failed and only made himself look worse.
Winner: Bittrex wins this one.
Bittrex vs Poloniex Comparison: Who Wins?
Choosing Bittrex or Poloniex for our winner should be more difficult, but Bittrex is quite comfortably ahead in truth. Poloniex may have won some of the categories, but Bittrex is showing up where it counts. They are more secure and legitimate. Their deposit options are superior, and their customer support is more comprehensive and with better reviews, all of which equates to a better overall service for beginners. Well done, Bittrex; however, if they want to be the best exchange in the world and topple Binance, they'll need to do even more.